Fun with Portraits Art Lesson Plans
The quintessential art lesson for elementary school: self-portraits! This 24-page lesson plan booklet includes six easy portrait ideas. Easy-to-follow steps, supply lists, full-color photo-tutorials, original Deep Space Sparkle handouts and student galleries included.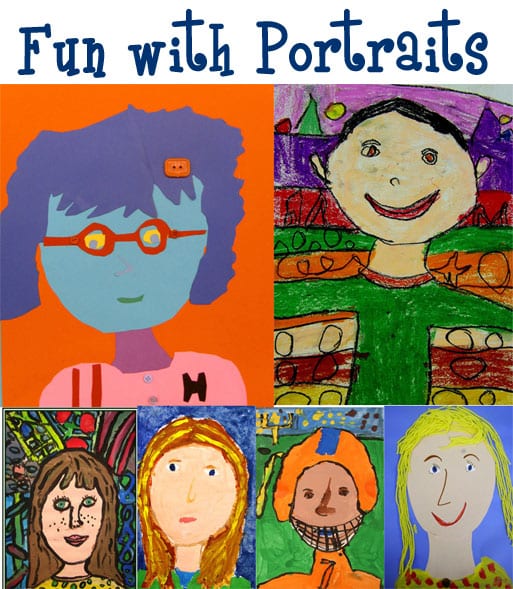 The Portrait Lessons includes:
Matisse-Inspired Portrait for early elementary: Using oil pastels, kids draw a simple self-portrait following either a directed line drawing (or the tips stated in the packet)  and create a colorful, patterned background just like Matisse.
Matisse-Inspired Portrait for upper grades: Using tempera paint, older children learn a little more about feature placement and paint a background that would rival any of Matisses' works!
Paper-Cut Portrait: Using a simple face drawing as a template, children cut paper to create a wild and whacky portrait. If you have a lot of paper scraps, this project is for you! There are two versions of this lesson: realistic colors and abstract colors.
Realistic Portrait: Using the how-to-draw handout, students learn the details of proportion. Appropriate for any grade level.
Multi-Media Collage Portraits: Looking for a unique way for your kinder student to express themselves? This collage portrait is just the thing. A face template provides a good starting off point for the little ones. Yarn, painted paper and buttons complete the art.
Imagination Portraits:Early elementary students love imaging what they would like to be when they grow up. Using the handout provided, children brainstorm certain professions (teacher, scientist, astronaut, movie star, etc) and draw themselves in the role. Absolutely adorable!
The PDF includes five original how-to-draw handouts (two "head" templates to reproduce,Imagination Portrait Idea Sheet and How-to-Draw a Face guide), full picture tutorials and the best yet, over 75 students samples!