Free choice art. These words alone are enough to send an art teacher into a panic. That dreaded time when some children finish their lesson while others continue to work. For the last seven years, I've designated a "free-choice" area where kids can go, pick up a piece of paper and a few drawing supplies and draw. Only for kids who finished their art lesson, mind you. And that's where the problem starts.
If Only They Could Work at the Same Pace…
In a perfect world–or in some cases, a perfect class– kids will have a few minutes of class time left. Some have truly worked hard on their art project and need something to do other than bug their classmates.
It always struck me as funny why some kids would rush through glitter paint and metallic pens to get to a plain white piece of paper and a few chewed up crayons. But they do. Reminds me of when my kids were little and the box the toy came in was far more impressive than the actual toy. Sometimes kids need the opportunity to draw without interference. Simple stuff. Scribbles. Whatever.
But it can also pose problems.
You know when free-choice art time has gone awry when the paper box is being hoarded by table groups and oil pastels and crayon nubs are scattered across the floor. Paper airplanes start to fly and all of a sudden you got major cootie-catcher chaos taking over the classroom. Clean-up becomes extra work now leaving some art teachers (okay, me) to wonder if there is a better solution.
Free-Choice Options
Obviously this has been a problem in my classroom for a few weeks now. I know what works for me in past years. Like setting out the classes' portfolios at the back of the room. If a child finishes an art project, they can look in their portfolio for unfinished work. This only works if the parts needing to be finished are simple ones that don't require a major outlaying of supplies. But I confess. I'm behind in creating portfolio's for my students and so they don't have them yet.
Lately, I've been reading through some comments/blogs from fellow art teachers and one lady said that she sets out a basket of art-related books for her students to peruse during "free-choice" time. She admits that the allure of books is not as strong as a blank sheet of paper, but that some kids will think twice about rushing through their art lesson to read a book.
Genius.
Books, anyone?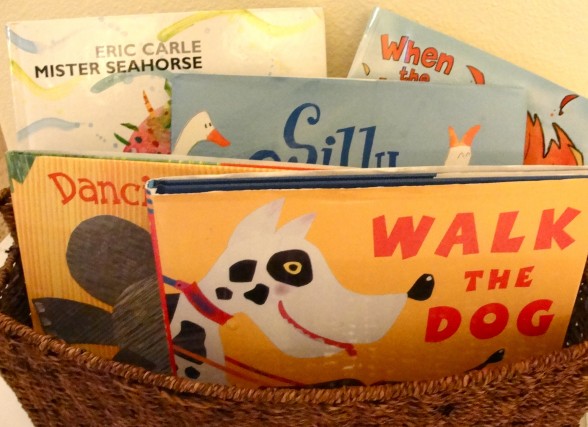 As of yesterday, I set out a stack of books. I didn't say anything to the kids because on this particular day (which, by the way was one of the more challenging days ever. But more on that in another post!) I knew that no one would have time for free choice. Can you say difficult project?
So, I'm tossin' the stack of free-choice paper in lieu of a book basket. Hopefully, order and calmness will reign supreme. Hopefully, I will not have robbed the few artistic souls that truly need scribble time. Hopefully, the cootie-catcher and airplane makers will appreciate their art time and become one with their art project. Okay, fine. Strike the last one.
I let you know how it turns out.  Meanwhile, what works in your classroom?