I love paper: craft paper, painted paper, wrapping paper, colored paper…I love it all! In my art room, students make their own painted paper all the time. As a result, we have loads of extra paper scraps that I can't bear to throw out. The next five art lessons turn my paper scraps into beautiful works of art.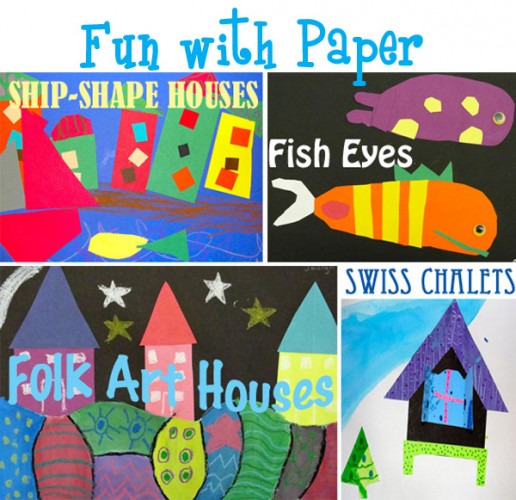 The

23-page Fun with Paper

booklet

is designed for grades K-5.
Ship-Shape Sailboats and Houses
Based on the book Ship-Shapes by Stella Blackstone and illustrated by Siobhan Bell. Kinders turn rectangles, trapezoids and triangles into a pretty seascape. Older kids can take the lesson a step farther and use the same shapes to create a fishing village along a wharf. A colored handout provides the steps.
Fish Eyes 
Based on the book Fish Eyes by Lois Ehlert. Children cut organic shapes and turn them into strange little sea creatures! Handouts and step-by-step photo tutorials provide the inspiration and know-how.
Folk Art Houses
Recreate the beautiful art of Karla Gerard, an abstract/folk artist from Maine. Children have fun creating patterns and lines with paint and pastel and cut whimsical houses from paper scraps. Use the Karla Gerard inspired handout as a guide.
Swiss Chalets 
Adapted from a project in Usborne Activities 365 Things to Draw and Paint. My adaptation shows you step-by-step how to create the Swiss style architecture with paper. Super fun and super colorful!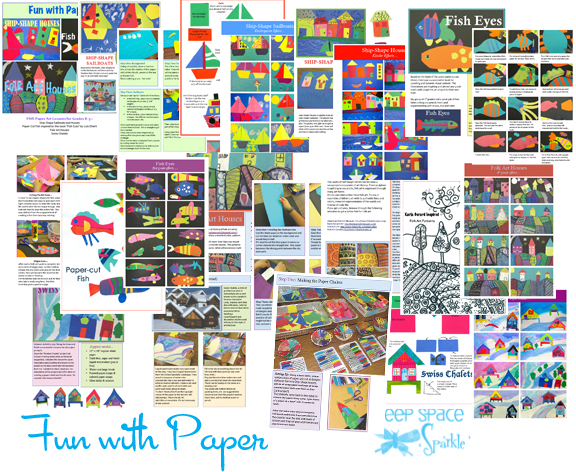 Handouts Included:
Ship-Shape Sailboats: How to make sailboats, tug boats and fish from paper scraps

Paper-Cut Fish: How to create whimsical fish from paper scraps

Folk Art Patterns & Shapes Drawing Guide

Swiss Chalets: Steps to create a paper chalet
These lesson provide a burst of color to your art room while teaching important art concepts: Shapes, Composition, Color and an Introduction to Folk Art.





All PDF's are for download only. Click on the "Add to Cart" button to purchase. Depending on your choice of payment (Google Checkout or Paypal) you will receive a link with download instructions or will be sent an email with a link (make sure to check your spam folders!)
Only $5
Pin It