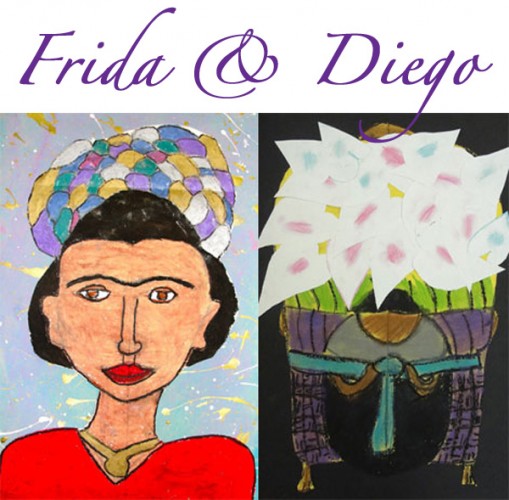 Frida Kahlo and Diego Rivera are two of Mexico's most celebrated artists.  I adore all art from Mexico. There is an element of color and composition that evokes wonderful emotions. I'm always looking for inspirational pieces to round out my art curriculum and especially showcase artists from Mexico. These two lessons feature elements of Frida and Diego's art: Frida's Portraits and Diego's symmetrical flower venders.
Frida Kahlo Portrait:  David Diaz's illustrations in Amy Novesky's Me, Frida is a perfect companion to this lesson. The story has visually stunning pictures and brings Frida to life. I developed a portrait lesson based on the cover art using a paper folding technique that makes it easy for all children to master facial proportions.
Diego Rivera's

"El Vendedor de Alcatraces"

is visually dynamic with it's strong color contrasts and symmetry.  Using the latter concept, I built a lesson based on symmetry. We dissected the drawing and magically made it appear again. Clever art techniques engage the students every time! The results are stunning.
 Original Deep Space Sparkle Handouts Include…
Frida Portrait Face Guide
Step-by-Step Visual Drawing Aid for "El Vendedor de Alcatraces"
Teacher Script and visual drawing aid for "El Vendedor de Alcatraces"
 The 

16-page booklet

includes detailed photo-tutorials to guide you and your students every step of the way. Full student galleries, website suggestions and detailed drawing guides included. A perfect addition to your art lesson repertoire.
Deep Space Sparkle Art Lesson Plans are PDF Files that you download to your computer. A printed copy will not be mailed.
To purchase, click on the Add to Cart Button where you will be directed to the shopping cart. Click on the PAYPAL or GOOGLE CHECKOUT button. Your transaction will be handled by their secure servers.
If you purchase via PAYPAL, your download link will be sent by email. Please make sure your email address is correct.
If you purchase via GOOGLE CHECKOUT, your download link will be displayed in Google Checkout.
Only $5
Pin It