In the series, The Organized Art Teacher, I will offer creative ways to start the year off with an organized mindset. Ever wondered how other art teachers store their old lesson plans and samples? What about creating a balanced art curriculum or how to track what each class created? And what about inside the art room…what's the best way to plan a theme-based art unit? This series will show you how starting with how to organize and store your art lessons. Today, we take a look at lesson planning…
Lesson Planning
I love the New Year. The urge to clean out my kitchen drawers and edit my paint-splattered t-shirts only happens in January. And with all the resources available through my lovely computer, I don't even need to leave home to purchase a calendar or find inspiration for tidy shelves. In this second post of my series, The Organized Art Teacher, I will offer you some things to print out, to help you get a leg up on your lesson planning for the rest of the school year.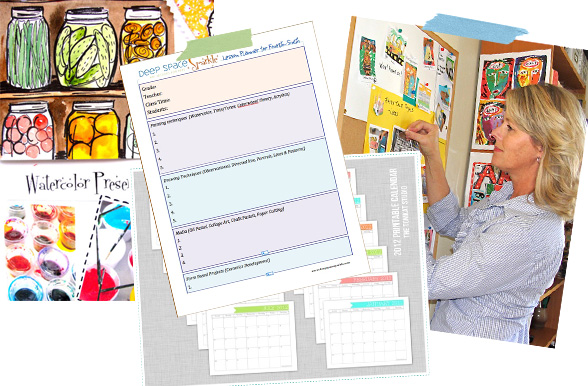 I've posted about lesson planning many times, how to develop a curriculum to the basics of lesson planning and there is one thing I've learned; everyone does it differently. I've looked at other art teacher blogs, organizational blogs and even read a few books on art lesson planning and it always comes down to this: be inspired by someone but then add your own twist.
When I plan my lessons, I use techniques as a guideline. I often teach the same technique to a grade level but use a different subject matter for different classes. For example, if I'm teaching a double-loading technique with my fifth grade students, I might do a classic Van Gogh style flower and vase with one class and a Royal King and Queen with another. It benefits me in two ways: I don't get bored (which I often do with teaching the same lesson over and over) and it provides me more opportunity to test and try new art lessons for my readers!
Planning and documenting is important, mostly because my memory just isn't what it used to be and I do so many different lessons. I don't like to be too strict and unforgiving with my lesson structuring because a lesson just might not be as successful as I thought, it could take more class sessions than I had planned, etc. So I keep it loose and easy. Here is a copy of a simple worksheet that I've been using this year. I like it because I do different lessons with each class and this worksheet helps me visually remember if I did a watercolor resist with all my Kinder classes.
(Note: The files above are in Microsoft Word so that you can alter them to suit your needs. If you want a PDF version, click below…)
Lesson Planner 4-6 worksheet PDF
Planning Units
I have never been a "units" type of art teacher. And it's for good reason: it's hard! Some of my blogging art peers, like the fabulous laura from Painted Paper is a unit genius. What art teacher hasn't marveled at her African Safari Unit or Fairy Tales and Fables? I know I have. Units are hard for me because I don't teach all grade levels every week. In fact, my rotations are mixed by grade levels, so I see my Kinders, Fifth and Sixth graders for 8 weeks and then boom…gone for another 8 weeks.
But I have tried this year and have figured out the best way for me to organize a unit: mood boards! I posted about the mood board exercise last fall. The whole idea is to gather pictures, stickers, visuals, illustrations and even typography of items that interest you. I used Pinterest as a starting point, pinning then organizing themes into boards. For my State Farms and Fairs I found an adorable cow painting. The perspective was different and I knew that my older students would really enjoy drawing a cow from this angle and playing with pastels to achieve the dewy appearance that makes this artwork unique.

Something for You…
What's the new year without a new calendar? I love printing mine instead of purchasing one. I can mix and match months from various sites to create my own custom calendars. Here is a very nice calendar printable from TomKat Studios. And this Owl Calendar is too cute for words.
The Organized Art Teacher Series…
Missed yesterday? Organizing and Storing Art Lessons
Up next in the series? The Organized Art Teacher: Trying New Things!

Pin It