Farm Anatomy and The Perfectly Imperfect Home
My bookshelves look a bit different lately. My beloved young adult novels are making room for their more mature cousins…illustrated art books. Perhaps it's because my creative endeavors have switched in recent months. I no longer reserve blocks of my week to my middle-grade novel aspirations, instead, I devote much of my free-time to Deep Space Sparkle and the pursuit of living the artful life.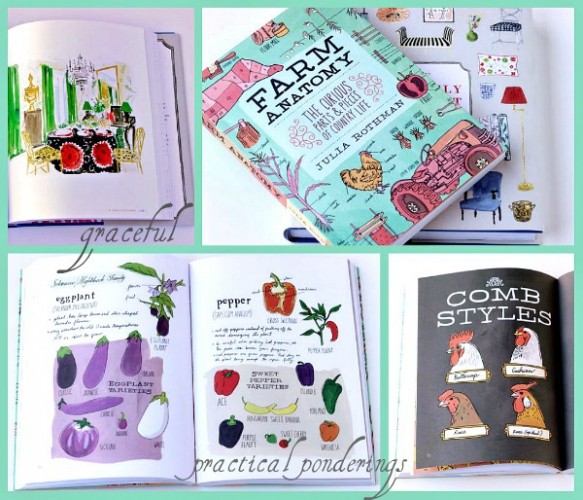 Farm Anatomy: The Curious Parts and Pieces of Country Life
 by Julia Rothman has made appearances on some of my favorite blogs in recent months. The illustrated roosters did it for me. I had to have this book. A farm girl at heart, I secretly long to spend my days quilting and canning tomatoes, but alas, I think I was born in the wrong generation. But there is something so inspiring about opening up the pages of a book and seeing someone's passion and expertise on display. If you ever wanted to brush up on your knowledge of farm life, this book is a fun way in which to do so. I love the drawings of all the pigs, sheep and cows. I can already imagine a great art lesson!
I saw The Perfectly Imperfect Home: How to Decorate and Live Well
 by Deborah Needleman at Anthropologie last Fall. I was there to buy Decorate
 by Holly Becker (which I bought and love) but gravitated towards this illustrated guide to imperfect home-making. I think I could have written this book! It was Patty Perfect…or should I say im-perfect. How often do you see illustrated guides anymore? Deborah's soothing but expert voice gives you permission to fill your home with colorful creative brushstrokes but warns that there is always a tasteful way in which to do so. Lovely.
It's no coincidence that these two books just happen to be illustrated guides. My biggest dream is to publish a book; both middle-grade fiction and now a non-fiction art book for children. I imagine the pages of my art book everyday. Farm Anatomy and Perfectly Imperfect has given me the creative fuel I need to keep my dream going.
Do you have any creative titles that inspire you?