I've been on a bit of a creative quest lately to find inspiring picture books. My children are well past the picture book stage but I can't seem to stay away from them. Thank heavens I still have an audience of little ones in my art class.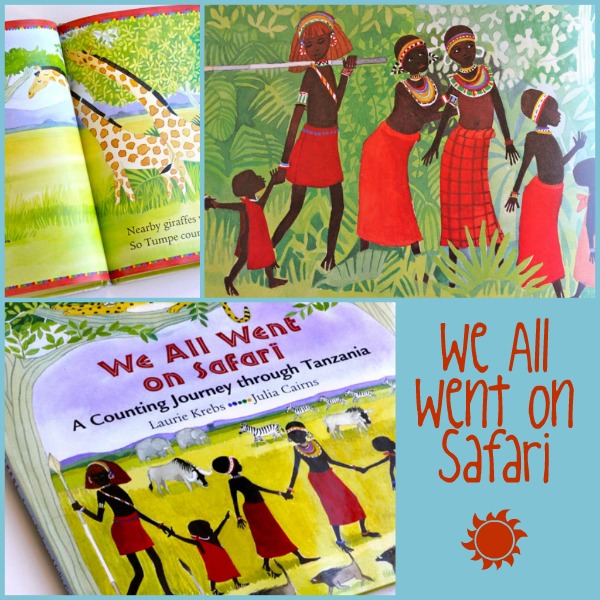 I happened across We All Went on Safari
 by Laurie Krebs and Julia Cairns. I'm always on the lookout for great visuals on Africa and this book delivered. Count along with the Maasai as they go on safari. Discover leopards, giraffes and lions but also ostriches, hippos and wildebeests. Any one of the lovely watercolor spreads would make a great inspiration for an art lesson. The next time I do my Maasai Figure Drawings, I'll showcase this book. I love the graphic colors and designs. Aren't the illustrations beautiful?
Visit Laurie Kreb's website for a listing of all her books, many with similar styles.
Julia Cairns website features her amazing illustrations…you really need to check them out. Simply stunning!
What makes a picture book work in the art room?
I love incorporating great visuals with art lessons but not any book will do.
The text can't be too dense. As much as I love picture books, I teach art so if a book takes too long to read, I can't use it. Of course, if the pictures are glorious, I will skip the text and talk just about the illustrations. Sorry authors!
I look for the illustrations to be approachable for my students. Often we will try and imitate the illustrator so the more child-like the drawings are, the better.
For non-fiction books about famous artists, I prefer narrative non-fiction to a biography. Often this format provides a closer connection to the artist for the child. The perfect ones have dialogue as well as pictures that feature images that inspire the artist.
What do you look for in a picture book?
This post contains affiliate links