Beyond the Basics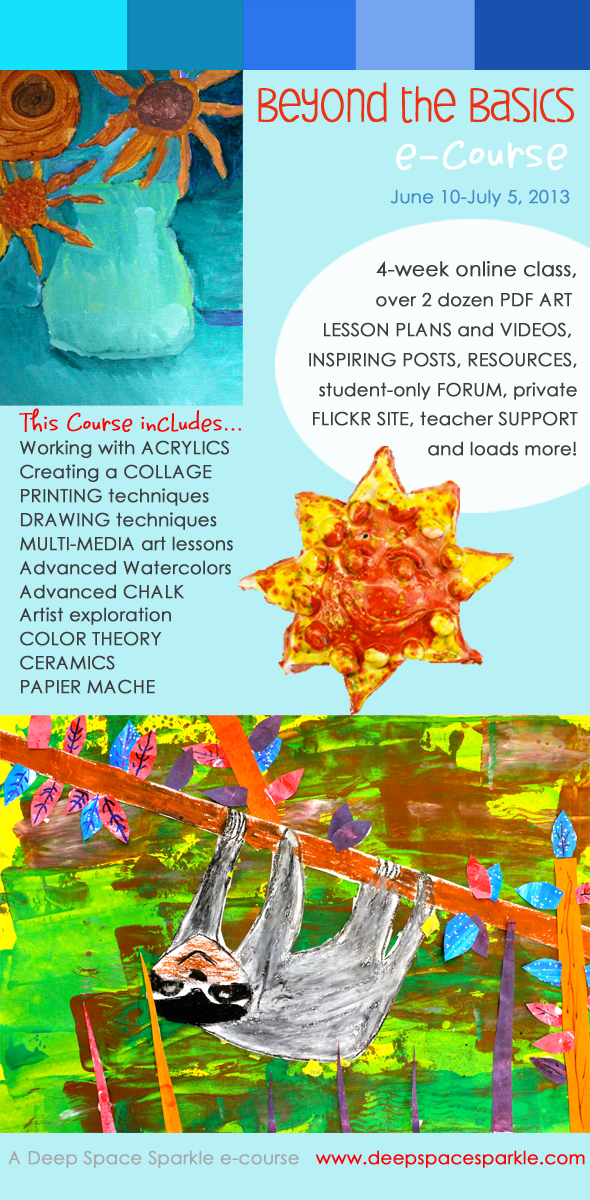 Now enrolling!
Beyond the Basics e-course is a 4-week online course that you can do from the comfort of your own home no matter what your time zone. This e-course is jammed packed with art lessons designed for children ages 5-12 or grades K-6 and will give you complete instructions via HD video, written lessons and printable PDF art lesson plans. Check out this post to see a snap shot of some of the lessons.
Here are the details….
Duration:
Class runs for 4 weeks. This means that new lessons will be posted on the private, password protected blog every Monday, Wednesday and Friday from June 5-July 10.  During this time, you can ask questions, get feedback on your homework and participate in the forum. After the four weeks, you will have an additional 2 months to view all the videos, print out the PDF lesson plans, post homework on our Flickr site, participate in the forums and review the material. That's a total 3 months access!
Total classroom access: June 7-September 9, 2013
Fee:
$99 USD
Registration closes on Tuesday, June 4, 2013
Date: 
June 10-July 5, 2013
Forum and classroom opened until September 9, 2013
How do I pay?
Payment is made by clicking the BUY NOW button in this post or in the SHOP. Once you pay via PayPal or Google Wallet, you will receive a download link (Google) OR an email with a download link (PayPal) for a PDF Welcome document detailing instructions for the course. This Welcome PDF will be sent to the email associated with either account. You need to make sure your PayPal email is up to date.
Log-in information:
Your log-in information (username and password) will be emailed to you between June 4-June 7, 2013. This is your time to view the classroom, take a look around and introduce yourself in the forum. If you don't receive an email during this time, please email Patty (patty dot palmer at deep space sparkle dot com)
Who is this class for?
Beyond the Basics is designed for art teachers, classroom teachers and parents who want to add art to their classrooms or learning environments. Project ability range from kindergarten to sixth grade with emphasis on technique rather than grade level. The e-course videos are designed for adults who teach art to children and are not necessarily for children to view as a tutorial.
Beyond the Basics explores form-based art lessons (clay, papier-mache), advanced painting, printing and drawing techniques (meant for children of course!) and color theory.
You must be familiar with how to navigate a blog (menu bars, sidebars, reading posts, watching videos, printing out lesson plans, obtaining a Flickr account, etc). Videos are high-defintion videos and work best when you have a good internet connection. This course is best watched on a computer and not a smart phone or ipad.
Unlike Teaching Art 101, this e-course will not include classroom management/organizational strategies or introductory art techniques. If this is what you are looking for, Teaching Art 101 is perfect for you!
Beyond the Basics Topics include:
Working with ACRYLICS (on canvas and watercolor paper)
Creating a COLLAGE
PRINTING Techniques
PRINTING techniques
DRAWING Techniques
MULTI-MEDIA/Collage art lessons
WEAVING lessons
Advanced WATERCOLOR techniques
Advanced CHALK Techniques
ARTIST exploration
COLOR THEORY
Working with CERAMICS (multiple projects)
PAPIER MACHE (multiple projects)
Over 2 dozen NEW Art lesson Plans (Videos & )Printable PDF
CLICK HERE FOR THE COURSE OUTLINE
Requirements:
Mac or PC with strong internet connection for playing videos
Digital camera or scanner for uploading homework to Flickr
Flickr membership (invitation to join our free Flickr group will be offered once enrolled). Please become familiar with how to use Flickr if you wish to participate in homework sharing.
5 hours per week to read, watch and complete homework. Please note: Progressing through the course at your own pace is perfectly fine!
Purchase Orders for Schools: 
I used to be able to offer purchase orders through my Teachers Pay Teachers site, but the site is not equipped to handle e-course registration like I had anticipated. If you want your school district to pay for this e-course, please follow the steps below:
To request a PO, email the following information to Patty (patty.palmer@deepspacesparkle.com): School or school district's name, school district's contact name, the teacher's name for whom the ecourse is for, the teacher's email address (very important!).
After receiving this information, I will send you a PO and a W9 form via email. I will detail payment instructions in this packet.
Please allow enough time for your school to process a PO. This process can take a long time as almost every school district has a different system and I'm not the best administrator for this type of thing! I can't grant you class access until payment is cleared.
Certificate:
You will receive a course outline and a certificate indicating course hours (20 hours). It's not college official, but it'll be pretty!
FAQ:
What if I miss a week?
The e-course is designed so that you can learn at your own pace. There are no live sessions nor are there any attendance requirements. You can literally log into the classroom whenever you want during the class access time frame.
How much time should I spend on homework?
Participating in the homework challenge will consume between 1-3 hours per week. Homework will be posted at the end of each week and due the following week. If you submit your homework, you will be entered into a drawing to win one of my PDF lesson plans. Homework is optional.
Is there a registration deadline?
I will be accepting payments until June 4th.

Sorry, registration for this session of Beyond the Basics is closed. Next session will take place in the Fall 2013. Sign up for the e-course newsletter to stay posted…