Teaching the Masters: Art Lesson Round-up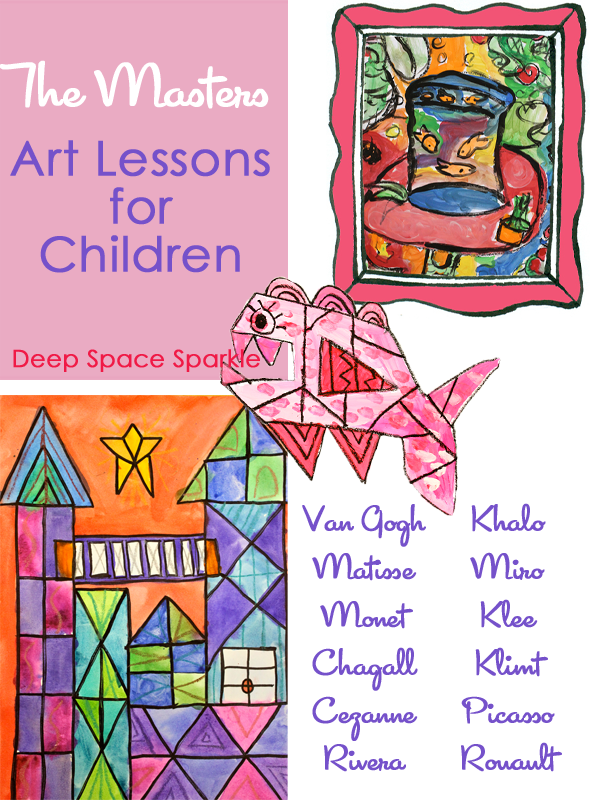 Looking for a lesson on the Masters? Here's a directory of my art lessons from the past ten years featuring the great artists. Click on the BOLD type to be directed to the lesson.
Cezanne: Still-Life in Chalk and Tempera Paint for upper grades
Chagall: Marc Chagall's "Drawing a Dream" 
Kahlo: Frida Kahlo Portrait
Klee: Paul Klee Buildings in pen and watercolors for upper grades, Paul Klee's Cat and Bird in chalk and oil pastel for younger grades
Klimt: Gustav Klimt's Tree of Life in tempera paint, Klimt Multi-Media Ladies for upper grade
Matisse: Matisse Goldfish in tempera paint, Matisse's Purple Robe and Anemones, Matisse Paper Cut Dancers, Matisse-inspired painted self-portraits for upper grades, Matisse-inspired oil pastel portraits for lower grades, Matisse-inspired paper cut name panels
Miro: Painted Miro art lesson for upper grades, Miro line drawings in marker
Monet: Monet's waterlilies for younger grades, Monet's Tulip Fields in Holland multi-media art lesson, Monet's Magpie Winter-scape art lesson
O'Keeffe: Graphic Flowers in watercolor
Picasso: Cubist Animals for lower grades, Easy Picasso faces in watercolor, Portrait of Dora Maar tempera painting art lesson, Oil Pastel Picasso Portraits, Primary Picasso Portrait Collage
Rouault: Rouault Royals art lesson for upper grade, Rouault Still-Life
Rivera: Diego Rivera's Mothers Helper art lesson in chalk pastel, Rivera's The Flower Gatherers Art lesson
Van Gogh: Oil Pastel resist landscape fro younger grades, Van Gogh's Irises Tempera painting, Van Gogh Sunflowers in oil Pastels here and here, Landscape with chalk pastels and paint, City at Night paper and paint art lesson, Van Gogh Flowers in tempera paint, Starry Night
New here? Join our newsletter community of over 15K subscribers and receive lesson updates, free drawing handouts and teaching tips twice a month. Click HERE to sign up.