Sneak Peek...Beyond the Basics Art Lesson Line-up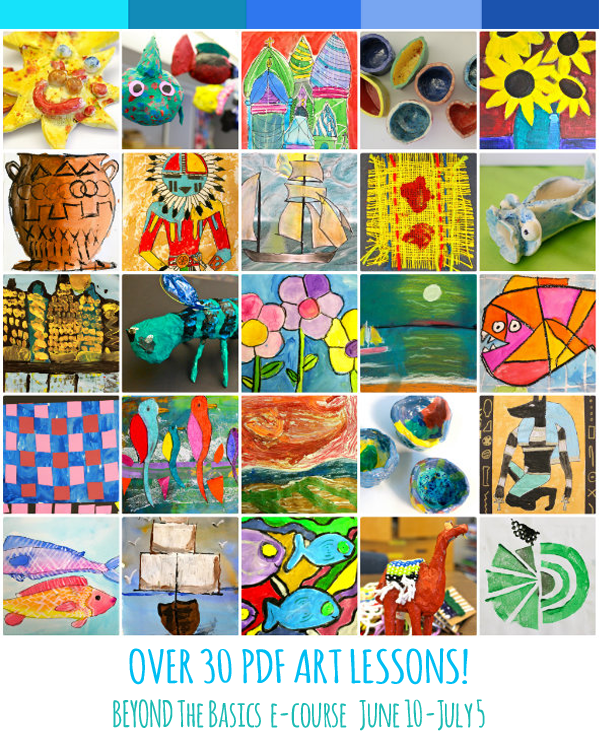 Planning my new e-course, Beyond the Basics, has challenged not only my organization skills but my own personal comfort zone. I often wondered how teachers managed to teach a unit on papier mache…what paste they used, how they handled the storage, dealing with the mess….you know what I mean. And now I have a fairly good idea of what practices work and what I will never attempt again. And I mean NEVER EVER.
I have always wanted to try weaving…but not just paper weaving, but yarn weaving. How hard would it be? What grade levels would benefit most? And how exactly do you teach weaving? It's not enough to see pictures of finished projects…I want to see the children work through the process.
These are the questions that intrigued me as I planned my entire 2012-13 art curriculum. Follow my journey as I introduce print-making, ceramics, papier mache, acrylic painting, weaving (and so much more) to my students.  There are over 30 new art lessons (33 to be exact!) planned for Beyond the Basics. All of them will have video instruction plus PDF lesson plans.
If you ever wondered how to start these types of lessons or if you were like me and avoided acrylics or papier mache for years, I invite you to sit back and watch how I taught the lessons.
All lessons are packaged up into tidy little PDF's which you can print out and use for your own art curriculum.