Art and Literature: Have You Made the Connection?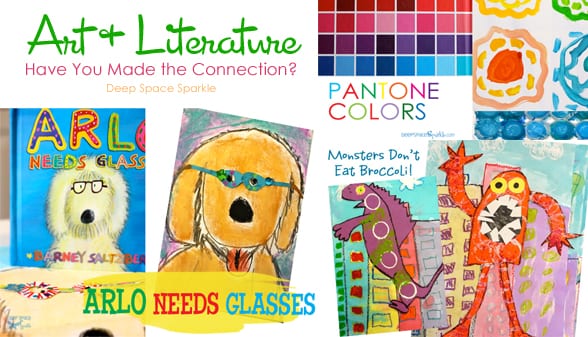 In a few weeks I will be giving a talk to my local SCBWI group (The Society of Children's Book Writer's and Illustrators). I belonged to this group for ten years while pursuing my dream of publishing my middle grade novel. I LOVE this group. They are the most giving of people and the encouragement I received from countless writers was nothing less than extraordinary.
Deep Space Sparkle has been my biggest love recently so my book writing days are behind me. So when Alexis called me and asked if I would give a talk on how authors and illustrators could market their books to appeal to teachers, I jumped at the opportunity.
Next to art, children's books are my biggest love and as most of you know, my biggest source for art lesson inspiration. I combine art and literature all the time and have a page on this site devoted to art and literature connections. Occasionally, I will do an author/illustrator interview and create a lesson based on the book. Some of my favorites are:
Would you like to help out? 
In order to help the authors and illustrators market their books, they need some help. If you have a blog and develop your own lessons, would you be willing to answer a few questions? If so, jot down some answers in the comment section of this post and I'll be in contact with you.
If you create your own lessons, how often do you use children's picture books to inspire your lessons?

Would you be willing to link your lesson to an author/illustrator's website as a cross promotional tool?
Would you be willing to do author interviews?
Can I include your blog in a resource list for authors/illustrators? Please provide your name and blog URL and your blog name (if different).
Thanks for helping out these wonderful authors and illustrators. I'm sure many of them wold love to send you a free book to give to your readers or for lesson development.