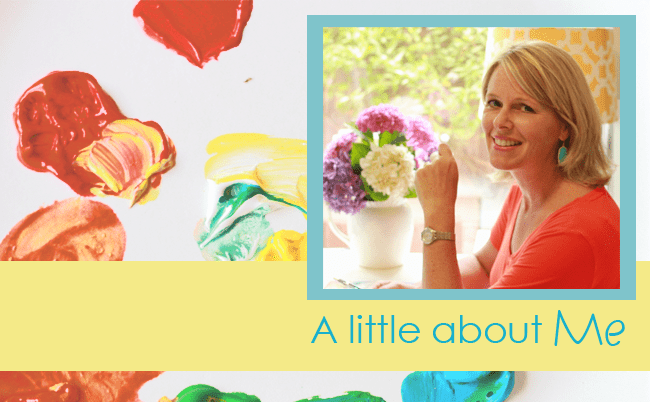 I began this blog in 2008 with the hopes of providing some insight into how art teachers create art lessons for their students. It started with a few blog posts and has grown into a library of art lessons, videos, PDF's and even e-courses. I'm very curious which is the reason why this blog started in the first place. I love discovering what techniques, supplies and subjects appeal to kids.
I went to Ryerson University in Toronto studying Fashion Design and spent a decade designing clothes and working in the apparel industry. Then I moved to sunny Santa Barbara, got married to Neil (who many of my readers know as the Tech Guy) and we had three amazing kids: Newt, Tate and Elly.  After the kids were born, I set aside my sewing machine and spent my time in their classrooms teaching art, serving as PTA President and advocating for more art in the schools.
Now I teach art to 400 elementary students at a public school in Goleta. My blog is extension of what I do in my art room: painting, drawing and sharing the joys of creating art.
In the summer, Neil and I head back to Prince Edward Island to visit our families and enjoy our little cottage by the sea. At first we didn't have cable TV or even a private telephone line, but we had a beach and a deck in which we drank coffee and sipped wine for longer than we had the right to. The kids often got bored but they created fun (waterskiing being the #1 activity) and now it's not summer unless we go back "home".
About Deep Space Sparkle
In 2009, I published my first digital lesson plan PDF, Eric Carle Inspired Art Lessons filled with handouts, full-color photo tutorials and what to expect tips. This was quite the experiment for me as very few people in the online world sold anything.  My readers responded by requesting more and I'm proud to say that many of my ebooks are the result of a teacher's request (so keep 'em coming!)
In 2012, I launched my first e-course, Teaching Art 101. Art teachers, home-school parents and teachers from around the world learned art techniques & teaching tips on how to teach art to children. My second e-course, Beyond the Basics, was launched in June 2013.
If you need help navigating this site or have no clue which lesson is right for your situation, click HERE.
About Creative Content Making
I love creating art lessons. Everything about it interests me; implementing standards, weighing the importance of standards, evaluating how children respond, developing creativity….the list goes on. Much of what I create, I share and some of what I do, I sell.
It makes for a good balance.
I don't create my lessons just for art teachers. Mostly they already know what to do, but my lessons instead are geared toward the classroom teacher who wants to add art into their routine or the home-school educator that requires lessons to appeal to many age groups. Of course, art teachers everywhere have used my lessons and often request projects for me to create. I love the collaboration!
I enjoy the business end of blogging, too. I don't allow advertisements on my blog nor do I accept sponsored posts or product endorsements. I sell my own products and thats enough revenue for me. I sometimes use affiliate links to Amazon and Blick Art Supplies in my posts. I receive a small commission but hopefully these links will point you in the right direction when you are curious about book details or what art supplies I use.
The Deep Space Sparkle Art Scholarship 
Beginning in 2014, I am proud to offer a Santa Barbara area high school senior a lovely scholarship to an art program of their choice. Deep Space Sparkle has been very good to me and this is one way I give back to my community as well as help launch a college-bound art student. The Deep Space Sparkle Art Scholarship is available through The Scholarship Foundation of Santa Barbara.
Are you curious about how I create my blog? Here are a few posts that might shed some light on why I do what I do.

My art philosophy….
Inspiring children to be creative is my mission. I believe all children are creative and if given the time, opportunity, some basic supplies and a little nudge, they will discover that creating art, or anything for that matter, is the shortcut to happiness.
You can click the links to read more about how I make stuff happen in my art room:
Thanks for visiting!
Patty