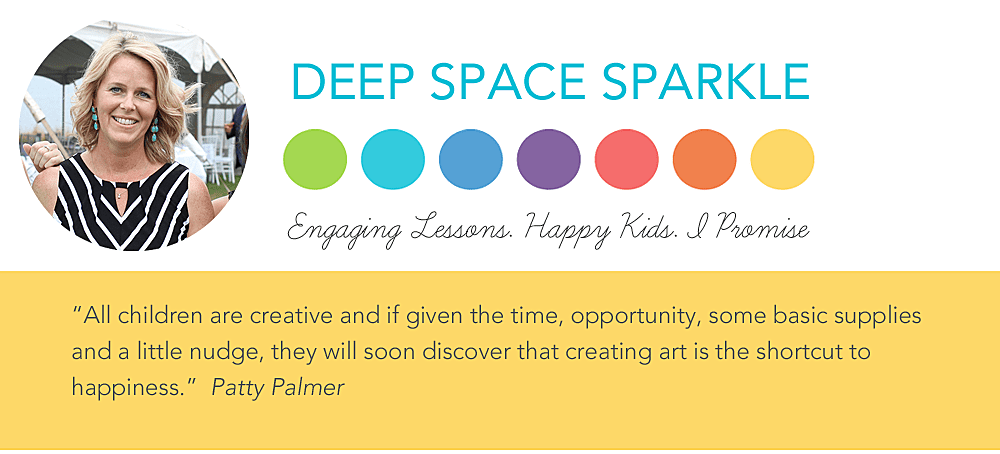 I'm PATTY
I live in sunny Santa Barbara but I still call Prince Edward Island home
I have three kids: two boys in college and one girl in high school.
Neil, my husband of 22 years, is amazing.
He works full time as a computer engineer but handles customer support, codes my site and keeps everything up and running in his spare time.
Deep Space Sparkle is the name of a crayon color. Isn't it fun?
My goal is to make every child that steps into my art room a HAPPY KID
I love creating art lessons; developing cool techniques, implementing standards in a fun way and judging how well a child responds to the process.
Their reactions are my guide.
I create lessons for my students but write up lessons for you; the art teacher, classroom teacher, home-school parent, volunteer and all those art-lovin' grandmas out there.
This site is for everyone who loves kids art and wants–in some way–to encourage a child to find his source of creativity.
Deep Space Sparkle has lots, and I mean lots of artsy stuff.
Here are a few general categories to help you get started….




And just in case this is not enough, or maybe too much….sign up for my newsletter and you'll get my best art tips, lessons and updates every couple of weeks or so.
Media/Interviews/Press
Thanks for visiting! Patty