African Art Lesson Plans
Inspired by the cultures of Africa, this 21-page booklet offers four lessons for the early elementary student. Using basic supplies (colored paper, oil pastels, tempera paint and waterproof markers) you'll find all of these lesson simple, fun and educational.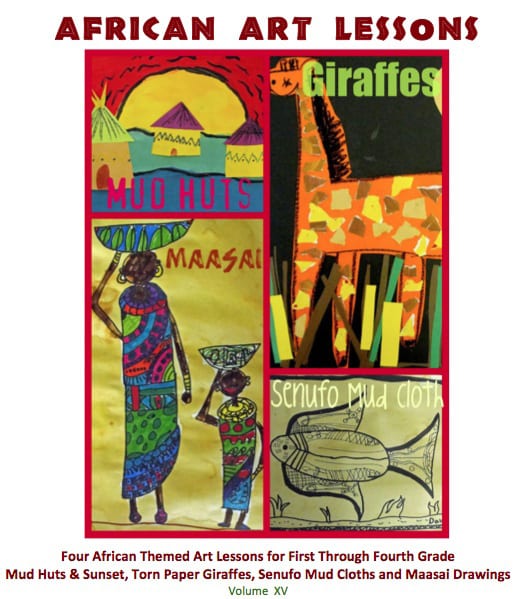 Lesson #1 

African Huts
Colorful mud huts are created using paper and pastel then placed upon a radiant painted sunset.Children learn composition, pattern and perspective. A visually stunning piece.
Lesson #2 Torn Paper Giraffes
Directed line instruction teaches basic giraffe anatomy and simple drawing techniques. Spots are created using torn bits of paper (great for fine motor skills!) and then the whole piece is cut out and placed on a grassy plain.
Lesson #3 Senufo Mud Cloth
(Ivory Coast Art) Using thick and thin lines, children reproduce a classic Senufo image. Photocopy the warm-up sheet to wake up creativity and then use the Idea Sheet to inspire designs.
Lesson #4 Maasai Figure Drawings
Inspired by the dramatic silhouettes of the Maasai, children create a single warrior or a family adding dramatic African patterns for details.
This 21-page booklet inlcudes step-by-step photo tutorials that originate from the classroom setting. Eliminate the guess work when evaluating a lesson by checking out the student galleries.
Five original Deep Space Sparkle handouts include:
Thick & Thin Warm-up Practice Sheet
Senufo Mud Cloth Designs
African Patterns
Maasai Figure Drawings
How to Draw a Giraffe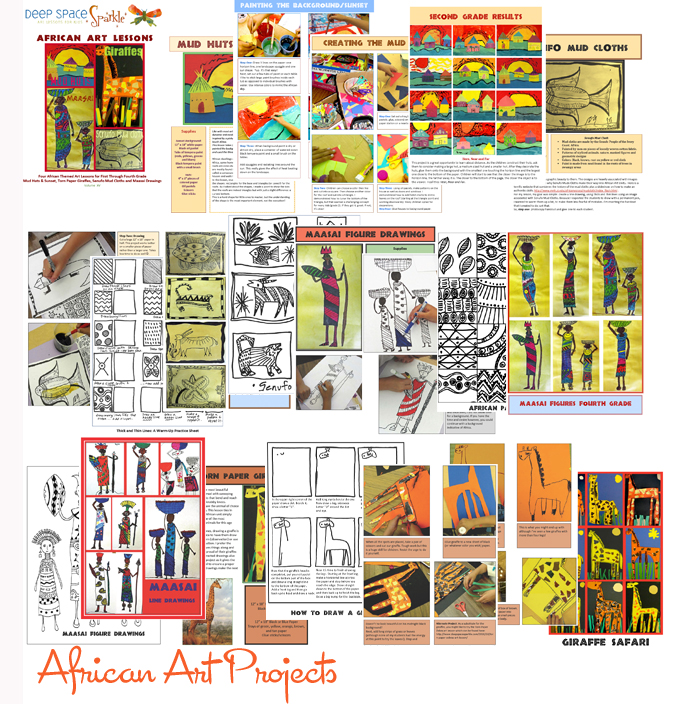 Click to see African Art Projects in the DSS Shop