America the Beautiful Mural…the beginning
I'm in the planning stage of this year's ceramic tile mural. A few weeks ago, a few 6th graders suggested that the mural theme have something to do with the United States. I was thinking that we might do a mural on Ancient Aztecs but after researching images, I decided that there wasn't enough variety to sustain a mural. So I put some thought into the American mural idea and came up with the theme America the Beautiful Landmarks. I think it might be the best one yet.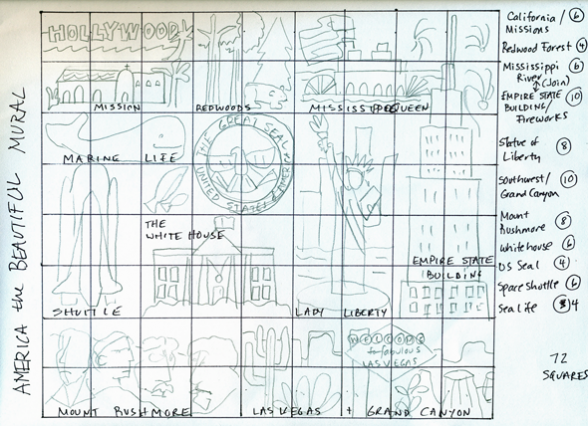 There are many ways in which to design a mural but I tend to stick to a basic graph style layout. I talk about different styles in my Ceramic Mural PDF. This year, the mural will be collaborative, meaning that each child will be a part of a larger group focusing on a certain landmark. I designed the overall theme with general ideas and gathered enough visuals for the kids to draw from.  The two 6th grade classes are divided into groups of 4-6 kids. Each group will receive a landmark. Then, together they will decide how the landmark will look on the paper graph.
In two weeks, I will cut hundreds of clay tiles and the groups will turn their flat paper drawings into 3-D tiles. I can't wait!
Here are some posts on previous murals….
The mural will be finished by the end of the school year.  I will post about the progress, so stay tuned…