Art Inspired Mother's Day Gifts
It may sound hokey, but I don't think there is a better gift than a piece of art created by a child. To know that your very own child chose that particular color and made those particular lines is pure magic to me.
And while acts of creative expression are precious and rare, don't feel bad if you think your child won't ever come up with a piece of art on his own. Art can be hard. If I asked you to sit down and paint a picture for your mom, how would you feel? I personally would feel a little pressured! Instead, consider placing a few oil pastels, paper and paint on a table and invite a child to sit with you to create a picture. A Mommy and Me painting is not only a wonderful experience for you both, but you have a lasting keepsake of the moment.
Here are a few projects that are not only fun but relatively easy to do with a child.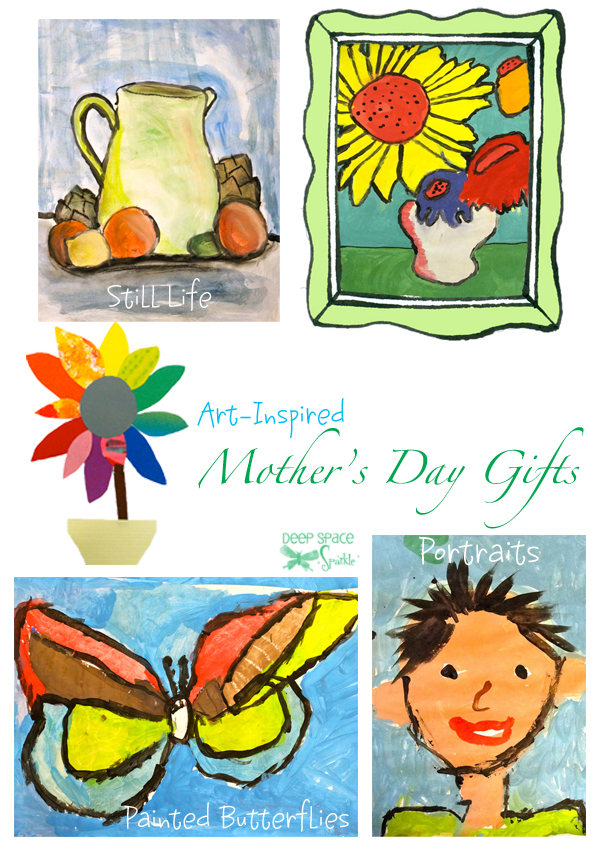 Still Life paintings are a classic subject that can be infused with ample amounts of personality and color. Your child can chose the color palette. You assist with a few basic steps. Van Gogh Flowers are super easy and always, always turns out stunningly beautiful. Here is a Van Gogh Sunflowers Lesson in Oil Pastel and another Van Gogh Sunflowers with paint.
For slightly older kids, drawing a still-life with a vase and fruit taps deeper into a child's observational skills. Use oil pastels, tempera paint and chalk pastels to create this Cezanne-Inspired Still-Life.
Paper-Cut Flowers are super easy. If you have scraps of wrapping paper, paper bags, magazines or craft papers lying around, this is a great project in which to use them up. Make the flowers big or small, use Mod-Podge to adhere them to a canvas or follow the steps for a basic glue and paper project.
There are a few things that every child can draw quite successfully: birds, fish and butterflies! These beautiful creatures have very specific shapes so even if a very young child doesn't have the strongest fine-motor skills, they can draw one of these without too much practice.  These painted butterflies are a beautiful lesson in color mixing and expression. Wouldn't one of these look wonderful in your family room?
Portraits are my absolute favorite. If your child hasn't brought home one of these from school yet, its time to sit down and give yourself a mother's day gift. You don't have to be too fussy regarding feature placement or eye color or anything, really. The important part is the process and to really see how a child sees himself. One of my students in my Kinder class did a self-portrait this year and painted the entire picture red. That's what he saw and felt and it truly was his own.
Have a wonderful, art-filled Mother's Day!