About This Program

WHY AN ONLINE ART CURRICULUM?
Do you want to teach art to your child or in your child's classroom but don't have a clue where to start? Maybe you have a little background with art-making or none at all, but you know your child needs art. That was me about 15 years ago. My children's elementary school didn't have any art instruction. I always felt that art and school went hand-in-hand so it was hard to believe that the school didn't offer art. I realized that my children would never press their hands around a ball of clay or get messy with paint. I knew I had to do something. Although I had a background in art, I certainly didn't have a background teaching children. But, with a few art supplies and some very patient children (and teachers) I bumbled my way through a few projects that I found through a school art site. The children responded with interest and enthusiasm. I couldn't have wished for a better outcome. I let go of any expectations and relaxed into the experience of teaching. Shoulders relaxed, smiles appeared and soon children were showing off their artwork.  Soon after, I was hired by my district to teach art.
DEEP SPACE SPARKLE: THE BEGINNING
Deep Space Sparkle began as an attempt to show parents what their children were doing in the art room. The school's webmaster wasn't interested in hosting my photos so I started a blog. Although I informed parents of the blog, not many of them understood what a blog was. But art teachers knew. Google searches landed art teachers to my site and within a year, I responded to the overwhelming response to create lesson plans for my lessons.
TEACHING ART TO CHILDREN
DSS has helped tens of thousands of art teachers, classroom teachers and parents world-wide teach art to kids. By learning simple tricks and understanding a few basic art principals, I know you will be successful too. By reading through THE PROGRAM PDF as well as watching the instructional videos in the teacher training, you will begin to see that anyone can teach art to children. I have broken down steps into language the beginning teacher can understand as well as identify areas in every lesson where you can help children problem solve.
If you have zero confidence in teaching, I'm here to do it for you. The videos are designed to do the teaching for you! Teaching art to children can be a messy experience but it is always a happy one. Accept that there will be a few management issues, some spilt paint or a resistant child, but in the end, it always works out. The key to a successful lesson is your own comfort and joy. I don't intend to sound like a holiday card, but it's true. The more fun you have, the more fun the children will have. Your positive energy is the MOST IMPORTANT ELEMENT. It doesn't matter if you can't draw a straight line or know what tertiary colors are. That's what I'm here to help you with. Your job is to bring excitement and creative energy to the classroom.
HOW TO USE THIS PROGRAM
Teaching preferences in the classroom will vary. You might prefer to follow a step-by-step approach or you might peruse the materials then implement the lessons in a way that suits you. There is no wrong way to use this program, but it does help to have an understanding of art supplies, how to set-up and clean-up and even tips on class management. The Art School for Adults mini e-course will help you with that. Watch the videos or use the lesson plans; whatever format works for you.

ASSISTED WITH VIDEOS The videos are designed to introduce the entire art concept to the students then follow a step by step process in which the art facilitator (you!) can pause the program to allow for work time. If there is a book connected to the lesson, the video will only show highlights of the illustrations. You can choose to read the book prior to the lesson. To watch the videos, click on the three video options available to you in each lesson plan page.
DO-IT-YOURSELF APPROACH If you do not wish to use the videos because you have some art experience or are just anxious to interpret the art lesson and go it alone, the PDF lesson plan, photo-tutorials and handouts will give you the support you need. Perhaps you just use the video to introduce the lesson or show the student gallery.
ABOUT THE VIDEOS
The videos have been produced to give you the best results in every situation. They are designed to be streamed or downloaded onto your iPhone, iPad, home computer and lap top computer. Using a Smart Board/Elmo/Projector systems is fairly common in the today's classroom, so plugging in a laptop will be a familiar way for a class to experience the lessons. You will have access to downloading HD quality videos to your computer or stream Standard Def videos. This program allows multiple teachers in each school to access the classroom portal (depending on the option plan you purchased), enter the login info and watch the videos from her own device. We do advise downloading your selected videos and lesson plans to your computer so you do not have to share your school's internet connection with everyone at school.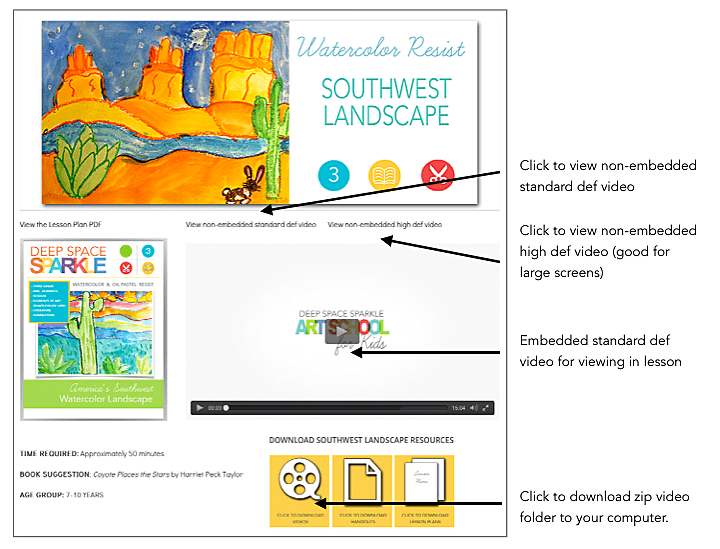 WHY GRADE LEVELS ARE IMPORTANT
Choosing an art project based on grade levels remains the best way to guarantee a successful art outcome. Most of my early years as an art teacher were spent experimenting with various techniques, lesson delivery and art subjects for different grade levels. I was curious to know if I could teach a lesson designed for Kinders to first graders. The answer is almost always a yes but the reverse is not necessarily true. Taking a first grade lesson and asking a group of Kinders to try, doesn't always work out as well. Of course, it really depends on the skill level of your students. Children develop at a fairly predictable rate as far as art goes. I've only had a few classes during my years of teaching art that the students were more advanced in fine motor and listening skills than their counterparts. There are always a group of students in each class that can handle far more difficult projects and techniques but asking them to complete an "easier" art project is in no way hindering them as developing artists. The same could not be said for math or english, but I believe it's true for art. Whenever possible, stick to the grade level of your class, as this is where my experience and knowledge stems from. It's fine to teach down a level but be careful about teaching up. You might loose more kids to frustration which makes the management and progression of the class more difficult.

ABOUT TIMELINES
The timing of a lesson isn't a huge concern if you have some flexibility with your scheduling. If, however, your time is very tight, it can become stressful when you know your students aren't going to finish the project. I base most of my time estimates on how long it takes me to teach an art lesson to a particular group of students and then I add time. I sense (from some very informal research) that most teachers or parents take a bit longer than me. I think this is because I have designed the lessons and I know the objectives and techniques well. It's my hope that the videos can release some of the pressure to teach the lesson so you can use your time for prep, assist kids and offers lots of praise and encouragement. There are a few things you can do to shorten the timing of a lesson: Use a smaller sized paper. The finished project will be smaller but sometimes finished is better than big. Don't read the suggested book in class. Instead, allow the classroom teacher to read before hand. Be organized with the supplies so that the children know where to get the materials for the next stage of an art lesson.
ABOUT STUDENT GALLERIES
Student galleries are a great resource for you to know what to expect from your class or children. Since I don't encourage using a sample at the beginning of a lesson, the galleries allow children to see how other children interpreted the lesson. HOW I CHOOSE THE ART FOR GALLERIES When choosing art for the galleries, I generally have about 45 pieces to choose from. Sometimes I have less than 20. It depends on whether or not I taught the lesson to one class or two and whether the class size was small or large. I try to show as much variety as possible and I leave out any unfinished work, which accounts for about 10 % of all lessons. I included one or two examples in the PDF lesson plan of when things go wrong. This is not meant to pick on the dear artist but rather an example of what to watch out for when you teach the lesson. I think it's helpful to know what goes wrong for children as well as what goes right.
ABOUT ARTIST STUDIES
One of the components of a great art program is to show children how artists have created art throughout history. The study of contemporary artists is as important as the masters as it gives a child an overall view of art as it applies today. I love showing the variety of art styles that has been created by artists who broke the mold of what was considered great art at the time. This is so powerful for kids; knowing that an artist broke away from societal expectations and created what was true and authentic for them. ABOUT ART VISUALS If you have the opportunity to purchase hard copies of great works of art, then I would encourage you to do so. Calendars are an inexpensive source. When I can, I will link to a resource that offers a print for sale. Showing kids a large poster of a piece of art remains my favorite way to discuss a piece of art as the poster feels real to the students. But if you don't have access to visuals, I will include them in the video portion of the lesson. Regardless of the media used, I will offer some key points to discuss with your students. I will use the new Visual Arts Standards as my guide to implement discussions. One of my favorite books on the market today to explain in very concise, child-friendly terms is the book A Child's Introduction to Art by Heather Alexander.
ABOUT LITERATURE CONNECTIONS
Teaching art through literature remains my biggest lesson inspiration. Children love picture books but the frequency in which they see new, exciting and creative books is diminishing. I love sourcing new titles that have a strong connection to classroom learning. Reading books also offer a great transition into art class as it calms children and introduces the subject for the lesson. It also helps you, the volunteer, gauge this new group of kids. You don't always know the behavior levels in a particular class, and although the classroom teacher is there to help you, sometimes you need to be aware of the listening levels of the kids. Reading a book will tell you (in about 5 minutes!) how well the children can listen, follow directions and in many case, sit still. If they can't, you will at least know that you might have to slow down, speed up or somewhere in between. READING BOOKS TO DIFFERENT AGE GROUPS Reading gives the children an opportunity to hear words, see colors and notice how illustrators use art elements to tell a story. When I read a book to my younger students (grades K-3), I sit in a chair and the children sit in front of me. I point out the illustrations and inject some questions to think about. Like, What colors do you see? Do you see any shapes in this illustration? This may not be practical for older children (grades 4-6). In this age group, I don't read stories as often mostly because I don't want them sitting in front of me like they did when they were smaller. If you have a document camera, reading book this way will allow older children to stay at their tables and feel a bit more grown up. MY USE OF BOOKS IN THE CURRICULUM The pictures of books you see in the art lessons are my photographs of the pages. They are meant to give you examples of what the illustrations are like. If you are short on art time, discuss the possibility to have the classroom teacher read the book before your art session. Download the Program PDF to see the complete book list
ABOUT THE ELEMENTS OF ART
Most of the Elements of Art and The Principals of Design are used in the art lesson in the art curriculum. No one lesson focuses on teaching the Elements or Principles but rather incorporates them into the bigger theme of the lesson. I will identify where these elements are taught by indicating the scissors icon in the upper right hand corner of the lesson plan PDF and identifying the specific element or design principle in the blue box that is on the cover of each lesson plan PDF. The only element that is omitted is FORM which is not included in the first phase of the curriculum. Form mostly deals with 3D sculptures and clay projects which will be released in Phase 2 of this curriculum. Crystal Productions has a great set of posters that explain the Elements of Art. Although it isn't necessary to purchase them for this art curriculum, I do find them helpful to place around my classroom.