Common Core and the Arts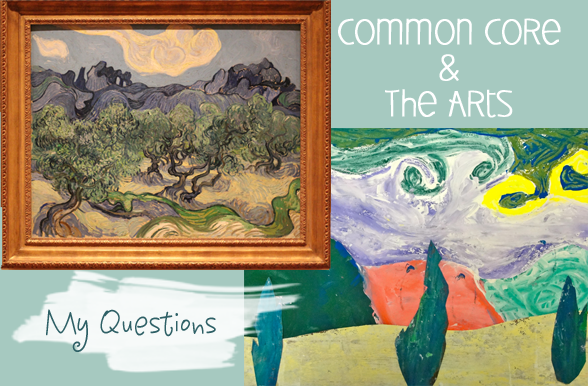 As I wrap up another school year and move into the easy pace of summer, I like to take some time to reflect upon the past year in order to plan for the next. I'm a sporadic planner at best. I have every intention of sticking to a set curriculum but new ideas never fail to bubble up. I'm in a unique position at my school where the art curriculum is completely up to me and as a result, if I see an idea that I absolutely must do, I make room for it!
Art standards, in particular California Visual Art Standards, provide a great launching off point for my curriculum and gives me a checklist of sorts to make sure I'm providing my students the best possible art program I can give. Soon art educators will be required to integrate Common Core into their art curriculum. I did quite a bit of internet research hoping to find tangible ways in which to incorporate the Common Core ideas, but to me, the language is still too abstract to translate into lesson plans. I can easily see how language, math, science and personal response relate to art but I wonder if the lessons aren't geared more towards the classroom teacher rather than the art educator.
How can art specialists or contracted artists incorporate common core into their art program without these tie-ins?
Some of my questions are:
Will technique-based art lessons be considered unnecessary with Common Core?
Is there a Common Core standard for each grade level? For instance, are Kinders required to learn some of the elements of art?
Is the Common Core Art Integration meant for classroom teachers or art teachers?
How does Common Core Arts Integration benefit elementary school children?
And someone please tell me whether or not I have to incorporate math problems in the art room. This will be a sad day indeed for this art teacher.
 Your turn….
I want to hear your thoughts on how you have managed to incorporate common core into your elementary art room. And tell the truth…do you like it? Loath it? Hate the change? Love the change?
Put the mystery to be and share what you know? (commenting tips: My hyper-sensitive Akismet will drop you like a hot potato if you put links in your responses, so if you have a great referral site, it's best to spell it ot. Literally!)