Conquering the Cassoulet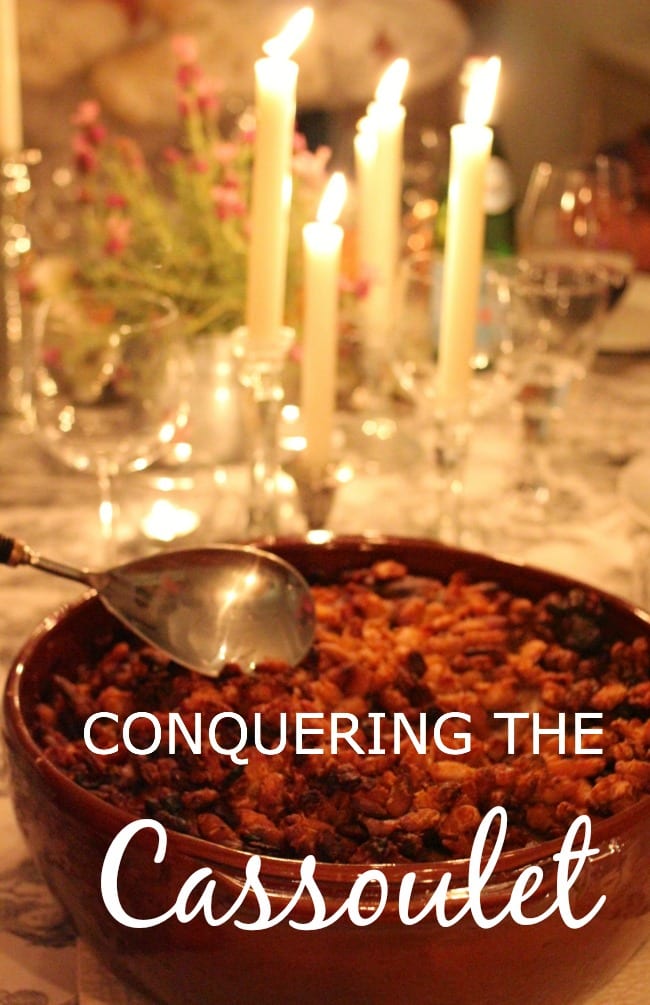 When you have a creative business, it's important to fill your creative well. Burnout is common with bloggers and maybe even more so with art teachers…I mean, all that lesson planning and kid-management and energy. It's exhausting. So at the beginning of the school year, I vowed to devote a bit more time to creative cooking. Not just dinners but dishes. The ones you might order in a restaurant.
I pinned a few recipes that looked worthy of weekend entertainment and got to work narrowing down recipes that looked complicated enough to be worthy of my culinary bucket list, but easy enough to make a home. I'll admit to being inspired by the book ( and movie) Julie and Julia: My Year of Cooking Dangerously.  After I watched the movie years ago, I ran out and bought Julia Child's Mastering the Art of French Cooking the next day. There was a scene in the movie where Amy Adams was making pudding in her tiny kitchen and the process of turning the egg and chocolate mixture into pie was "such a comfort". I could totally relate.
Cassoulet has always been a mystical dish to me. I've read cassoulet articles and seen easy-to-prepare versions on cooking shows. Truth is, I've never seen a cassoulet on a menu and had absolutely no idea what a good cassoulet tasted like. But I know what it is: Cassoulet is a rustic French dish that combines beans, sausage and preserved duck for one big hearty meal. Apparently there are rules too. Some regions of France makes Cassoulet with a bread topping while other regions say the bread topping is unnecessary. Some recipes use lamb while others don't. All recipes use duck confit and beans so I focused on that.
The Recipe
Duck confit is basically duck legs preserved in its own fat. I like this definition. But here lies the problem. My local grocery store doesn't sell duck, not to mention duck confit, and I certainly don't have a larder with jars of duck fat. So I ordered them from D'Artagnan which is basically a cassoulet gold mine. After I clicked the duck confit box, I decided to order the french meats/sausages, the beans and the duck fat. And why not throw in the cassoulet pot?  In one click I took care of my biggest cassoulet hurdle and bought a nice 22nd anniversary present.
Easy peasy.
The Process
I prepared the beans the day before by soaking for 12 hours and then cooking with a clove-studded onion, bouquet garnier (celery leaves, thyme, peppercorns), some carrots and garlic and lots of water. So much water in fact that I didn't have a pot large enough to hold it all and had to divide the ingredients into two.
While the beans cooked, I browned the pork sausages and unpackaged the duck legs.
Cooking
After the cassoulet was assembled into the appropriate layers with lots of duck fat drizzled throughout, it was time to get it in the oven. This is where I must offer a warning: this is the heaviest dish in the world. I could barely lift it. I'm glad I ordered the cassoulet ceramic dish from D'Artagnon because my original idea was to use my cast iron cookware. If this is your dish of choice, be prepared to bring in someone with some good forearms as these dishes are heavy.
The Party

There is nothing I love more than cooking for friends. I loved taking the time to polish my wine glasses, set the table and make a center piece. It's creative and soothing and the process makes me thankful for my life. This is not to say that I love all aspects of entertaining because as I write this post, I have a zillion dirty stemware and a very big mess to clean up. It's waiting for me but I choose to ignore it…at least for now.
Neil was particularly excited that I chose to entertain friends for our anniversary. In the past, we celebrated our marriage with a small weekend trips but with Elly's softball season taking us to Los Angeles every weekend, we were happy to stay home. His job was to select the wines that would accompany the meal. He even did research on Cassoulet and the Cote du Rhone region and came up with one white and three reds to serve.
Since it was our anniversary and because we live in one of the best wine producing areas in the world, our friends brought some amazing wines to share. Tensley Syrah and Denner's Ditch Digger were over-the-top amazing.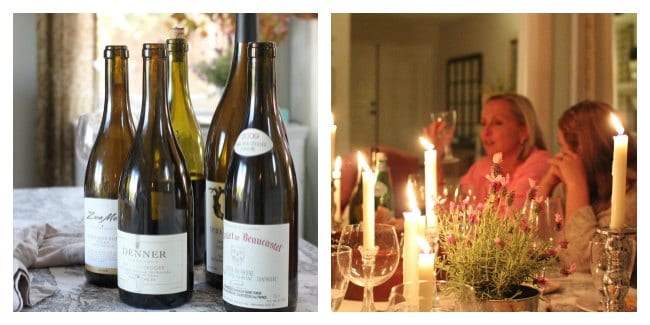 While everyone was enjoying the wine and appies, I was nervous. I had no idea what a cassoulet was supposed to taste like. Would it be a total flop? My cassoulet didn't seem to develop a crackly crust that the recipe assure me it would and it looked rather bland. I will admit to tasting it halfway through the cooking process and felt that it needed a little Patty-fix by adding a combination of Veal Demi-Glace, mixed with a bit more tomato paste than the recipe called for and sneaking in a bit of brown sugar and duck fat to encourage some crispiness to that dried bean crust. I'm glad I did it because it offered just the right amount of flavor to a very bean and meaty meal.
The Verdict
Neil brought the cassoulet out of the oven and placed it in the middle of the table. He pushed the spoon through the crust and scooped out a big serving of steaming bones, meats and beans. It looked like a dish from the middle-ages. And you know what?  It was pretty dark good.
Maybe it was the friends or the wine or the fact that I've been married to a really nice guy for 22 years, but last night was one of my favorite nights ever.
I'm so happy to have made my first cassoulet. Even though ordering some of the ingredients felt like cheating, I'm pretty sure I wouldn't be able to do it unless D'Artagnon existed.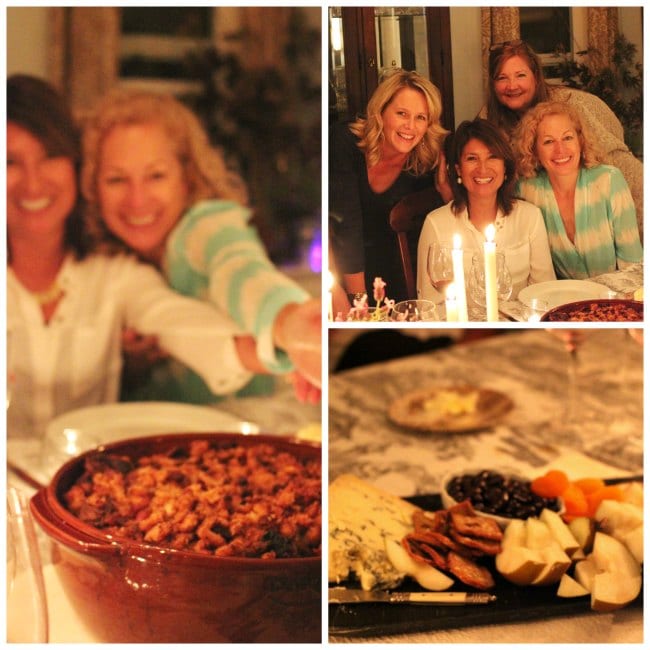 Want to make a cassoulet?
Cassoulet production video and recipe and ingredients from D'Artagnons
Do you have a creative bucket list? Are there activities you do to quiet your mind and bring you focus? Anyone a cook out there? Do you have a dish you've always wanted to make?