Reflections on 2012
I love welcoming another new year. It gives me a chance to reflect back on all the good things in my life. It's been such a wonderful year, full of new experiences, new friends and a few changes.
Winter
A casual conversation with a neighbor last year inspired me to start walking along the beaches near my home. I started walking on December 24th, 2011 and since then, have walked along the coastal bluffs and beach 3-4 times a week for an entire year. And it wasn't for the exercise. Walking in nature, through the eucalyptus and butterfly groves, through high-tides and low, windy days and rain, I tapped into my creative self.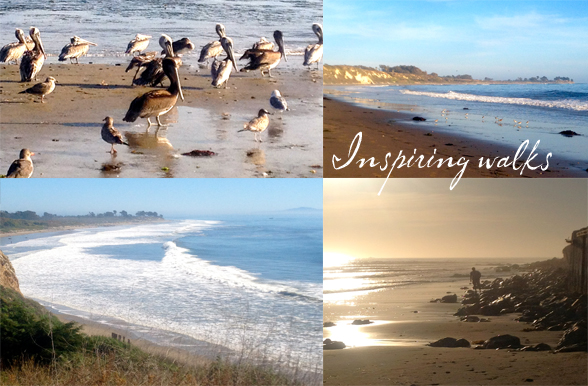 I came up with the best ideas on these walks. Neil would join me on Sundays and we would discuss Deep Space Sparkle and our goals and plans for the business. We joked about conducting our 'board meetings' on the beach. I realized one sunny day in February that Deep Space Sparkle was a business now and not just a hobby blog anymore. On these solitary walks I created new art lessons, planned posts, and came up with answers to my most nagging questions. I decided that teaching an online art course would be a fun way to connect with my readers. I brainstormed how I would do it, what I could share and formats that would appeal to my readers. On these walks, I thought about reader comments and how I could provide a better product for them. I embraced what really made me happy and gave little thought to such notions as risk, wasted time and lost energy.
Spring
I attended the Snap blog conference  in Salt Lake City. The event was awash in color, craft and conversation. I met Marcie, my roommate who was just about the loveliest person on earth. One of my favorite sessions of the conference was learning how to use my DSLR camera more effectively.  Kristen of Capturing Joy , who taught the photography classes, was amazing. My camera hasn't been set to auto since meeting her.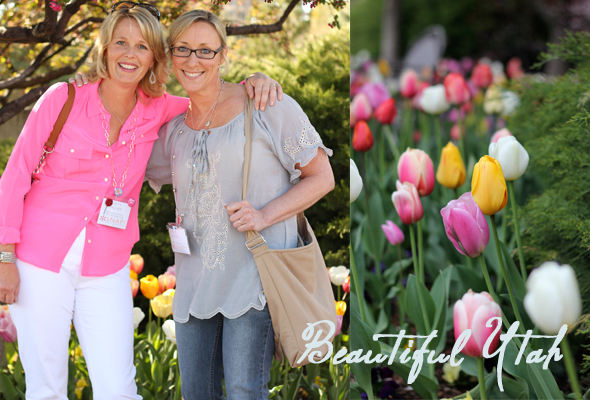 To get an idea on how to teach an e-course, I signed up for CraftyPod's "How to run an e-course". Diane was incredible: thorough, informative and answered all my questions and concerns. She was a great role model into how to teach this type of class. I love how no matter what your goals are, there is always someone out there who can help you. I realized that no one needs to do it alone. It's such a comfort!
Summer
I launched my very first e-course in June. The response was overwhelming. I had no idea what to expect…quite literally. I told Neil that if I could teach 40 students, I would consider the e-course a huge success. As soon as I opened enrollment, a flood of registrations poured in. At first I worried that I wouldn't be able to give everyone the individual attention you deserved, but after the course got underway, I relaxed into the pace.  After it was all said and done, I decided that the e-course was one of the most enjoyable events I've ever experienced. Over 500 of you signed up and although I wasn't able to connect with everyone, having you online made our global art community feel wonderfully close. Our joint mission to teach inspiring, fun art lessons was shared and I learned so much from everyone. I "met" people from all corners of the world and decided that people from Australia might be the nicest and most creative souls on earth. The e-course was a natural extension of all that I offered on my blog and I'm so thankful that you were with me on this ride.
Fall
After a long summer, I couldn't wait to get back into the classroom. As much as I love blogging, nothing brings me more satisfaction and joy than introducing art to children. It is just so fun. I've been in super planning mode since September. I've been changing things up; teaching new lessons, going out of my comfort zone and experimenting with different teaching approaches. This will all be shared in my new e-course, Beyond the Basics, which will be held in June 2013.
In September, I said good-bye to my oldest son and sent him off to college. He was ready for this adventure and so I couldn't help but be ready for it, too. I spent 3 weeks turning the extra bedroom into my dream studio. I LOVE my studio. Having a creative, inviting and organized space has been such a joy. Who would've thought that a coat of paint and some bookshelves could transform a room so dramatically?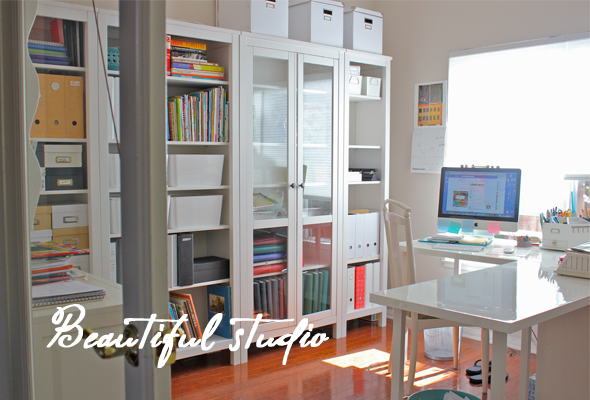 Teachers pay Teachers
I opened a Teachers Pay Teachers store in November. This store provides a service that compliments my own store: purchase orders! Many of my readers need purchase orders for ordering lesson plans and e-courses and some school districts can only purchase via this method. Teachers Pay Teachers offers this service, so if you need a purchase order, please use my TpT store. When my e-courses open for registration, this will be the place to pay via a Purchase Order should you require one.
The ultimate dream
The e-course started me thinking about my real dream; to publish a book. About art teachers and their processes, spaces and goals. I have other ideas, too. Truth is, I just want to travel and meet all these wonderful art teachers. Will this book happen? I don't know. I confess to allowing this process to happen authentically, that in time, the moment will present itself. Sounds passive, I know, which is most definitely not my nature. But I've learned one thing this year: I'll let my walks decide.
Thank you DSS readers, friends and supporters…
I thank all of you who supported me in my creative journey. I receive so many emails from readers thanking me for my blog. Blogging friends have reached out to me when they thought me (or my blog) might be coming under attack! I can't tell you how timely these emails were…just when I felt that I might be going down the wrong path, someone would send an inspiring, encouraging note.
I'm sharing my story not to be self-indulgent, but to encourage you to seek out your creative path. To keep inspiring children with your talents and not to be afraid to try something new or unfamiliar. Find that space where ideas flow and everything is as it should be. And if I can be so bold as to suggest some good, long walks through nature. Your creative self will love it!
A small gift…
Please download my ebook, Royal Pooches, free of charge. I use this ebook in my TpT store as a preview of my work. I wanted to make sure that you have this opportunity as well.
What are your dreams? Do you set resolutions? How do you tap into your creative self?