3-Ingredient Art 3/4 Lesson Plans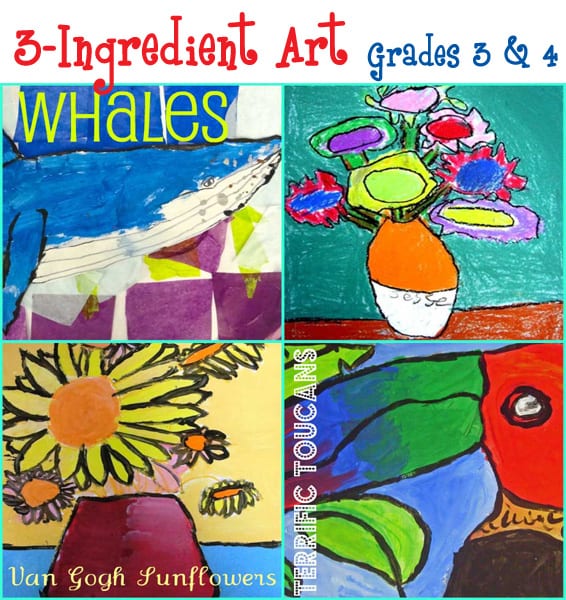 For some teachers, the biggest obstacle for teaching art lessons is lack of supplies. This 24-page booklet features four art lessons developed for grades 3 & 4 that use basic art supplies: paper, paint & a drawing tool (oil pastel or pencil). These lessons offer tips and tricks to shorten art instruction time and give options for rich add-ons. Great art lesson basics for every classroom.
Van Gogh Sunflowers (2 lessons)
Follow my techniques for drawing and painting these exquisite pieces and marvel at the results. Lesson one shows how to paint with tempera and the other lesson demonstrates with oil pastel.
Terrific Toucans
Hands down one of the most successful drawing/painting projects I've ever done. Follow the tricks with my step-by-step handouts then let the children create. I truly LOVE this project.
Whale Mosaic
Featuring three grand mammals; the California Grey, Humpback and Blue. Children draw a whale of their choice and apply paint using a cool sponge technique. The background is optional. Using tissue paper and Mod-podge, the children create a warm or cool ocean.
Handouts Included:
How-to-Draw a vase of Sunflowers
How-to-Draw a Toucan and Leaves
Drawing Toucans Idea Sheet
How-to-Draw a California Gray Whale
How-to-Draw a Blue Whale
How-to-Draw a Humpback Whale
Teacher tips
Recipes for mixing paint colors
Multi-lesson student galleries
Work-in-progress photo tutorials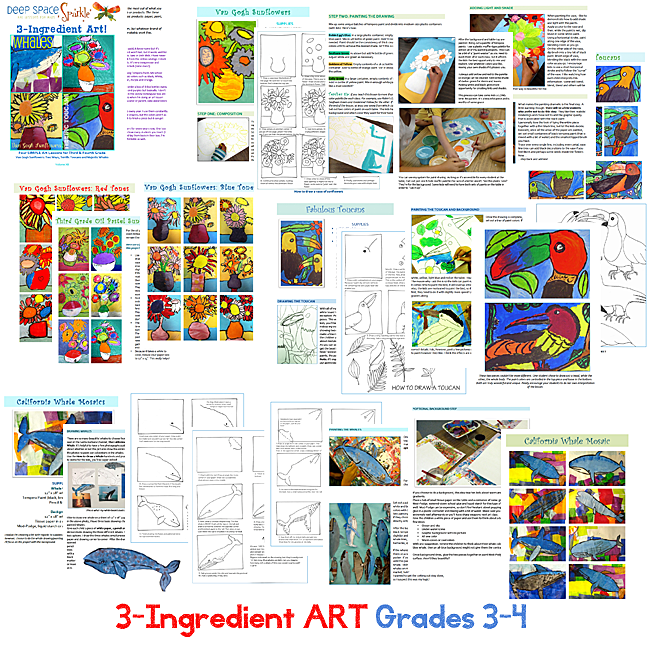 Although the lessons are suggested for grades three and four, they could easily be adapted for any grade level.