Easy Picasso Faces Art Project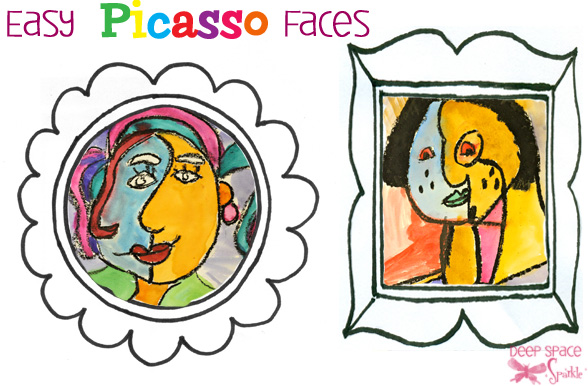 Everyone is looking for a quick and easy art lesson that children can complete in under 45 minutes. This oil pastel and watercolor painting fits the bill! The supplies are simple: 9 x 12′ 90 lb watercolor paper, black oil pastel and liquid or pan watercolor paints. Start by showing how to draw a simple "Picasso" cubist face. I did a similar lesson with older children and I used this drawing technique. I allow about 15 minutes for the drawing, stressing bigger shapes and strong lines. I have many Picasso samples on the white board for inspiration.
The oil pastel, if applied heavily, will act as a barrier to the liquid watercolors, creating small areas in which the watercolor can pool. So technically, this isn't really a resist technique. Use a small piece of watercolor paper so that you can be sure to finish on time and don't worry about oil pastel smudges. Most paint colors will hide fingerprints beautifully!
Enjoy!