Easy Winter Landscape for Second and Third Grade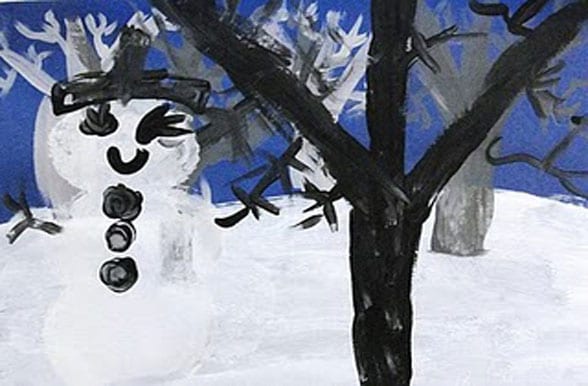 Here is a super easy lesson that incorporates many art principals. It takes one 45-minute art class to complete this project if you use small sheets of paper. I used half-sheets of colored construction paper (12″ x 9″). If you have more time, use full sheets (12″ x 18″) and the results will be even better.

You will need: 12″ x 9″ colored paper and a tray of white, black, light gray and dark gray tempera paint
Snow and Background Trees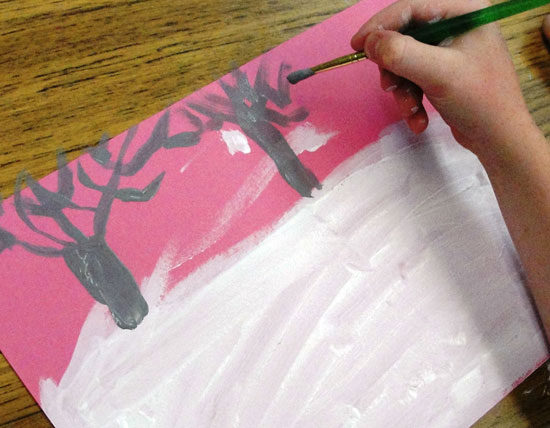 Draw a line across the top third of the paper and fill the space below it with white paint. This is the layer of "snow".
Using the lightest gray paint, paint a winter tree: thick tree trunk and spindly branches. These trees are in the background and therefore are the lightest color. Start at the snow line and paint towards the top of the paper. Paint right off the top.
Mid-Ground Trees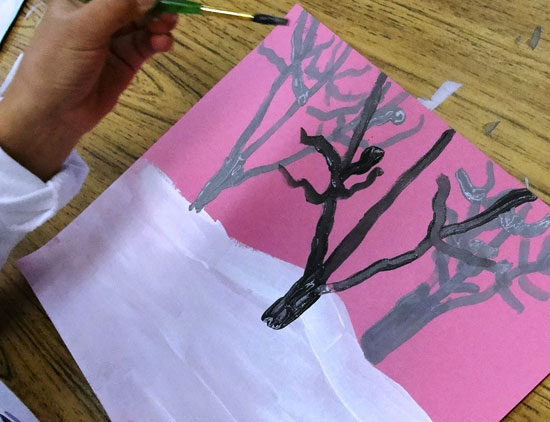 Using the medium gray, paint the middle-ground trees. Begin painting in the center of the snow. Paint as many as you would like and make sure the tree branches extend off the top of the paper and over the background tree branches.
Foreground Trees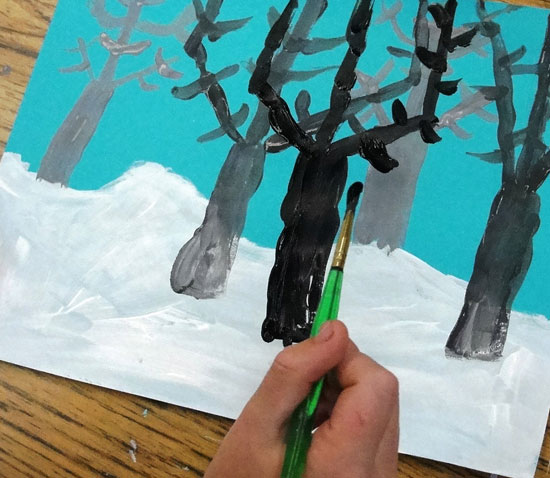 Using the black paint, paint the trees closest to you. These trees are near the bottom of the paper. Extend the branches off to the side and top of the paper. Kids at this age want to stop painting the branches before they go off the edge and will often resist painting over the other branches. Help them see that the tangle of colors and branches is a good thing! Add a snowman if you have time and if you are really in a good mood, let them splatter white paint for snow! Enjoy

Second and Third Grade Winter Trees…