Foil Turtle and Fish Collage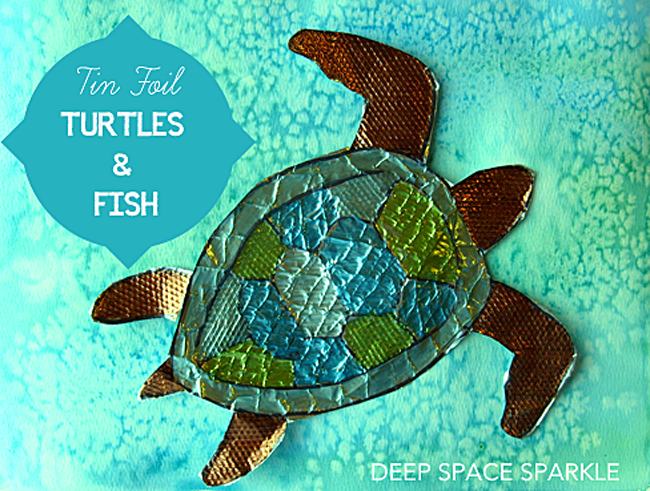 This lesson was inspired by a lesson in The Usborne Book of Art Projects. It was a huge hit with my third grade class. The lesson in the book focused on fish but I thought a sea turtle would look lovely swimming in the glittery waters.
Here's How:
Creating the Background
There are a couple of ways to make the water background for the sea turtle and fish. One method is to use liquid or tray watercolors and table salt to make a traditional speckled background as shown above or you could use Mod-Podge and glitter liquid watercolor paints.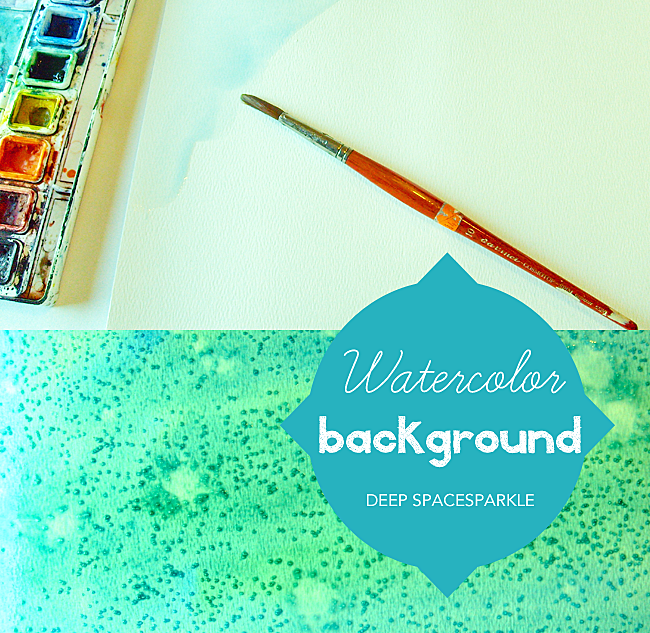 To make a watercolor and salt background,  use 6″ x 9″ pieces of 90 lb watercolor paper and regular watercolor paints.  Wet the paper with a sponge or large brush, then mix blue and green watercolors onto the wet watercolor paper (wet-on-wet technique). Salting the surface will give the "ocean" a sparkly quality.
I had some of the Mod-Podge glittery paints left over from the Fancy Fish Lesson, so I though I may as well use it up before it hardened and became unusable. The students brushed the leftover "glittery paint" onto a piece of blue or lavender drawing paper. The results were shimmery and ocean perfect.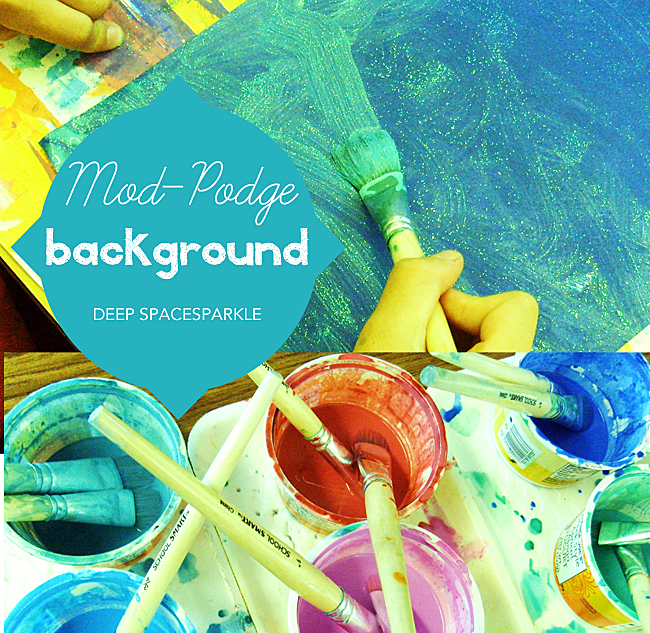 To make the glitter paint, combine a few table spoons of glitter liquid watercolors with about a ¼ cup of gloss Mod-Podge. Stir and use like regular paint.
Drawing the Sea Turtle and Fish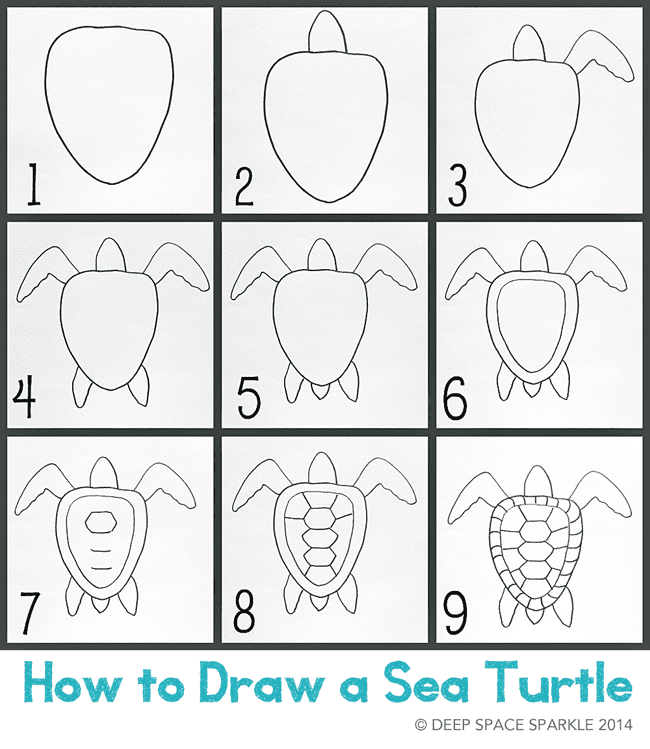 CLICK TO DOWNLOAD How to Draw a Sea Turtle
Set the ocean paper aside and demonstrate how to draw some fish and sea turtles.  The idea is to keep the drawing very simple because the drawing will be created on tin foil. It may be helpful to do a practice drawing on a piece of paper cut to the same size of the tin foil.
Use the drawing guide or show pictures of sea turtles and fish and allow the children to identify the basic shapes and colors from photographs.
Coloring and Texture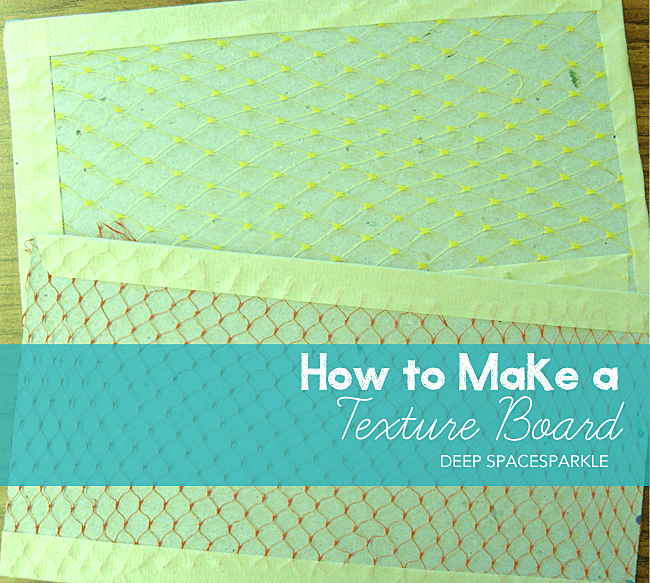 You'll need some heavy weight tin foil (regular tin foil is fine), and some texture boards.  To make a texture board, cut heavy board (tag board, etc) into 9″ x 6″ rectangles.  Cut up old mesh vegetable bags and tape to cardboard. I made about 25 and had a few 6th graders help with the taping.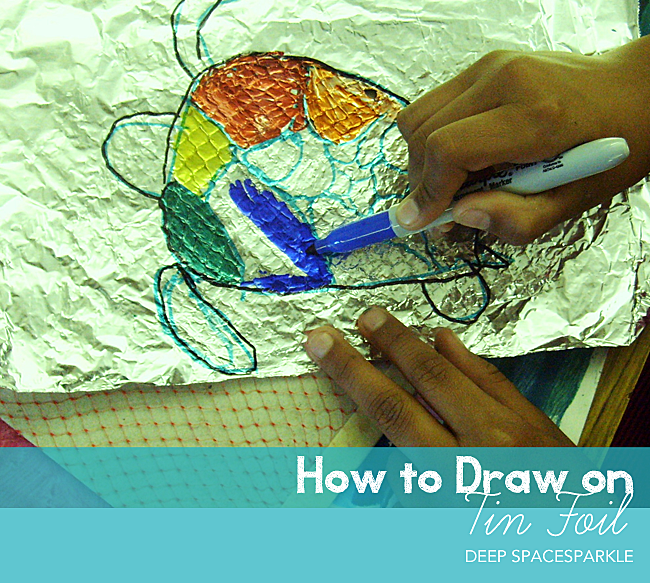 Hand out pieces of tin foil, colored permanent markers and texture boards. Make sure to use permanent markers as regular Crayola markers will smudge. I like Sharpie brand markers.  Put tin foil directly onto texture boards and draw fish or turtle. Color with Sharpies and watch the texture of the netting show through. The kids LOVE this step. I do, too. It's really cool!
After drawing a large turtle or a few fish, carefully cut out fish and glue (white school glue) onto glittery or watercolor paper. This part isn't easy as sometimes the tin foil will tear. If you can persuade your students to draw large turtles and fish, the process will be much easier and far more satisfying.
Third Grade Gallery