Fun with Painted Paper & Technique Videos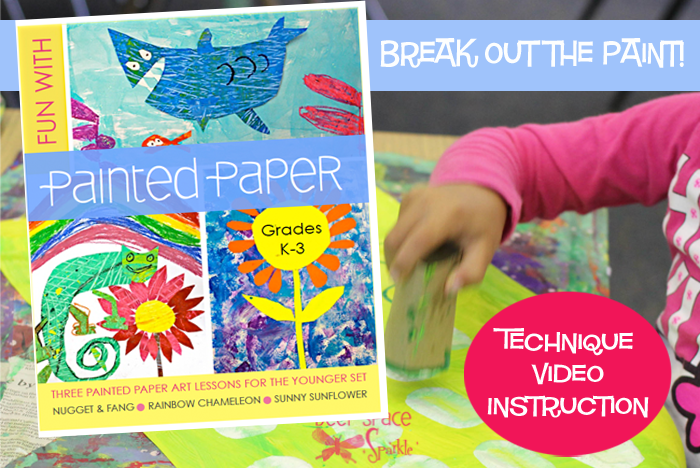 Creating painted paper is an absolute joy for children. There is absolutely no wrong way to do it and the kids know it. I've gotten into the practice of starting my kinder and 1st grade art rotations with a painted paper project. You may have to wash a few extra brushes, but in the end, the children are smiling and you'll have enough painted paper pieces to last the whole year.
These three painted paper projects and technique videos are geared for littles ones in grades K-3 and are based on three very popular children's books. The lessons take two-three, 40-minute sessions and cross off many standards and art techniques on your list.
Fun with Painted Paper includes three lessons for grades K-3, plus access to THREE painted paper videos from the Teaching Art 101 and Beyond the Basics e-courses.
Rainbow Chameleon
Inspired by Eric Carle's book, The Mixed-Up Chameleon, this lesson starts with instructions on making both warm and cool colored painted papers. With a rainbow background, children cut out a chameleon and a favorite resting spot. Standards include cutting, composition, rainbow colors, identifying warm and cool colors, texturing and self-expression.
Stamped painted paper video included
Sunny Sunflowers
Based on Eric Carle's book, The Tiny Seed, children create a stamped painted paper in both warm and cool colors. Lots of cutting and pasting practice here.
Nugget & Fang
Based on the book Nugget and Fang by Tammi Sauer, an unlikely friendship is forged between a shark and a minnow. Children use an oil pastel resist with liquid watercolors plus a painted paper shark and minnow to recreate their own story.
Traditional and scraped painted paper technique videos included.
Painted Paper Video Collection
By purchasing this art lesson plan you have access to DSS's Painted Paper Video Portfolio. Three painted paper videos from the Teaching Art 101 and Beyond the Basic e-course are yours to access anytime you wish. Use the URL in the PDF and enter the password to view the private video collection.