How I'm using my Curriculum Workbook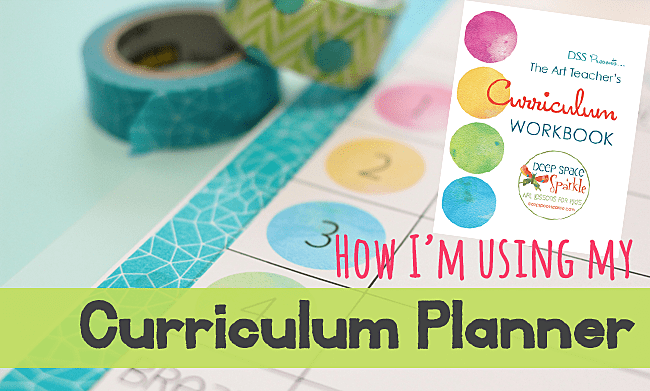 After launching my Art Teacher's Curriculum Workbook last July, I've had the opportunity to enjoy the pages as you would; dreaming up my art curriculum, recording last year's successful projects (and not-so-successful ones), drilling down on the projects I need to do and ones that I want to try.
Some of those who have purchased the workbook like to keep the files on their computer and plan from there, but I prefer to print out the pages and place them in a binder. This is what I did:
I purchased a Martha Stewart Brand aqua binder and coordinating tabs at Staples and got started assembling my workbook.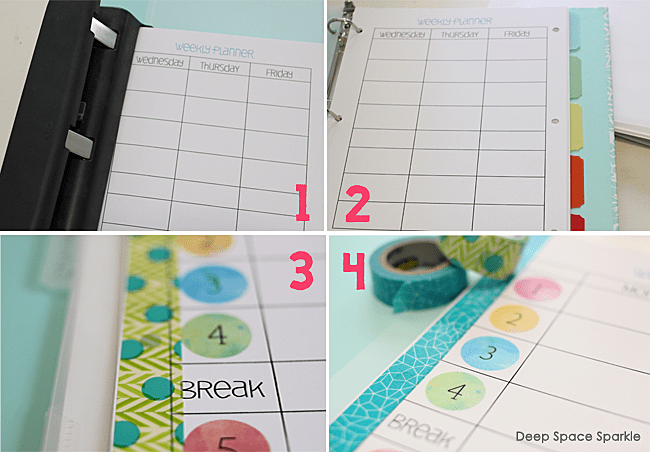 After photocopy the daily planner on card stock (printing both sides of the paper), I used a standard 3-ring hole punch to create the binder holes (1). Of course, I punched the wrong side of the daily planner sheet and had to re-punch the holes on the other side (2). Being a creative person has its benefits though, as I was able to cover up my blooper with some cute Washi tape (3 & 4). I ran a strip of tape along the left hand edge of the "numbered" edge of the planner to cover the holes. If you look beside the number 4 on picture #3, you can see the mistake.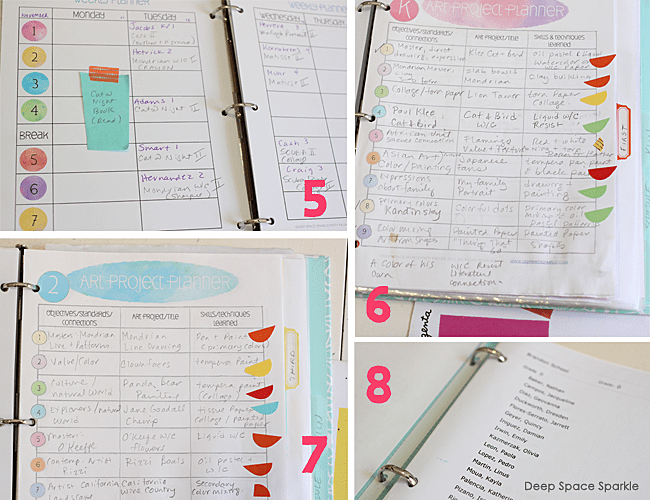 Since I only teach two days a week, I use the extra space (5) to scribble book suggestions. I use post-it notes to add a splash of color but also to serve as a reminder when I take the post-it note to the library to retrieve the book selection.
My favorite (and by far the most useful) page is the Project Planner Pages (6 & 7). At the beginning of every session, I jot down my list of must-do projects, a few project ideas that can fit into one-class and a couple of challenging projects. Because I do different projects for every class, I photocopy quite a few of these pages as I like to have at least one sheet of art project ideas per class. I use stickers to group projects into themes (standards, artist appreciation, units, etc).
I keep my class list (8) sorted according to grade level and keep things like class size, number of inclusion children and seating charts in this section as well.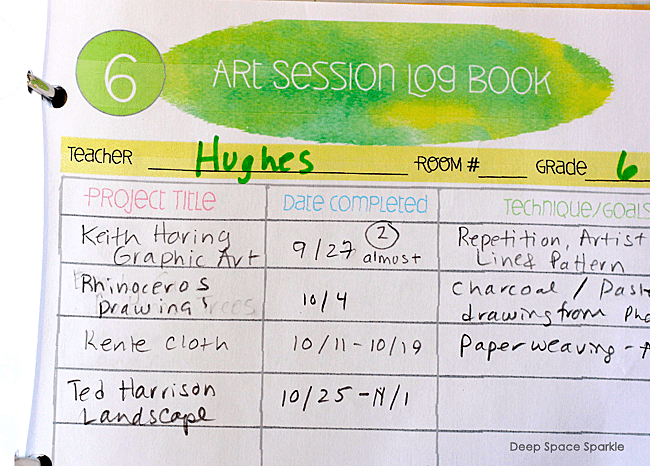 This is a shot of one of the Art Lesson Log for a grade 6 class. Because I do so many different lessons per grade level, this page is extremely helpful in keeping me on track with how many painting projects vs pastel projects I've done, or how many artist studies compared to a free expression project the children completed. It also helps to jot down when the project was completed and how long it took for the kids to do the project. I like to take note of this for my blog and PDF lesson publications but also helps to gauge the rhythm of the lessons. I like to balance short lessons with one long lesson (so the kids don't get too bored!).
Do you have the Art Curriculum Workbook? How do you use it? What are your favorite pages? Any suggestions for improvements for future versions?
---
Want to save time and effort in your curriculum planning? Check out The Members' Club….Enrollment happens twice a year…don't miss out!