Teaching Art at Home: Part II The Set-Up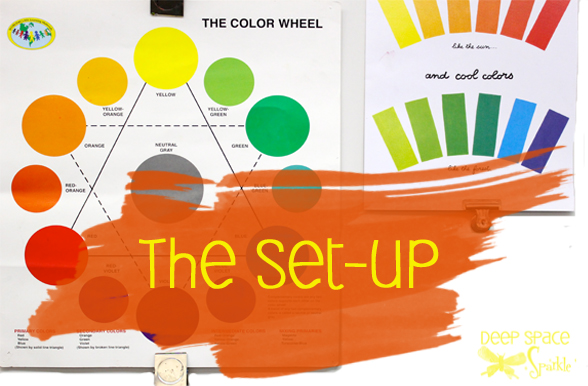 This is my second installation in the series, Teaching Art at Home. Click here to read Part 1 and here for Part III

I remember when my children were young and I set up an outdoor art studio: rolls of newsprint, tubs of paint, texture tools, etc. I dreamed of my children creating, painting, exploring and then running off to Michaels to frame the resulting masterpieces. Um, not what happened. The art experience lasted about 5 minutes and all I got to show for it was a paint splattered patio and crying kids.
Can I remind you that I am an artist and an art teacher and this still happened to me? This scenario is fine if your goal is play time, but if you want to teach art, you need to set up a learning space.  This doesn't mean you need to set up an elaborate art lab, but you need a few basic things…


You don't need art easels but you do need a spot for each child to draw, paint and create. Kitchen tables are the best. Lay down a plastic table cloth or a large 18″ x 24″ sheet of paper per child. I use large sheets of paper in my classroom. They get a bit soggy after a paint day, but after they dry, they can be used again and again.
If you are teaching art to school-age children, it is imperative that you treat the art lesson like any other subject. To do this, you must develop a matrix of what works for you so that everytime you do an art lesson, the children know what to expect. Basically, establish a consistent schedule. Teaching at home is not unlike a classroom setting. For my younger students (K-3), the children sit on the floor while I read a book as a transition to my lesson, I show them a simple demonstration and then they go to their seats to do the art lesson. When the class is over, I ring the bell and we clean up. This happens every time they come to art class. Consistency breeds good behavior. Children know they can't just get up in the middle of a project and run outside to play. They start to understand that there is a time and place to do all things they love.
Let the children be responsible for returning their own supplies to your storage system (more on that later).
If you are teaching to more than 3 children, your attention will be divided but don't turn this into a problem. I teach between 20-30 children at a time and all I can say is that there are many, many developmental age groups in a classroom.  Try to simplify the lesson for the youngest but don't teach to the youngest; teach to the middle. I'll be honest, it's not easy to adjust a lesson for a child who is overwhelmed without actually helping him, but let's look at an example: Self-Portraits for a Kinder, second grader and a fifth grader. You can all watch the same video, read the same portrait lesson and look in mirrors, but when it comes time to draw, I would give the youngest an oval template, the middle can start with a letter "U" and the oldest can craft a more realistic face. You don't have to do this, but it's important to understand that a kinder won't be able to follow the same set of instructions as the older kid. You need to adjust just like you would teaching math or language. This is why I break down my lessons into grade levels. They work better that way.
I approve of and love open-ended art projects but if you have children of various ages, projects that don't have a certain flow encourages some children to lose interest faster than others. Although this can be said about any art lessons, the more structured you are about your lesson, the more likelihood that you can control the schedule. Keep in mind that I can't possibly know the dynamics of every home-school environment but I do believe that a little structure is good for any type of learning.
I've had a question from one reader who was frustrated because her home-school art group was a nightmare to manage. Her problem was that the younger children would finish early and run off outside to play while the older kids continued working. After a few lessons, more of the group began abandoning their lessons so they could go outside to play. The problem I told her was that she opened up the option of playing outside. Don't do that. When teaching to a group, it is very likely that all children will work at a different pace. Try to engage with all levels and provide "free-choice" activities for the children who truly finish early. This could be an art related activity that can be accomplished on their own. The trick here is to establish a set art time whether you finish the main project or not.
Now that you have your internal set-up underway, here are some logistics you may want to consider: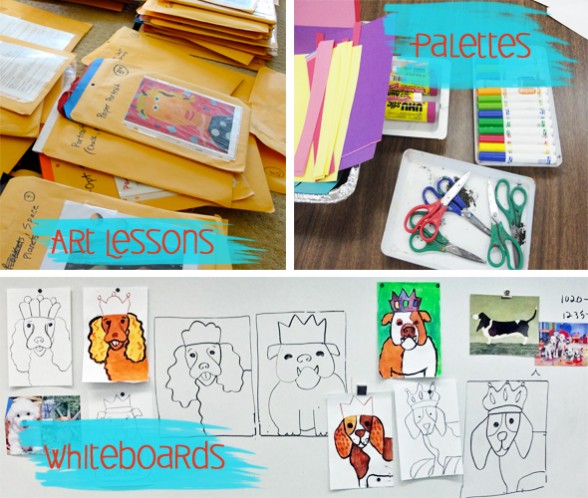 Reduce prep anxiety by encouraging children to share supplies. Place paint or coloring supplies in the middle of the table but provide a paint brush, marker or other drawing tool for each child. It's helpful to keep general art related supplies together in a bin.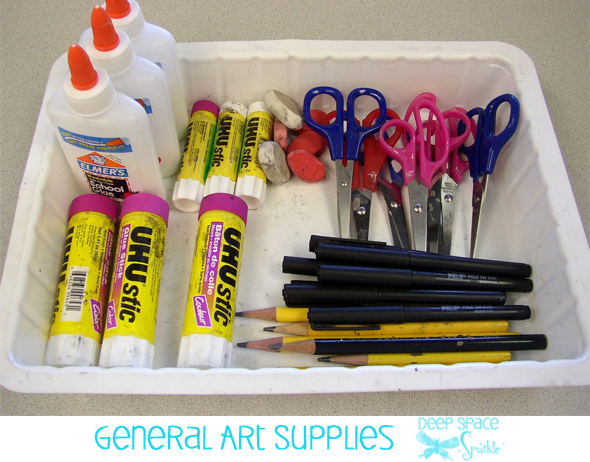 Don't feel like you need to go "all out" when teaching art. Buy some basic supplies, pick a simple lesson that appeals to you and your children and don't worry too much about the history of art, tying the lesson into your science unit or math lesson. Sometimes, it's okay just to do art for art's sake.
I couldn't teach without a white board. I know many teachers are using only technology in their classroom, and that's great. But for me, using the white board as a drawing space, a spot to hang art visuals and a place to post samples is critical to a rich visual space. I know you can't have a huge whiteboard in your home, but try to find a magnetic whiteboard to hang on your wall. The bigger the better.
Print out art ideas and art lessons and place in a manilla envelope instead of keeping everything online. Sometimes, it's easier to organize a lesson when you have something tangible. Keeping the manilla envelopes in a box allows you to add to the folders when you see a new idea on Pinterest or on one of your favorite blogs.
Big Tip #2: Be organized and offer a structured lesson
Try to embrace art as a learning experience and not just an activity. Art is not necessarily a craft project but a lesson in learning a technique, understanding how civilization has communicated through history and expressing one's creative self. If it's overwhelming teaching art once a week, try once a month. Baby steps!
Do you have any other set-up tips for Teaching Art at Home? Please share….