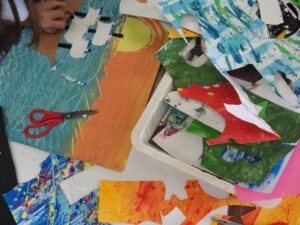 This is where I think about what works in my art room; organizing tricks that work for me, strategies for keeping the little ones engaged, prep tips and ideas on general classroom management. Often, my ideas stem from questions you pose or just from my daily experiences working with my students.
Most of my tips are geared towards the art teacher in a classroom setting, but in my opinion, anyone who voluntarily deals with kids, paint and paper qualifies as an art teacher!
We all have different logistics. I teach at a public school in Goleta, California. It's a Title One school, meaning that a large percentage of the student population qualifies for the free/reduced lunch program. All that means is that the school has a broad spectrum of students. I know one thing for sure; they all love art. Everyone is successful. Everyone is creative. Everyone is happy. At least that's the goal!