Make your own Snowglobe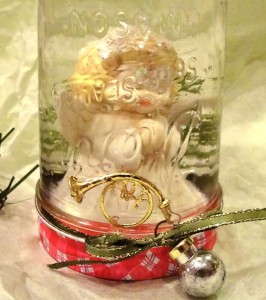 I'm not usually a fan of crafts but this little number had me at the first shake. For my daughter's annual Winterfest, we set up a table and allowed children to make their own snowglobes. I bought some jars online to get just the right ones. If you have mason jars at home, they're fine, but the patterns on the bottle make it hard to see the insides. Large baby food bottles are the best, but there hasn't been a baby in this house for ten years. So…I ordered the jars at 50 cents a pop.
You'll need some little figurines or decorations to put inside the globe. I dug through a bunch of bins to find bags of discarded christmas ornaments at my local thrift store. Our thrift store business in Santa Barbara is booming so I found great stuff.
I tried to take as many photos as I could, but some of the best pictures are of my daughter making her snowglobe after the tornado of kids had passed through.
Definite thumbs-up for this project!
Here are the basic instructions for making a snowglobe: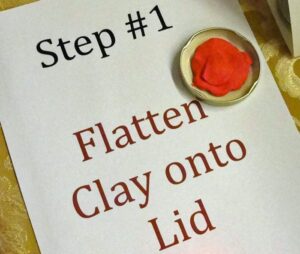 Scratch inside of jar lid with sandpaper. This makes the clay and glue stick better.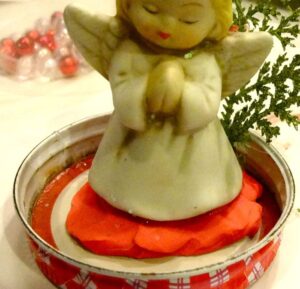 To make sure your figurines stick to the lid really well, I hot glue the clay onto the lid. Most clay will stick well on it's own, but a little glue doesn't hurt.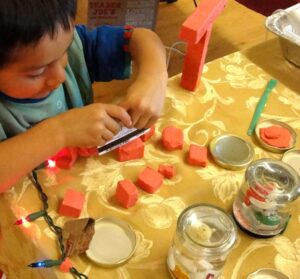 Select items to place on top of clay. I like to hot-glue the items to the clay and press down so it sticks well.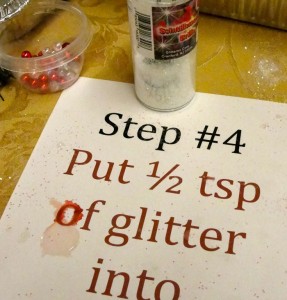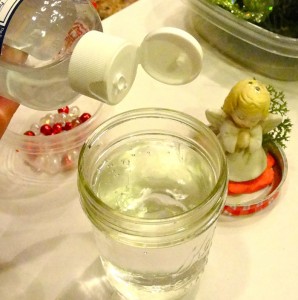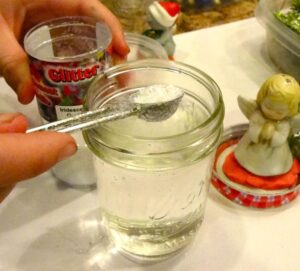 Fill up jar with distilled water leaving about 1/8″ at the top (you might have to experiment here). Add a few drops (about 1/2 tsp) of glycerine (found in any drugstore near the first aid supplies. About $3 a jar) and 1/2 tsp of glitter.
Screw lid to jar and glue the edges shut. This provides a good waterproof seal.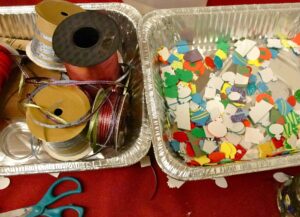 Decorate the outside with stickers, ribbons, markers, etc.
Shake and enjoy!