Modern Masters e-Book with video!
Modern Masters for K-2nd grade contains three lesson plans that will check off all your art room standards. Easy and dynamic, the lesson now include the option to purchase the e-book with or without the video supplements.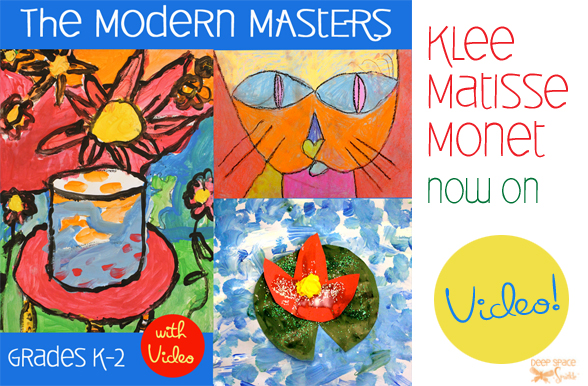 Modern Masters for Kinder-2nd grade introduces young children to the modern masters with easy to prep and easy to do art lessons. Children learn about Henri Matisse and his fauve painting "The Goldfish", Paul Klee's "Cat and Bird" and Claude Monet's "Waterlilies". Each lesson is designed so that every child of any ability can master the art techniques demonstrated.
This 22-page booklet features three complete lessons and is perfect for ages 5-8. The booklet includes:
22 pages of photo-tutorials and teacher tips
An introduction to the artist and his paintings
3 handouts: How to draw a lily pad, how to draw Matisse's "Goldfish" and how to draw Klee's "Cat and Bird".
Literature tie-in suggestions
Student galleries
Art Supply lists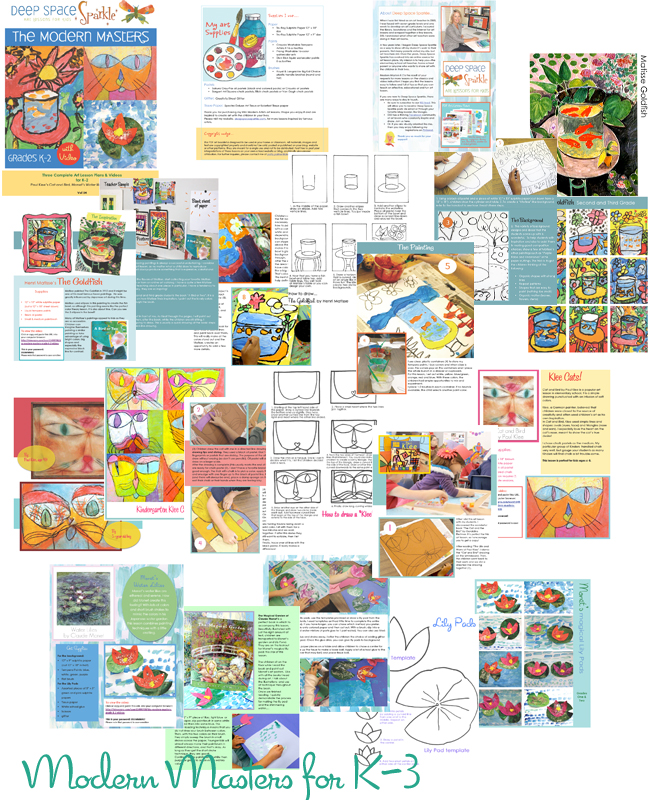 About the Video Option:
I am pleased to offer you a view into how I teach my painting and drawing techniques. These videos are designed to offer visual tips and new ideas on teaching children art.
The video links are embedded into the PDF document. Simply click on the URL and you will be directed to a private video page that will require a password. Enter the password as indicated on the PDF and you can watch three video tutorials of the lessons. It's that easy! The 10-minute videos are recorded in high definition and will require a few minutes to load. Please be patient. Also, if you use Internet Explorer, it is best to switch to either Google Chrome or Safari to view the videos.
Interested? Watch this!
Should you have any questions, refer to the Customer Support Page.