Op-Art Line Doodle
I made a vow at the beginning of the year to step out of my teaching comfort zone and introduce art projects to my students that may not be something I would normally gravitate to. These line drawings were such a thing. Other art teachers have done this lesson and according to their blogs, quite successfully. Not me.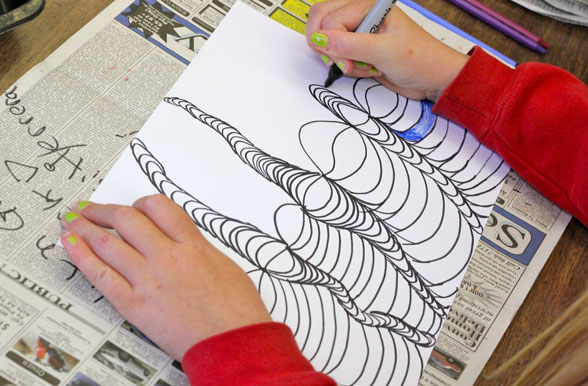 Before I get into the do's and don'ts, I just have to say that my fourth grade students really had fun with this lesson. And I mean lots of fun. The kid's attention was keen from the moment they stepped into the classroom and peered at my white board. I pinned my teacher sample on my white board and was somewhat surprised to see the expressions on my student's faces. They all seemed to be thinking the same thing: this isn't a typical Mrs. Palmer art lesson.
Of course, everyone said it looked hard and I agreed. It is hard. But only for one reason: you must follow certain steps if you want to achieve the 3-D look. Most of my lessons allow the flexibility to add your own stamp, create-your-own-art type of thing. That's not the best mantra here. The instructions from other blogs are great, but what you may want to know is that the instructions really must be followed.
I demonstrated the drawing and added steps on the white board:
Draw a wavy line across the middle of the paper. But not too curvy or too straight!Okay. So far, so good. Only two kids managed to create such a line that made you wonder what on earth they were thinking. For these kids I had to allow them to turn over their paper and helped them draw a wavy line. 
Add 6 dots. Not 7, not 10…SIX! (I used 1/2 sheets of 12″ x 18″ paper so I reduced the number of recommended dots from 8 to 6) It is truly amazing how many times one can say a number, demonstrate a number, draw a number and some kids don't hear you. Many of my students added 8, 9, 10 dots for the very reason they couldn't accept that the dots could be unevenly spaced. Even though I stressed that, BTW.
Connect the dots with curved lines. Many kids missed this step and jumped to step 4. Not too serious, but it was a pre-curser to other problems.
Start drawing the curved lines, beginning at one dot and connecting to the next dot. Move up towards the top of the paper.This is where the problem started for most kids. The idea of drawing curved lines from one point to another was hard. I don't know why. Seriously. I studied the kid's art and tried to demonstrate proper curves but many ended up with lines stacked on one another.
Draw more curved lines but this time between the columns/worms/tornados. Very few kids were able to see how to connect the columns without creating another column. At this point I knew it was a really hard lesson to described; it had to be demonstrated multiple times. So of course, it took many interruptions from me to help the kids out. Many kids ended up with a pattern of lines and squiggles but nothing like my sample. Sigh.
Do I sound discouraged? Don't worry, I'm not, and I wasn't when I was teaching this lesson. The mood in the classroom was great and we all had a great laugh at trying to figure out how these stupid wormy things work. 
Most kids didn't get to the coloring/shading. But when I see my fourth graders again in 8 weeks, we will tackle it again. For now, our "tornado's" will remain a work-in-progress.
Okay, all you successful tornado creators…how in the heck did you do it????? Please share your tips in the comment section!