I Can Draw & Paint Art Lesson Plans
I've said it before and I'll said it again; don't underestimate Kinders. Yes, they can be a tad bit rambunctious at times but reign them in and you have an eager audience. I love teaching this grade level. When the line of twenty tiny bodies walk through my door in September, the reason I teach art comes with them.
They love art. They will soak up everything you tell them. If you teach them to draw a fish, they will draw dozens before the day is over. They love to be shown how to draw something…anything. Of course, this is where you need to be careful. With all my lessons, I encourage the kids to be as creative as they want. If they want their fish to have two tails…great. A crown? Even better. There can be no right way with art.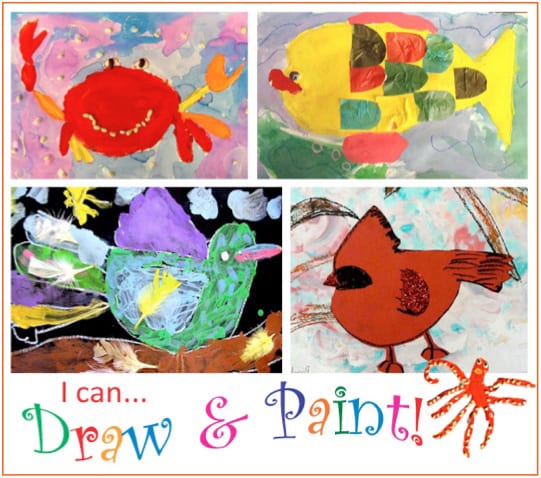 The art lessons in my newest booklet, I Can Draw & Paint offers five lessons that you can do with your child or your class. Most lessons take two, forty-minute class times and use fairly basic art supplies. If you don't have watercolor paper or liquid watercolors, don't worry, pan watercolor paints and regular drawing paper is fine. The important thing is to have fun.
This 25-page booklet is designed for Kinders, but is perfect for ages 4-7.
Lessons Include: Beady Octopus, Mr. Crab, Winter Cardinal, Rainbow Fish and Feathered Friend.
Handouts Include:
How to Draw a Crab
How to Draw an Octopus
How to Draw a Cardinal
How to Draw a Bird
How to Draw a Fish