Protecting your Creativity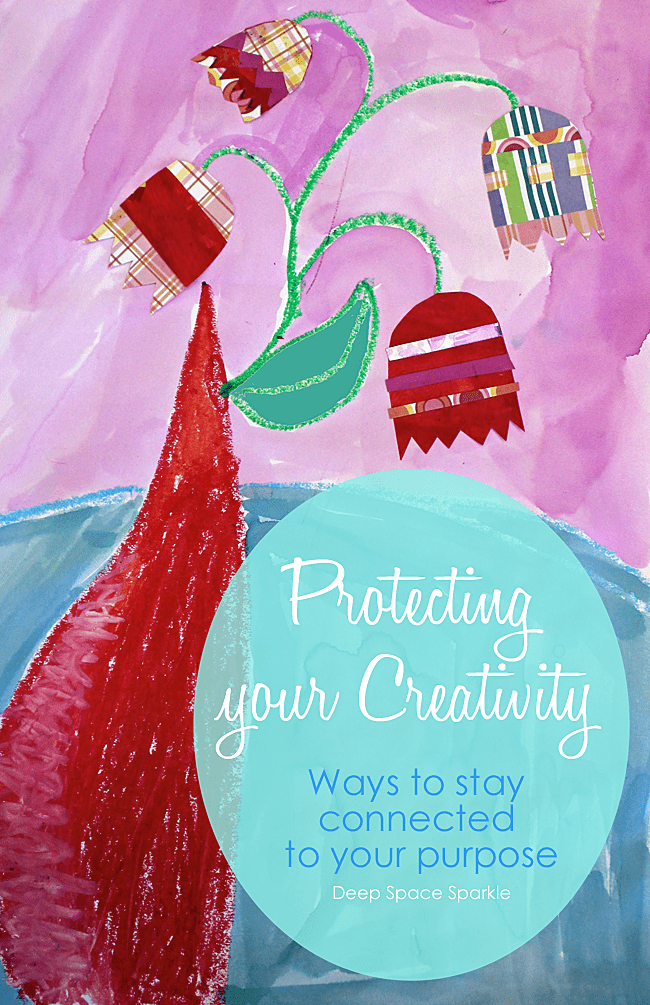 I was editing my photos this morning for a post on watercolor and paper bouquets when this piece caught my eye. I try to photograph the variety of art that results from a lesson and I remember pausing to remember the girl who created this piece.
It was so different from my example and different from anyone at her table, which for a fourth grade girl is unusual. Many girls this age try hard not to out-do, out-shine, be different or be worse than anyone else. They just strive to be the same. Not this artist.
I love her approach to her art-making and it reminded me of my own purpose with my creative pursuits; to embrace my uniqueness and voice.
But this can be challenging. Recently, I've had to stop from perusing Pinterest. The creative content is so amazing but unfortunately, overwhelming. As a creative, ideas spark constantly and one 10-minute spin through the Pinterest cycle can leave me with two-pages of must-do's.
So how do you stay focused on your own creativity–like my fourth grade student–when better, more beautiful ideas taunt you?
I'm an inspiration junkie. I love finding ideas through blogs, books, magazines and yes–Pinterest–but often what happens is that I find someone else's great idea. That's fine but there are times you want to create your own ideas. To do that, you need to go to the source of ideas.
Nature offers the most dramatic inspiration. A trip through Utah and Arizona last year presented me with enough ideas to create half a dozen art lessons, some of which can be seen in my America's Southwest Landscapes booklet. The feeling you get when you teach a lesson you created is tremendously satisfying. I'm lucky because after I teach the lesson, I can share it with thousands of people. And knowing that many more children are enjoying the lesson makes it even more special.
10-day car trips might not be a solution for you, but I encourage you to step outside your door, go for a walk and see what triggers an idea.
And yes. It can be hard.
So, why bother reinventing the wheel when there are so many great ideas out there already?
It's not just about art lessons, but finding what makes you who you are. It could be the way you write, your compassion, your music, your laughter…whatever makes you unique is what you need to cultivate. Ignore the things you suck at. We are all blessed with good and bad qualities. It would take me all but 10-seconds to write down the hundred things I do poorly, I know them that well. I'd have to think a little harder to list the things I do really well.
It's the good stuff that we need to focus on…to encourage and protect. I always come back to my favorite Martha Graham quote.
There is a vitality, a life force, an energy, a quickening, that is translated through you into action, and because there is only one of you in all time, this expression is unique. 
This keeps me rooted in my purpose when my head is spinning with self-doubts, the need to do it all and the feeling I could be doing more.
Feeling good about what you do…
This entire post was inspired by a lady who posted a response to one of my questions on Facebook today. When asked about Kinder classes, she responded honestly; I always feel like a failure, she said about not achieving the perfect lesson. I know how she feels. We are all on display now with what we teach and how we teach it. Art programs are disappearing, credentialed art teacher's classrooms are becoming more mainstreamed into academic instruction and everyone thinks that there is only one way to teach art.
Don't you miss the days when art was taught just for art's sake?
And then there is social media. We showcase our ideas on blogs and expose ourselves to the criticism of others. Or we rehash our frustrations about problems we are having with parents, administrators and other teachers on social media sites. Perhaps we all need to take a deep breath and remember why we teach. Or does it help to vent?
I know venting is good but I also know that negativity can be toxic and positive energy is contagious and renewing.
What I do to protect my creative soul:
Read more, watch TV less (although I just got hooked onto Scandal so this has become extra hard)
Fill my quiet spaces with a few of my favorite things (pretty succulents and orchids, bottle of crayons and my books)
Take a bath almost every night to renew (although this may become a less frequent indulgence if California doesn't get rain soon)
Listen to Eckhart Tolle's A New Earth podcast with Oprah (This is truly the most amazing, life-changing book I've ever read)
Read emails from my readers because they are my secret cheerleaders
Cook, bake and prepare food for my family with my lovely pots and pans in my beautiful kitchen
Walk the beaches near my home (but you already know I do this!)
What do you think? How do you protect or baby your creative consciousness?