Seeking PTA, Art Docent and Home-School Art Curriculum Advice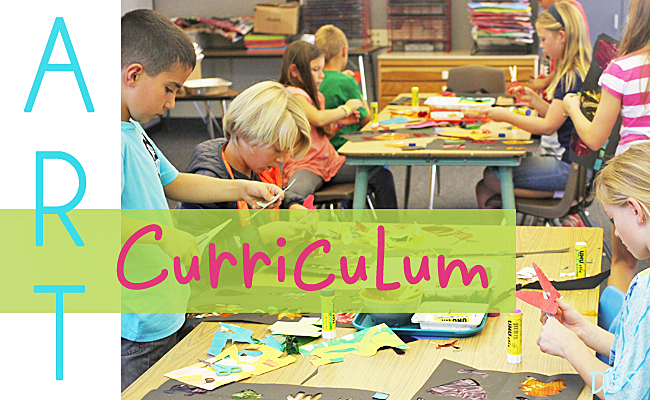 A while back, I had a request from a reader asking if I'd ever consider making a curriculum for a PTA art program. The kind when an art volunteer (AKA: parent) picks up a lesson plan, gathers a few supplies and delivers a lesson for her child's class. I know exactly what she meant as this is what I did for many years before I began teaching art.
The teacher would ask me to come in for an hour and teach an art class. The art lesson didn't have to be tied to a curriculum or teach any technique, the kids just needed some art. There would only be a few supplies available. My children's classes were lucky because I was there to teach them something, but the other classes, not so much. There are still many, many schools who do not have art teachers (certified or not) so when my reader asked me for some help, I knew exactly what she was talking about.
But here's where I need your advice. I have outlined a good representation of artist appreciation, art history, literature and techniques for the K-6 curriculum and I am in the process of producing the content, but I'd like to get your opinion on a few things.…
If you could pick your favorite art medium (oil pastels, pencil, charcoal, acrylics, watercolors, etc) in which to teach a lesson, what would it be? Is there any art supply in particular that you would never use?

How much do you know about art techniques? Nothing up to everything…gauge yourself!

If you teach in a home-school environment or in the classroom as a volunteer, what are your biggest logistical problems? Art supplies, storage, tables, kid management, lack of visual aids, etc.

If you teach in a home-school environment or in the classroom as a volunteer, how much time do you have to teach an art lesson?

What would be the BIGGEST help for you in terms of teaching tools to allow you to conduct a lesson in a classroom or at home? (Videos for the child, handouts, power points,  teacher script, etc.)
Leave your answers, comments, suggestions or even questions in the comment section below. I know your insight will help me produce a better program that can meet the needs of all those amazing volunteers and home-school parents out there!