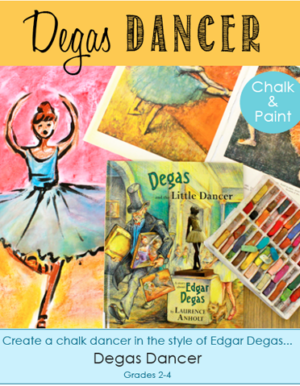 This Degas Dancer Art Lesson was inspired by Edgar Degas's ballet dancers plus Laurence Anholt's book, Degas and the Little Dancer. Using a directed drawing plus observation techniques, children draw a simple dancer and use chalk pastels and black tempera paint to imitate Degas's work.
Curious how this lesson appeals to boys? Read more on my Degas Dancers Post
This packet is great for grade levels: 2-4
Product Description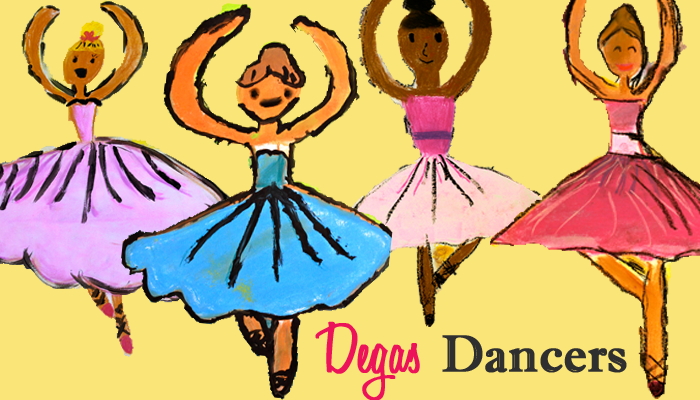 The 11-page digital art lesson includes the following:
Introduction on artist Edgar Degas

Preview of Laurence Anholt's book, Degas and the Little Dancer
2 drawing idea sheets (How to Draw a Simple Dancer and Ballerina Poses)
Full-color photo-tutorials
Student work and gallery
List of learning objectives
List with links for art supplies
How to Access your DIGITAL Lessons
By adding your email and password to our system, we can provide you with a history of all your purchased art lessons. This means you can access them anytime you wish through the "My DSS" button. Please note: Your "My DSS" password is unrelated to your e-course password
Once your payment goes through, you will be guided to a download link so you can see your lesson plan straight away. All lesson plans that you order will remain in your own personalized "DSS store" for access whenever and wherever you want so even if you didn't received the link via email, you can always access the lessons via "My DSS".
I like to print out my lesson plans and place in a lesson plan book, but if you are watchful of your ink supply, you may just want to print just the handouts. I've designed them in black and white so you can photocopy them easily and cheaply.