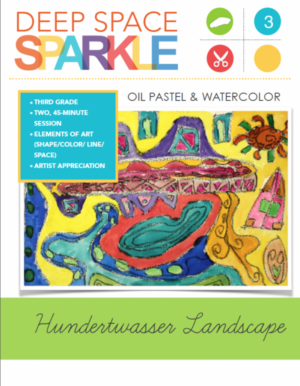 Austrian artist, Friedensreich Hundertwasser believed that there were no straight lines in nature. Inspired by Hundertwasser's strong, bright colors and organic lines, children draw an organic shape landscape and use watercolor techniques to color.
The lesson plan will walk you through the set-up, collecting of art supplies and how to time the lesson so one child or a group of children can be successful in this creative art-making project.
The video speaks directly to the child. Play in your classroom through your iPad or laptop or at home on any computer or tablet.
This lesson is perfect for: Grades 3-5 (ages 8-11)
License: Single User
Product Description
PLEASE READ: HOW TO ACCESS YOUR LESSON
The purchase of this lesson automatically grants you access to this video and lesson plan in Art School for Kids. 
* Go to Art School for Kids http://www.deepspacesparkle.com/asfk/
* Click on the RED CIRCLE and enter your username and password to login to Art School for Kids
* Navigate to the lesson you purchased. In this case, click K-6 Lessons in the menu bar > Grade-3 > click on Grade-3
* Once on the third grade page, click on Hundertwasser Landscape and the lesson will load.
About the Video
The 13-minute video takes children through each step of the art-making process from drawing spirals and organic shapes to painting with watercolor. As extra inspiration, children will be able to see what other kids their age have created.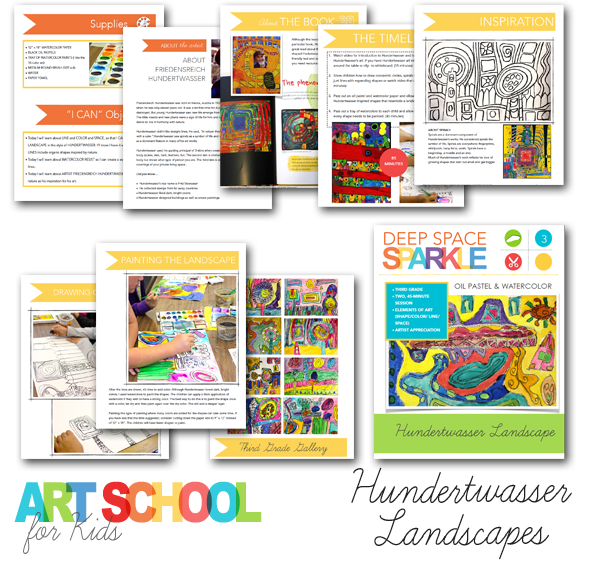 Lesson Plan PDF
The 9-page lesson page is meant for the parent or teacher facilitating the art lesson. Read through to discover the secrets of teaching art to third graders and learn what to expect from children at this grade level.
Lesson Plans include:
"I Can" statements and teacher objectives
Art Supply List
About the Artist Bio: Friedensreich Hundertwasser
About the Book: Harvesting Dreams
Timeline and Prep Tips
Landscape Drawing Guide
Student Gallery
Photo-tutorials of students working in a classroom