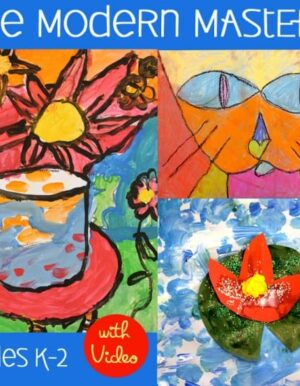 Modern Masters for Kinder-2nd grade introduces young children to the modern masters with easy to prep and easy to do art lessons. Children learn about Henri Matisse and his fauve painting "The Goldfish", Paul Klee's "Cat and Bird" and Claude Monet's "Waterlilies". Each lesson is designed so that every child of any ability can master the art techniques demonstrated.
This packet is great for grade levels: K-2
Product Description
I just wanted to let you know that my school system requires that I teach Klee to K, Monet to 1st grade, and Matisse to 2nd. Needless to say, your Modern Masters unit has been WONDERFUL for my kids! I purchased the lesson with the video and it has been just what my students and I needed. Sometimes the video even buys me a little extra time that I need to get the supplies ready for for the class coming in right behind the one that just left! Also, I love having the recorded/video lessons so that I can rewind and show a part again to a student who didn't "get it" the first time while I walk around and help the other students. Thanks!  Andrea 
This 22-page booklet features three complete lessons and is perfect for ages 5-8. The booklet includes:
22 pages of photo-tutorials and teacher tips
An introduction to the artist and his paintings
3 handouts: How to draw a lily pad, how to draw Matisse's "Goldfish" and how to draw Klee's "Cat and Bird".
Literature tie-in suggestions
Student galleries
Art Supply lists
Time requirement: Each lesson requires three, 40-minute art sessions
About the Video Option:
I am pleased to offer you a view into how I teach my painting and drawing techniques. These videos are designed to offer visual tips and new ideas on teaching children art.
The video links are embedded into the PDF document. Simply click on the URL and you will be directed to a private video page that will require a password. Enter the password as indicated on the PDF and you can watch three video tutorials of the lessons. It's that easy! The 10-minute videos are recorded in high definition and will require a few minutes to load. Please be patient. Also, if you use Internet Explorer, it is best to switch to either Google Chrome or Safari to view the videos.
Interested? Watch this!
How to Access your DIGITAL Lessons
By adding your email and password to our system, we can provide you with a history of all your purchased art lessons. This means you can access them anytime you wish through the "My DSS" button. Please note: Your "My DSS" password is unrelated to your e-course password
Once your payment goes through, you will be guided to a download link so you can see your lesson plan straight away. All lesson plans that you order will remain in your own personalized "DSS store" for access whenever and wherever you want so even if you didn't received the link via email, you can always access the lessons via "My DSS".
I like to print out my lesson plans and place in a lesson plan book, but if you are watchful of your ink supply, you may just want to print just the handouts. I've designed them in black and white so you can photocopy them easily and cheaply.