Spotlight on Art Teacher "MaryMaking"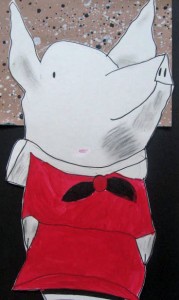 Here is another gal that offers after-school art classes and comes up with the cutest projects. Mary of MaryMaking is a fine artist with a love of children's art. I "spoke" with Mary via email and she offered her insights into her world of teaching kid's art:
I teach small private art lessons for ages 5-12 in Southern California. Like so many schools, our local elementary had it's art program cut significantly (to 2 days a month). So I have received a wonderful response in providing an after school art program. I thoroughly enjoy my time teaching to children. I try to balance my style of teaching with just the right amount of structure, while allowing each child the opportunity to explore their own creative style. Some of my favorite lessons have come from children's books like "How Do Dinosaurs Say Goodnight?". "Olivia", "The Colors of Us", "Only One You" and any Eric Carle inspired project. I love the generous spirit of art teacher bloggers. I really enjoy seeing reading about different art lessons form all around the world. My 6 week session just ended this week so I will start again the first week of November. I will be "test driving" lesson ideas until then.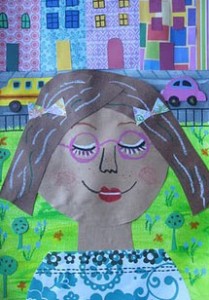 Mary and I are kindred spirits. we both seem to be inspired by children's books. This is one of my favorite "MaryMaking" art and literature lessons:Portraits based on the book The Color of Us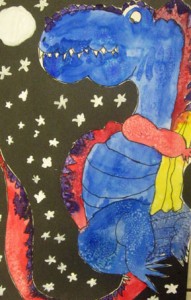 The cutest dinosaur art project ever! Inspired by the book, "How Do Dinosaurs Say Goodnight?" by Jane Yolen.
Of course, I had to ask Mary if she has ever used any Deep Space Sparkle lessons…
Yes! I always feel comfortable that it will be a successful project if it came from Deep Space Sparkle.(Thanks, Mary!) Some of the lessons I have used are: Giraffes Can't Dance, Not So Scary Scarecrows, Big Fat Hen and Royal Dogs (just to name a few.)
Thanks so much Mary for inspiring all of us!