The Year's Best Art Lessons
Not easy to pick a favorite lesson. It's a bit like asking who is your favorite child. With every art project I teach, there are always a few children to take the lesson to a new level and make it their own. That's what makes an art project special. Individual expression. But, if I had to choose which art projects work best, then that's a different story altogether. Successful lessons have easy prep, quick clean-up, engaged students and then proud students. If I don't achieve at least three of these criteria, then the project needs some adjustments.
Looking back over the year, here are the good and needs-work standouts…
My Favorites…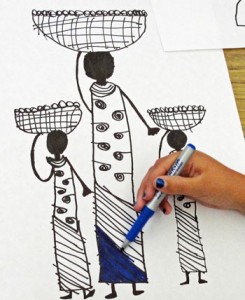 Maasai Warrior Line Drawing: Line drawings are always a good way to begin the year. For my first art rotation (1st, 2nd, 3rd and 4th grade students), we travelled to Africa. Incorporating a line drawing into my African theme was natural with a Senufo Mud Cloth drawing but I wanted more. Perusing images of the Maasai tribe, their powerful silhouettes and decorative clothing struck an artistic chord with me. Line drawings of a Maasai family and Warrior was one of my most successful lessons for 4th grade. The children watched as I demonstrated a basic technique for drawing the figure and with the help of handouts, they created their own. The lesson was featured in my African Art Lesson Booklet. The thing I loved about this lesson was that every child was successful and pleased with their results. It also requires very little supplies (paper and markers) which is not only great for budgets but makes for a super easy clean-up.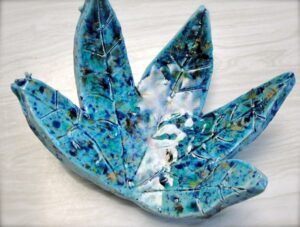 Ceramic Leaf Bowls: This lesson is not "mine." Many art teachers have been doing this laef-technique for decades. And now I know why…it's a sure-fire winner. The added blast of Colorburst underglaze really made the final results dramatic. I will do this lesson many times again. Kid's loved it, parents loved it and it was one of the easiest (please note that I stressed easiest) ceramic projects ever. Here is the original post.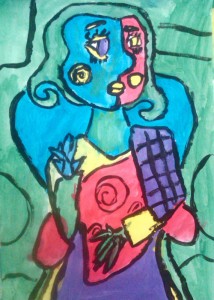 Picasso's Portrait of Dora Maar: There isn't a Picasso lesson that I don't love and this has become one of my favorites. This lesson allows for self-expression and creativity. All kids mastered this lesson, surrendering to the power of paint and crazy lines. I was inspired by this lovely lady after visiting the Picasso exhibit at The Seattle Art Museum last Fall. Being immersed in Picasso's world was inspiring and it was easy to translate that inspiration to the kids. My fifth graders loved this lesson.
Here is the original tutorial.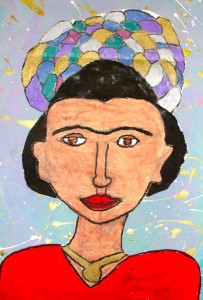 Frida Kahlo Portrait: I loved this lesson not only because all kids were successful, but it gave me a platform to talk about one of Mexico's most celebrated artists. The lesson combined the beauty of David Diaz's Book "Me, Frida" with a cool paper folding technique for drawing portraits. The results were stunning and I couldn't have been more pleased with how beautifully my 5th and 6th graders created their "Frida's". I think this lesson fills a big void in introducing this fabulous and intriguing artist to elementary school students. Here is the link to the Art Lesson Booklet, Frida & Diego.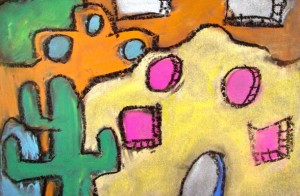 Chalk Adobe: This lesson evolved from a chalk landscape lesson that I've been doing for a few years now. I still wanted a small chalk drawing on black paper but was tired of the basic landscape subject. Then I found a painting of Adobes and knew that it would translate perfectly into a chalk drawing. Usually I reserve any lessons that require handouts for my Art Booklets, but since this was such a simple and effective lesson, I wanted you all to have access to it. The lesson takes about an hour to complete and requires just three things: black paper, black oil pastel and colored chalk.  Here is the tutorial.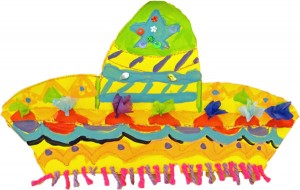 Mexican Sombrero's: Despite being hard to mount for the art show, these little numbers ticked every box of what makes a great art lesson: drawing lesson+mixing paint+lines+patterns+ embellishments=whole lot of creative fun. Need I say more? Here is the tutorial.
Needs work…
Its easy to select the best projects, but not so easy confessing the worst. I base my "worst" selections on lack of kid appeal or logistics.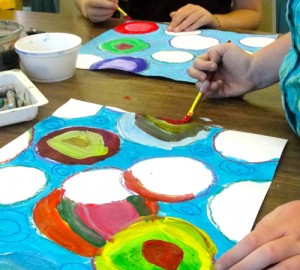 Tint & Pattern Circles: Some turned out fantastic, others…well, not so much. The whole point of this lesson was to teach color mixing. I gave each student a plastic tray to mix white into primary colors and although it was GREAT fun, it just took a long time for some kids to finish. Most kids did but the details with oil pastels never quite made it. I really liked the results but overall, I probably wouldn't do this lesson again because it wasn't memorable for the kids. Here is my tutorial just in case! Overall Problem: Too many kids did not finish.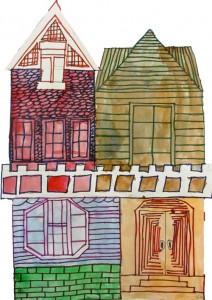 Victorian Homes: The first part of this lesson is fantastic, it was the second part that could use some adjustments. I love this lesson and using my cool cardboard trick, my 6th graders really got into the fun of becoming an architect. In my Art Lesson Booklet Architecture Made Easy, I keep the lesson as a line drawing because it takes a long time to draw the details. But what's a Painted Lady without some paint? This year when I taught the lesson, the kids did the line drawing and then I asked them to color in all the small details with marker and the big areas with watercolor paint (from pans). Only a few kids were able to control the brush well enough for the paint to look effective. And because we didn't use watercolor paper, the paint sunk into the drawing paper and looked rather flat. But the the biggest blunder of all? Adding markers. The markers covered up most of the small details that took the kids so long to draw. Colored pencil would've been a much better choice as it would have allowed the black marker to show through. So even though this is a great lesson, I have not found an effective, time efficient way to color in these detailed beauties. For now, it's best to stay with a black & white line drawing. Here is this year's tutorial. Overall mistake: wrong supplies.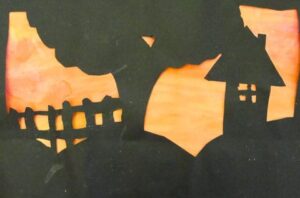 Sunset Silhouettes: In my post, I explain that more students than not found creating the frame and silhouette section of this lesson challenging. The effects are lovely, but it's not the best lesson for a large class with no parent help. I believe this lesson is much better suited to sixth grade rather than third (at least according to my student's abilities). Still, this lesson is beautiful and the thinking and pre-planning the lesson requires teaches valuable skills. It's also important to note that it's through "mistakes" that most learning is done. Overall mistake: wrong grade level.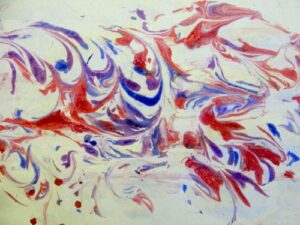 Shaving Cream Art: Far and away this lesson was a disaster. It required a trip to the drugstore to purchase stinky shaving cream, resulted in a bruise on my finger for pressing down on the shaving cream dispenser and basically involved way to much messy prep. The results were relatively good. Not great, but fun. Worth it? Nope. Oh, but wait. I did this lesson with Kinders. Perhaps an older age group might've handled the logistics better? Yeah…I don't think so. Want to read me complain some more? Click here to read my post on a lesson in what not to do.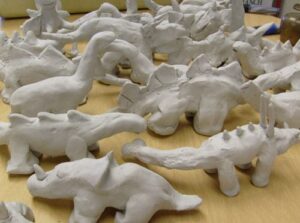 Clay Dinosaurs: Okay, I lied. THIS was by far and away the worst art lesson of the year. OMG. I made every mistake possible. I wrote extensively about it here but I thought I would end the dino drama on a good note. I made management mistakes and messed up what could have been a rewarding art lesson. So here's what I learned:
1. Explaining how to create a dinosaur with clay is visual. Make sure every child can see your hands. This was my problem. The class was large (30 kids) and I didn't have a projector, Smart Cart, etc. It was hard for so many kids to see my demo. Also, in one particular class, I had 3-4 kids arrive at different times. Confusing.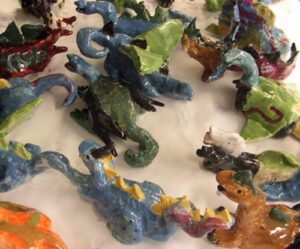 2. If you can't complete Step I (Clay) in one class, make sure you are prepared to store the figures properly. A combination of a cardboard/styrofoam tray plus plastic wrap/bag seem to be the best option.
3. Do not allow the children to put their names on the pieces. After they are finished, they should have a parent/teacher etch their names on the underbelly of the dino. Not the feet since they tend to squish away any initials or personalized markings.
4. If there is more than one class making clay dinosaurs, KEEP THE CLASSES SEPARATE BY ANY MEANS POSSIBLE: Different containers, color coding, etc. In the end, I had to give the big box of finished dinos back to the teachers and have them figure out what belonged to whom. Needless to say, I owe these teachers a stiff cocktail.
Have you tried any Deep Space Sparkle Lessons? What worked for you? Anyone care to share your highs and lows? This is your time to vent!