"Trucks" Illustrator Megan Halsey Interview
I'm always on the lookout for great picture books to tie-in with my art class. Trucks: Whizz! Zoom! Rumble!
 practically jumped out at me, begging me to peer inside it's glorious front cover. The illustrations, created by the talented and super nice Megan Halsey are spot-on fabulous. Sometimes it's tricky to find truck illustrations for an older elementary kid audience. There are lots of truck picture books for the pre-school set, but this book offers a great look into many types of trucks in a humorous, yet finely crafted way. Perfect for fourth graders!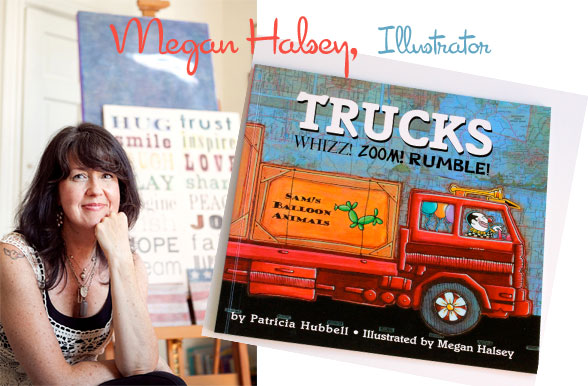 I used this book for my inspiration for my art lesson How to Draw a Truck. My fourth grade students had a blast flipping through Megan's illustrations for their own inspiration. I was so inspired by Megan's work, I emailed her and asked if she would be kind enough to share her  thoughts on what it is like to be a children's book illustrator. Isn't that the most glorious job title?
Patty: I was ten when I discovered that drawing was something I was good at. How old were you when you realized that you were an artist?
MH: I don't recall a defining age or moment. From a very early age I loved drawing and making things. My mother would check on me in my room fearing I had runaway or was dead because I was so quiet! She always found me safe and sound usually with a pencil or crayon in my little hand! My father remembered a Valentine shoe box I made for elementary school that was masterful and artistic. He knew then that I was an artist. Another sign was when I took piano lessons. Rather than practice, I colored in the sheet music! To this day, I love music, and I love to color, but cannot play the piano.
Patty: Did you follow the traditional path to publication—sending art to publishers and waiting, waiting, waiting—or did it happen differently for you?
MH: After college graduation (where I majored in art/illustration), I studied art in New York City. When I took a children's book illustration class I knew, right away, I wanted to be a children's book illustrator. I "pounded the pavement" like most artists. I would set up two or three appointments a day. One day I showed a story I wrote and illustrated, Something To Crow About". Two of the three publishers wanted to keep the project to consider for publication. Once that book was under my belt I had some credibility so it became a little easier to get published.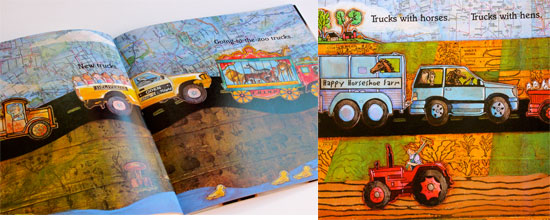 Patty: I vaguely recall my elementary school art class but there was one project I remember well. We colored crayons really hard onto a piece of paper then took a tissue to buff the wax bright and shiny. I loved it! Do you remember any special art projects from your school days?
MH: I loved any project when I got to make something! I remember making a 3-dimensional Egyptian pyramid and shoe-box dioramas. In eighth grade I made a poster of wildflowers for a book report. I remember standing with the poster in front of me, peering just over the top edge, while speaking to my class. I was shy and didn't like talking in front of people! I still use my art to communicate and to tell stories all these years later.
Patty: The collage techniques in your book Trucks Whizz! Zoom! Rumble! are fantastic They are also quite funny which is why my art lesson based on this book worked so well for my fourth grade students. You showed how art can be both beautiful, complex and silly. How did you create these collage pieces? Do you have a step-by-step procedure?
MH: I was nervous when I received the manuscript because it was so simple…"Red truck, blue truck". The publisher hired me to do something special with it. I was so excited when I thought  to play with the truck drivers; A lobster to drive a red seafood truck, a camel driving a blue water truck! I start with big 18 x 24 sheets of paper for every book I do. I doodle and doodle and don't edit my thoughts. I don't make pictures as much as play with ideas, whether the book is serious or silly. Then I take those doodles and start to design the pages keeping in mind what the story says on each page. For this collage art process I look through my old clip-art books to find images- like the lobster, camel, etc. If I can't find the image I draw it or have Sean, my creative partner draw it. All the pieces are painted using acrylic paints and matte medium (it makes the paint more transparent so the line from the image shows through). I cut out the pieces and collage them to the painted background using matte medium.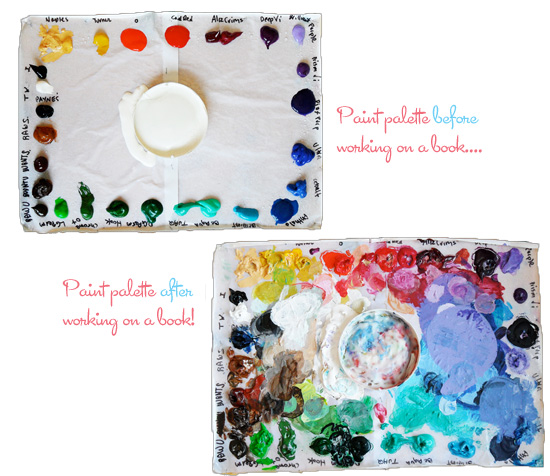 Patty: It's no secret that my biggest dream is to have someone publish one of my books. What is your biggest dream and/or have you fulfilled it?
MH: I am continually grateful for my creative life. My dream is to be able to make as many things as possible before I'm dead! If you look at my website you'll see I also do work for magazines and products like mugs, bookmarks, greeting cards, kitchen towels and wall art. I also make things with clay. My favorite thing to do is to be in my studio making things just like when I was a kid in my room with my pencils and crayons!
Patty: Thank you so much, Megan! You are truly living an artful life!
Megan has a great website filled with all things creative. She is not only a children's book illustrator but sells her own line of giftware. Now, here is your chance to win a copy of Megan's book….
To win a copy of Megan's book, Trucks; Whizz! Zoom! Rumble! "like" Megan's facebook page then come back here and leave a comment telling me what your favorite truck is! I will be accepting comments as your official entry until Monday, February 27 at midnight. I'll announce the winner on Tuesday, February 28th.
Please, US Residents only!
Update: February 27th. The winner of Trucks: Whizz! Zoom! Rumble! is commenter #5…Hannah! Please email me (Patty) with your mailing address so that you can receive the book. Megan will sign and send a copy of her book just for you!