Watercolor & Pastel Resist Art Lessons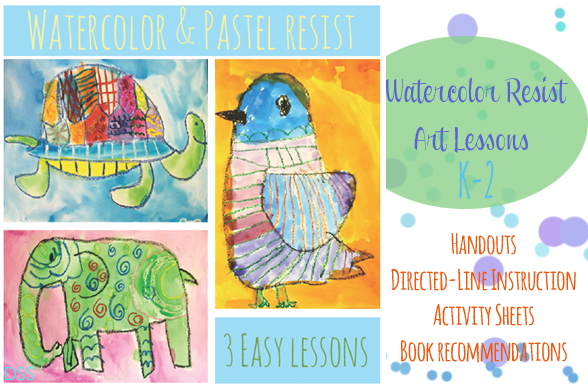 I recently introduced my Kinders to the magic of watercolor and oil pastel resist. I love hearing the squeals of delight after seeing white oil pastel appear through a wash of color. These are the simple joys of teaching art.
As with most watercolor projects, a good drawing lays the foundation for a successful project. Three directed line drawing instruction are included in the lesson plan. If you aren't sure what directed line drawings are, I've included an overview of the benefits. For the children who finish early, I have 3 activity sheets for the children to color, create their own patterns on or even count the shapes.
I created this lesson for my three Kinder classes, but you could easily use them with first and second grade children. By increasing the degree of pattern details, older children can be equally as challenged.
All of the lessons require about 60 minutes of art instruction and process time. If you have an extra ten minutes, I included a few book recommendations to read at the beginning of the lessons.
Included in this 18-page lesson plan:
3 easy-to-draw art lessons: Elephant, Bird and Turtle
How-to-draw handout for above lessons
3 activity sheets
Teacher scripts
How to paint with watercolor instructions
Art supply links
Book recommendations
Student Gallery

Connecting with California State Kinder Visual Arts standards: 
Students apply artistic processes and skills, using a variety of media to communicate meaning and intent in original works of art.
Skills, Processes, Materials, and Tools
2.1 Use lines, shapes/forms, and colors to make patterns.
Communication and Expression Through Original Works of Art
2.6 Use geometric shapes/forms (circle, triangle, square) in a work of art.