What's Making me Happy….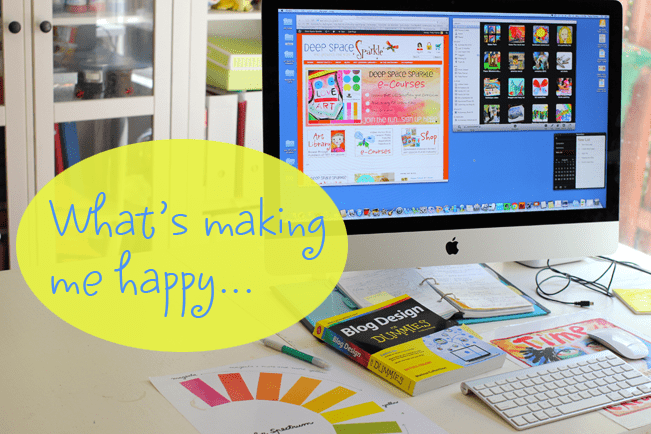 I'll admit it.  Autumn is my favorite season. New class schedule, routines, resolutions (forget January!) and when the weather gets a bit colder, some new clothes.
After my summer vacation and work hiatus, I came back to Santa Barbara ready to upgrade my 21″ Mac to a 27″ Mac. The desktop real estate is seriously impressive and allows me to have multiple screens visible. That's why I initially needed the larger screen size but the truth is, my older computer just didn't have enough oomph to get me through my days of creating videos, e-courses and photo edits for the blog. This computer has tons of memory and enough storage to last me years without having to figure out a complicated file management system. I'm so relieved. And happy.
Better Blog Design
Better yet, see the Blog Design For Dummies book on my desk? My blog friend Melissa Culbertson of the MomComm fame wrote this book and used my social media images as an example in her book. So while I am excited to be included in the book, I'm way more excited to have this book in my possession. It is fabulous! Melissa explains blog design so that everyone can understand. I've been scouring every page, writing notes and posting a good amount of sticky notes in the pages. I suspect it'll be on my desk for a while.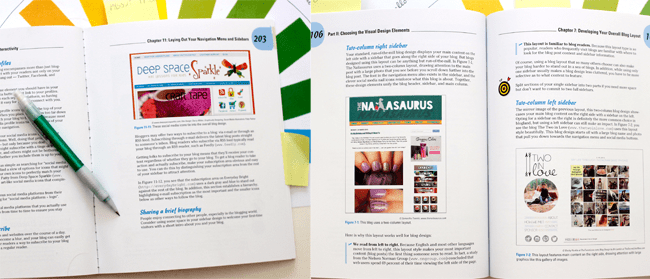 InDesign
Since my new Art Curriculum Workbook came out, many asked if the pages were editable. They aren't, but it got me thinking about what program I could use to not only make a beautiful document but have it editable too. Adobe's InDesign might be the program I'm looking for, so I have signed up for a couple of e-courses that will help me understand the program and decide if it will help me create even better PDF documents. Do you have any experience working with this program? I'd be curious to see what you think of it.
Yoga
Last Spring was a very busy time. I created 30 videos, PDF Lesson plans and posts for my Beyond the Basic e-Course and my butt is proof that I did nothing else. I love to  do my ocean walks but walking doesn't tone like it used to. So I'm carving out some serious Yoga class time this Fall so I can become a leaner and stronger content creator! I've been down-dogging it for two weeks now and already I feel stronger.
Classes
I love creating e-courses but I'm absolutely addicted to taking them, too. I LOVE learning new things especially in the comfort of my own home. I hope to sign up for Holly Becker's new Blog class in October. I've already taken 2 of her classes and the truth is, the second time I took the class, I felt like the content was stuff I knew, but her delivery is always inspiring. I love the effort she puts into each post, each lesson and it always reminds and inspires me to do the same for my readers. For me, it's just not worth doing it,  unless I do it well.
I'm also hoping to fit in Jeannie Oliver's new holiday e-course. She has a bevvy of lovely bloggers presenting their spin on what they like to do for the holidays and I'm eager to see their videos. The truth is, I've lost a bit of the holiday magic recently and I'm curious to see if I can recapture some back. I wonder if anyone else feels the same way….
So, what's making you happy lately? Care to share?