Winter Art Projects Lesson Plans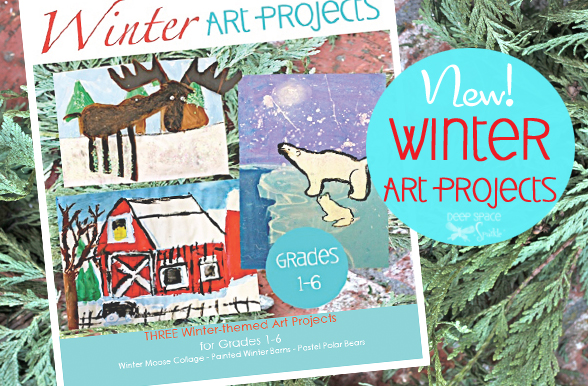 Fill the cold winter months ahead with a bevy of beautiful Winter Art Projects! This 22-page booklet offers three cute, painterly and technique driven lessons to date. Inspired by a very large moose, a tranquil winter scene and the Great White North, these three lesson are adaptable for grades 1st-6th.
The 22-page booklet features three art lessons:
Winter Moose Collage: Based on the best selling book Ernest by Catherine Rayner, children draw a very large moose and place him in a wintery environment.
Painted Winter Barns: Learn how to draw a gable roof barn, a gambrel roof barn and a winter landscape. Learn concepts such as atmospheric perspective, horizon line and color tints and shades.
Pastel Polar Bears: Learn how to create a stencil of a polar bear and a beautiful northern sky with chalk pastels.

The booklet includes:
Links to art supplies
Full-color, step-by-step, photo-tutorials
5 drawing guides (How to Gable and Gambrel Roof Barns, Simple Barn Drawing, Simple Polar Bear Drawing, Polar Bear Shapes, How to Draw a Moose
Student galleries to know what to expect
Student objectives
Fun Facts for Moose, Barns and Polar Bears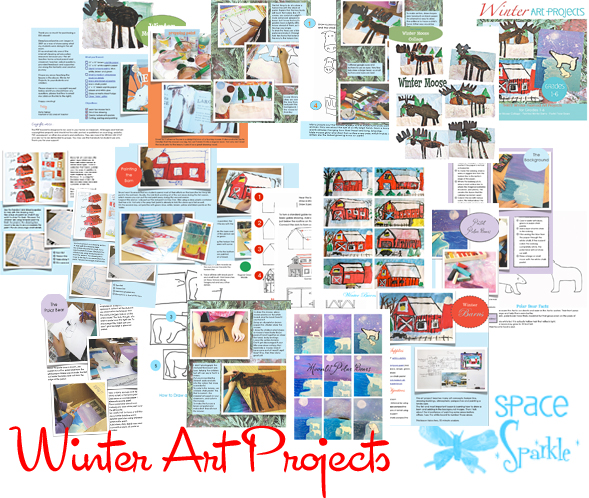 This is a digital file. You will receive a download link once payment is made. Should you have any questions, please visit our customer support page.