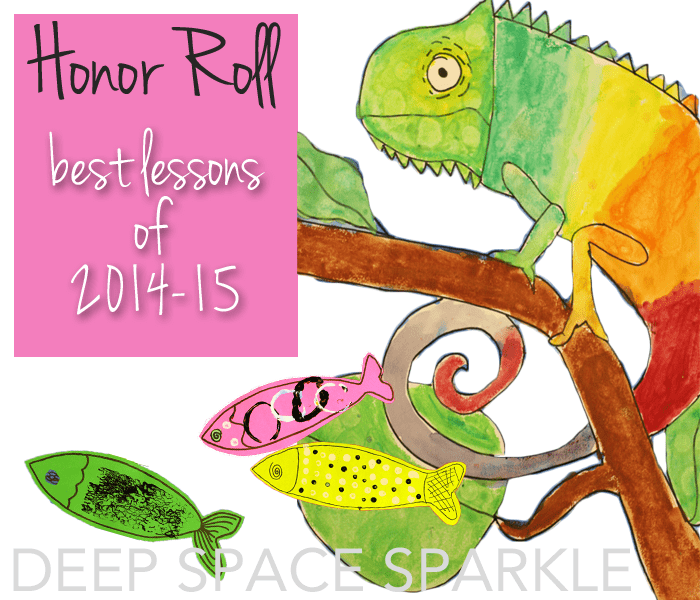 This honor roll marks the end of my Best & Worst lesson series. I will not be teaching in the same capacity next year. Meaning the end of teaching all grade levels plus all the extra projects like ceramics, art shows, displays and murals. I have no idea what next year will look like (and nor does the school) but together we will figure something out. The extra time will allow me to expand my efforts on Deep Space Sparkle and teach private lessons. I'm pretty darn excited about the changes even though I have no idea what they will be.
This has been an interesting year. I felt the need to repeat past lessons–the ones I know my students love–and reduce the amount of new lessons I created. The truth is, I couldn't stop creating new lessons or adapting old ones. It's just way too fun.
Some of the lessons that are making my honor roll this year have not yet been published on this blog and are making their way to new Art School for Kids video lessons or future lesson plans. Other lessons might be familiar to you. Ready to see which ones I deemed my favorites?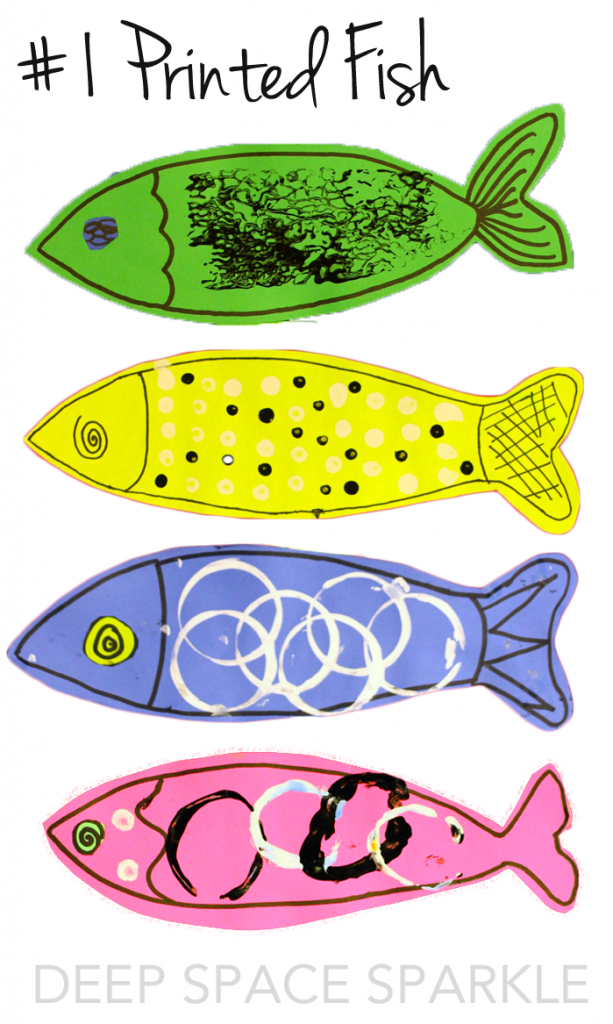 1. In the past, I taught my Beyond the Basics e-course, where I did a unit on printmaking. I borrowed some of the techniques for this grade 5 Printed Fish collage. This lesson required some prep. The first thing my students did was draw ONE fish on card stock. Then, they repeated the fish by creating a template from the drawing and tracing the template onto other pieces of card stock. Then for the fun: printmaking!
I arranged 3 printmaking stations with various texture tools, stamps, etc. The kids carried their fish on their background paper around to the different stations and performed various printing techniques to their fish.
I loved this project because it was active and engaging. Every once in a while you need to get kids up and moving and making choices. This project was perfect for that. And the kids loved it. Everyone worked hard and was proud of their results.
That's what I call successful.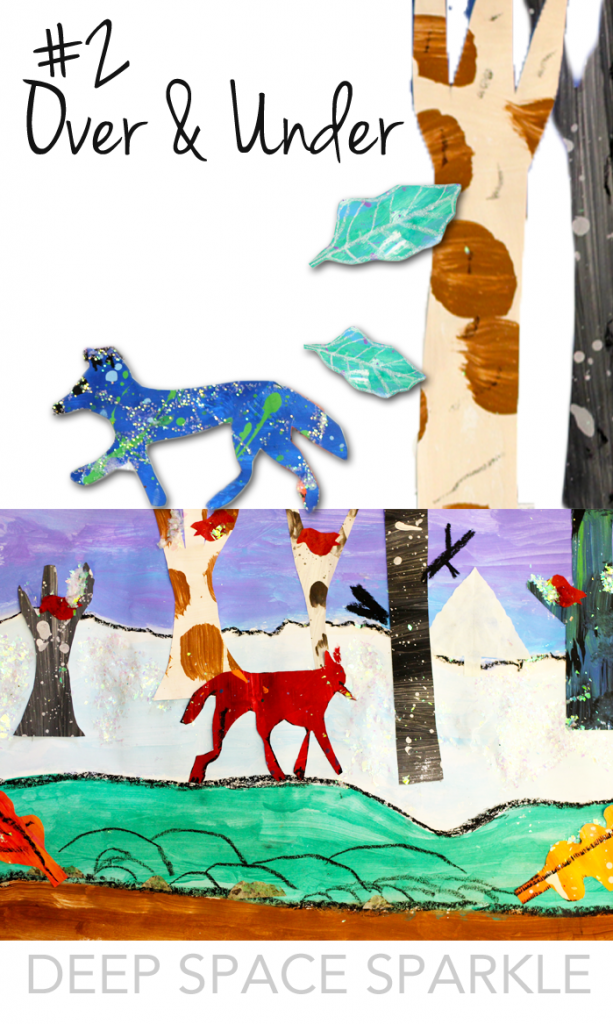 2. Based on the book Over and Under by Kate Messner, my third graders created the most beautiful, twinkly, ethereal snowy landscapes. I am in love with this project. It combines literature, science and art. The children had to identify animals that live above the snowy surface and animals that hibernate or live under the ground for the winter. In a multi-step project that involves painting value, creating composition and drawing animals, my third graders never tired of this 3 week long project.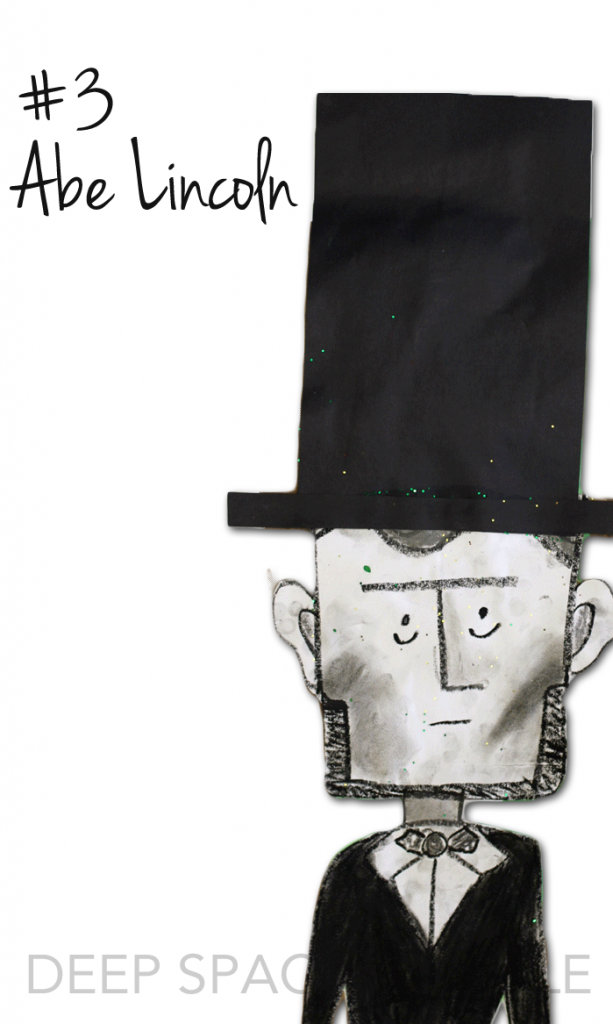 3. The best way to describe the success of this project is relief. Yes. Relief. For years readers have been asking me to create a President's Day art project and every year I try. But whatever I come up with, always seems to feel too dry or not art-focused enough. Then I bought Abe Lincoln's Dream by Lane Smith and the inspiration hit. I combined a super easy (meaning every single child created a knock-out Lincoln) and placed it on a background inspired by this lesson. By far one of my most downloaded lessons this winter.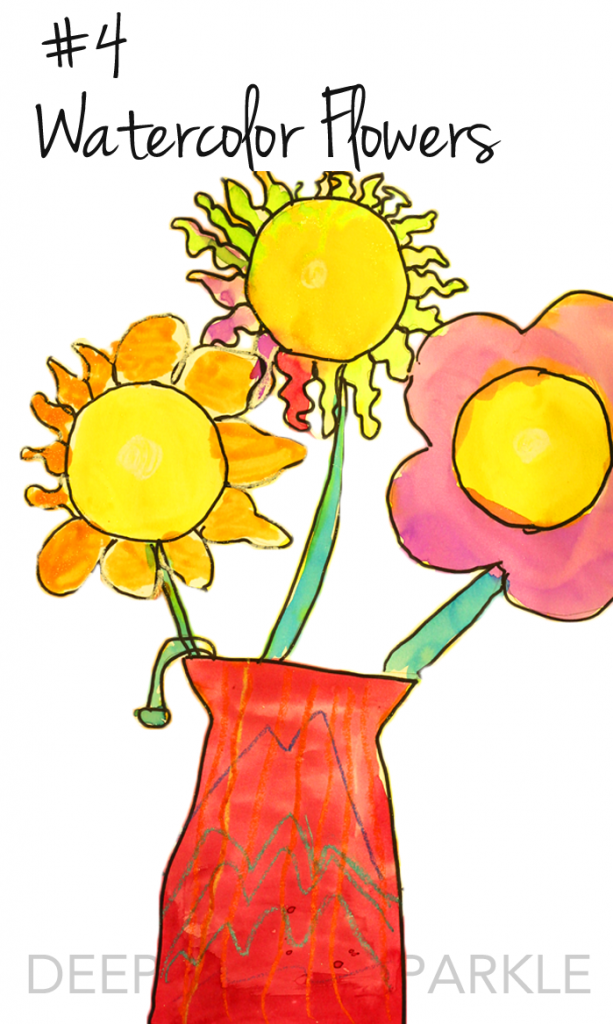 4. You may have read my post, How to Draw & Paint a Bouquet of Flowers, that I posted last month. I had a particularly challenging 2nd grade class this year. I wanted to give them the opportunity to really slow down and create something beautiful. I used a flower template (something I almost never do with kids this age) but it turned out to be the turning point for this lesson.
This group of kids embraced the template by easing into drawing on watercolor paper with a sharpie (no pencils!) with absolute abandon. I tell you people, sometimes templates really help kick-start the creative process. The kids got really inventive with the use of crayons and played (literally played) with the watercolor paints. It was a joy to watch this lesson unfold.
The collective gallery was so beautiful that I displayed it at our district board room for a month. So proud of these kids.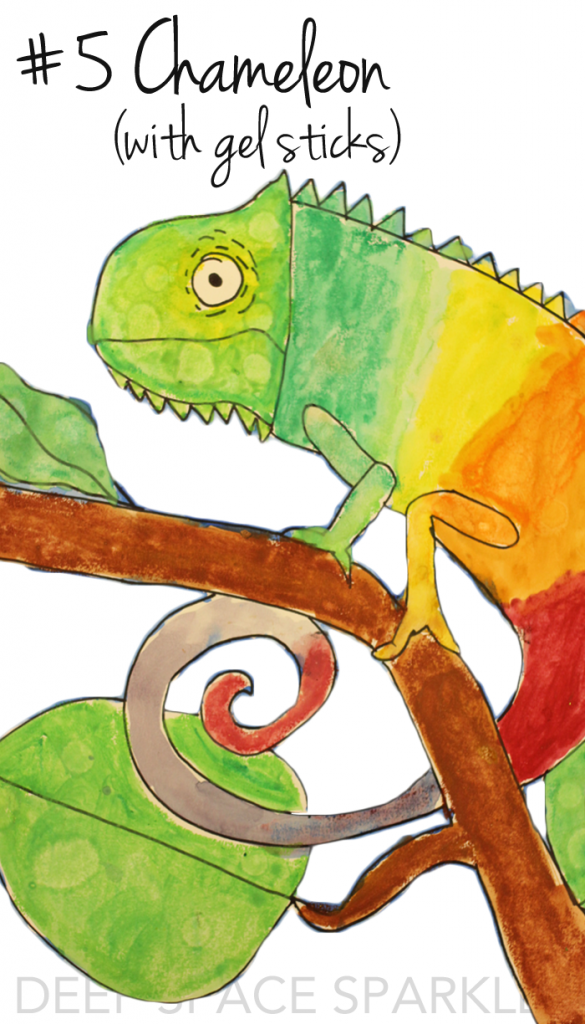 5. This lesson is not about the drawing. I've done chameleons and lizards before. It's all about these amazing Faber-Castell Gel Sticks
Faber-Castell is providing the art supplies for my upcoming workshop and included the gel sticks for me to try. At first I wasn't sure that this product was something teachers would buy so I took them into my classroom.
Oh my goodness. They are amazing. They color like oil pastels, blend like chalk pastels and if you add water, paint like rich watercolor paint.
For this project my students used liquid watercolor paint for the background. They used the gel sticks to color their chameleon then used a brush and water to turn the gel sticks into paint. The kids loved them. And the prep was insanely easy.
And there you have it, folks. My list of my Fave Five.
---
Bet you are wondering about my misses. Here are a few:
First Grade Lego Drawings. I have to say that this was one of my first graders favorite project but I didn't quite have a good strategy for teaching how to draw legos. It seems easy enough but it took me a while to figure out how. We started with pencil which is always a bit risky in 1st grade as they expect so much of themselves and will erase until their paper is raw. You know what I mean. But in the end (and 4 lessons later) most of the first graders created good lego drawings.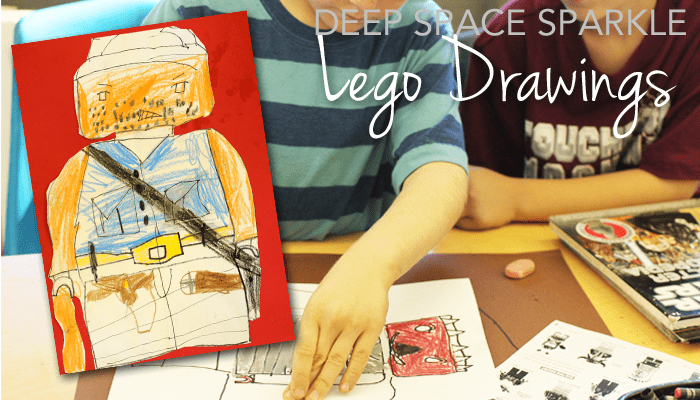 Blue Glaze Debacle. Turns out that even after twelve murals, you can still make major mistakes. I don't have my 2015 mural post up yet but let's just say that clear glaze comes in dark blue tints. Where and how this glaze came into my art room is still a mystery but the warning signs were there. The label clearly read Danish Blue Glaze. I assumed it was my clear glaze and applied away. For the sake of all things good, never make assumptions with anything ceramics related.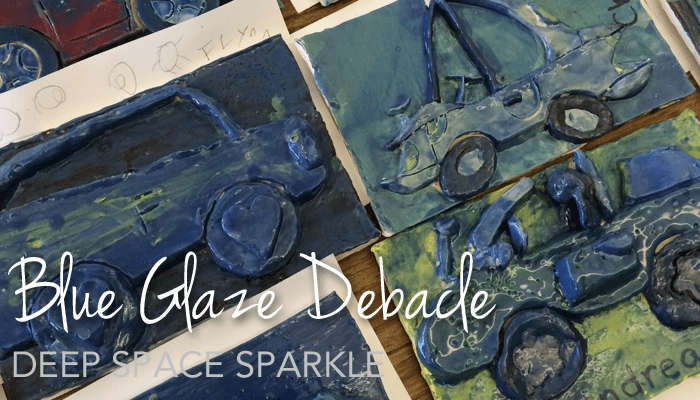 Monet's Garden. I'm not sure what possessed me. I really wanted to do Monet's bridge with my Kinders like everyone else under the art blog sun, but I just couldn't. I wanted to do something different. Unique. I brought out a poster of Monet's Garden in Arles and attempted to teach a chalk and paint project to a group of Kinders. It was so darn hard. Way past their ability. I mean it was a project meant for a 5th grader and I knew it. I strongly believe in lessons that enhance a child's natural age ability but somehow I didn't listen. Mind you, the kids had fun, but it was one big mess.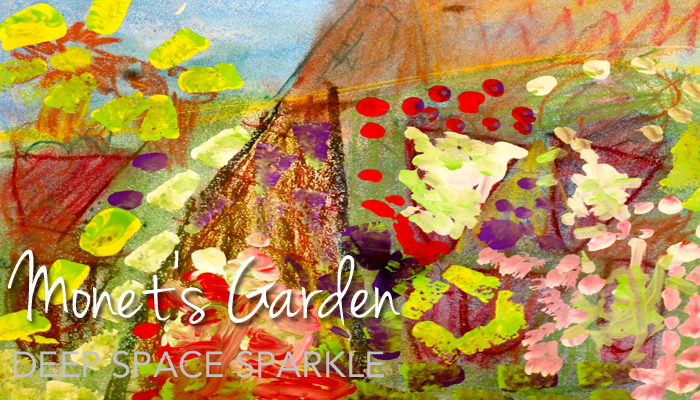 Winter Tree Silhouette. Again, great project but wrong grade level. I did this lesson with 2nd grade and although it is an excellent lesson, I didn't teach it well enough for my second graders. Some of the kids did well and understood the concept but for most, it was too hard. I don't ever want to make art too hard so in the end, I felt this was a miss in grade level appropriateness.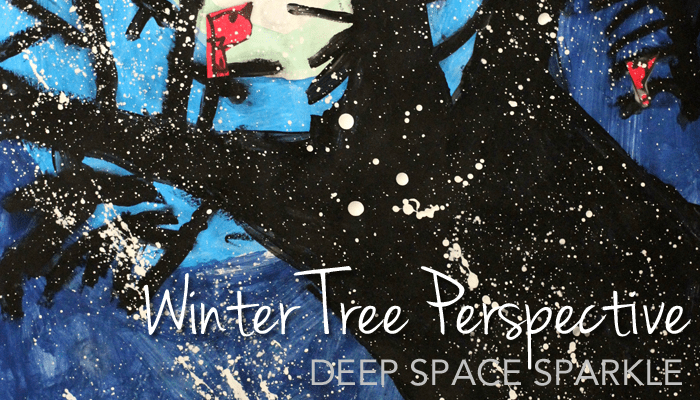 *This post contains affiliate links
Now it's your turn. Did you have an absolute favorite lesson this year? Care to share your flops?
Leave a comment below…