Learning how art impacts every culture and civilization in the world is an important part of any art curriculum. I remember learning about Canada's native population in second grade. Making igloos from marshmallows and creating my own "Eskimo" paper doll remains my most vivid childhood art experience.
The art hasn't changed much, but the verbiage has. The National Museum of the American Indian was a tremendous help in sorting out commonly asked questions, including how to address our Native American cultures. Check it out.
The 23-page booklet features three lesson plans for 2nd -4th grade, although easily adaptable for children of any age.
American Indian Art Lessons include:
Native American Indian Chief: This directed-line drawing of a profile is so easy. Just a few simple instructions and your students are on their way to creating a colorful warbonnet. Although relatively uncommon in Native American cultures (only a few Plains Indian tribes wore them), creating the warbonnet art is a vehicle for uncovering common myths about our Native American Culture.
Tipis of the Great Plains: Learn about the Plains tribe's dwellings in this 2-option lesson. Children use the Tipi template to cut out their own Tipi and then decorate it with traditional Native American Motifs.
Add a painted background for a complete picture or mount onto colorful paper for a condensed lesson.
Clothing of the Plains Tribes: Creating a Native American on a colorful background was one of my favorite lessons when I was young and it was equally popular with my third grade students. Taking about three, 45-minute sessions, my students worked hard to make their "doll" as individual as they were. They made their own "hide", cut their dress from a paper pattern and painted a background scene representing the Great Plains.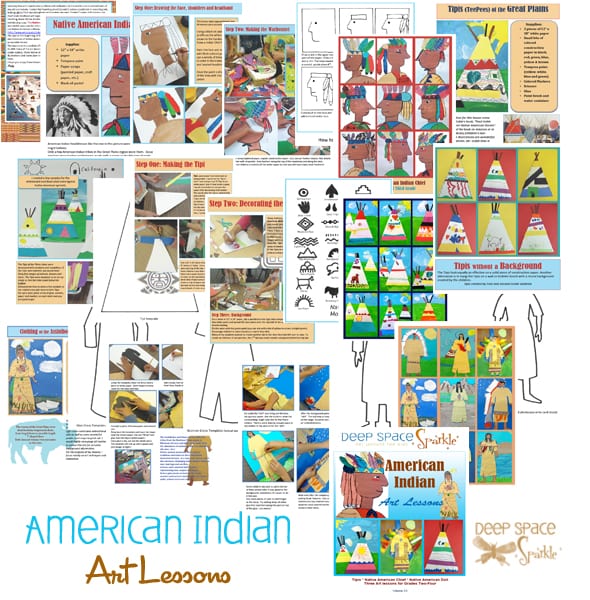 Handouts and Templates include:
– How to Draw an Indian Chief
– Native American Motifs & Symbols
– Tipi (TeePee) Template
– Man Dress Template
– Woman Dress Template
– Man Figure Template
– Woman Figure Template
---