Drawing Animals is a 17-page art booklet designed for grades one through six. The booklet includes how-to-draw handouts, full-photo tutorials and student galleries.
Lessons Include:
Dancing Cows is inspired by the famous "Cows" Creamery in Prince Edward Island, Canada. The business has a staff of artists who create funky cows images for their private label t-shirts. I couldn't help come up with a lesson inspired by one of their images. Children will LOVE drawing an upside-down or a ballerina cow!
Speckled Hens combines a realistic painting with a folk art background. Upper elementary is suggested but this lesson can be adapted for younger students as well. Follow my step-by-step guide for drawing a hen and paint away using a cool double-loading painting technique. You'll want to frame one of these!
Giraffes are a staple in any art room and for good reason. They're easy to identify with their beautiful necks and gorgeous spots which makes drawing them effortless to draw! As a twist, this lesson focuses on the head and neck…no tangle of legs necessary!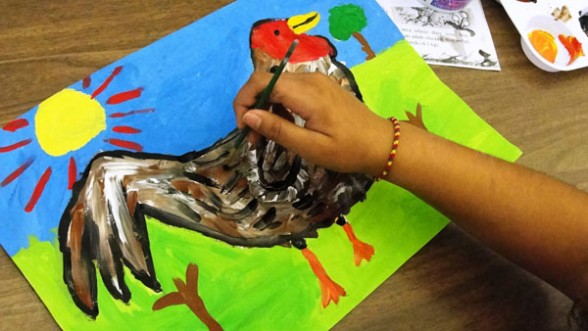 Handouts Included:

Rooster and Hens Drawing Guide
How-to-Draw a Dancing Cow
How-to-Draw a Cow Face/Cow Idea Sheet
Giraffe Drawing Guide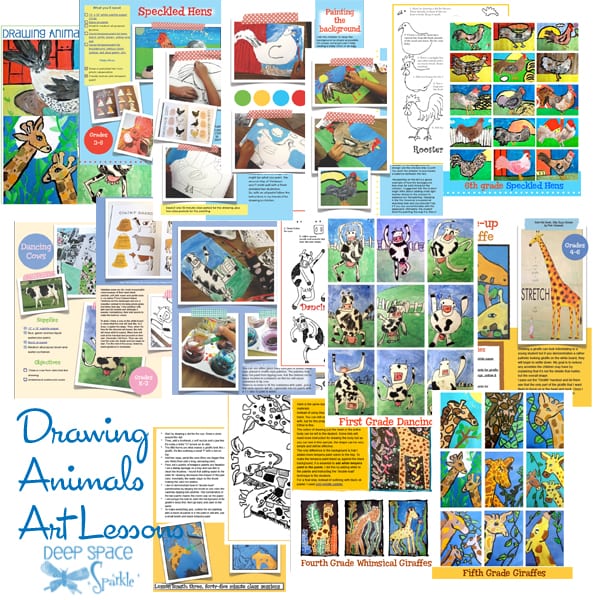 Click to see Drawing Animals in the DSS Shop.
---
Want a free drawing handout? Download by clicking the yellow button below and we'll send you this lesson PDF on how to draw a bird!