Alexander Calder was born in Philadelphia in 1898. Calder is most famous for inventing the MOBILE which is a balanced sculpture that moves. He also created sculptures that don't move. They are called STABILES. 
Calder liked the circus so much that he created his own. The Calder Circus has over 50 moving figures made out of wire, metal and cloth.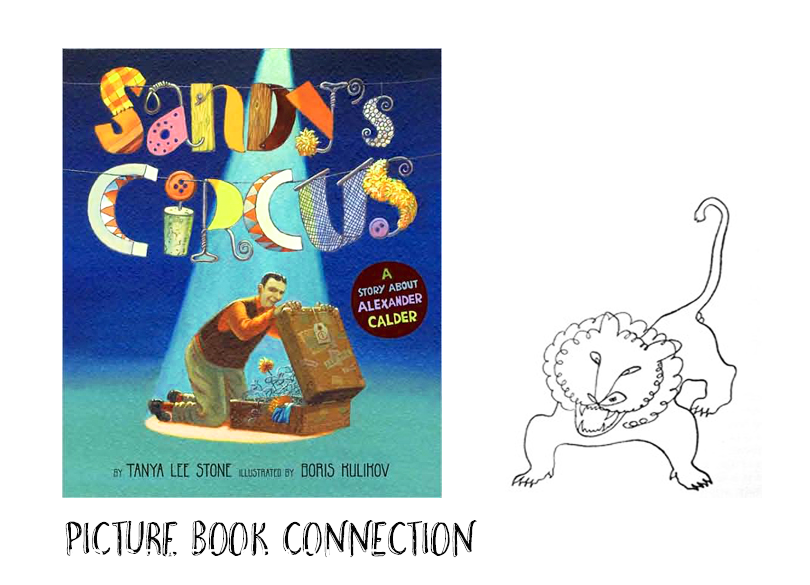 The project starts with reading Sandy's Circus by Tanya Lee Stone. It's a great story of how ingenious and creative Calder was from a young age.
Allow children to identify the different parts of Calder's Circus and help them identify to what wild animals can do and what circus animals are trained to do.
What You'll Need:
2 sheets of 12″ x 18″ paper (white or colored)for cage
1 sheet of 12″ x 18″ white paper for lion
10″ x ½" skinny paper rectangles (5-6 per student)
Colored paper scraps for wheels
8″ x 10″ cardstock or rectangle template for tracing
Round containers for tracing wheels
Sharpie marker for drawing lion
Faber-Castell Connector paints or cake tempera paints
Glue stick
Scissors
LION DIRECTED DRAWING
I wondered how my 4 year-old niece would respond to a controlled directed drawing on a playdate with her Aunt. Generally, I reserve these rare opportunities for art exploration. But for a child who loves preschool and is an eager learner, she focused straight away.
I began by showing her a drawing of a lion and asked if she would like to draw a lion, too. I received a big head nod and we started. I explained that I would show her what type of shapes or lines to draw and then she could draw them too.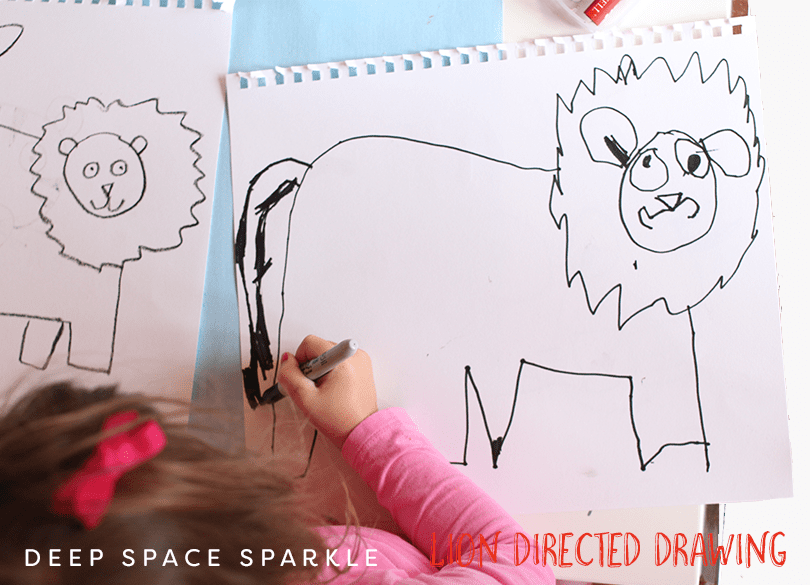 This is what I said:
Draw a letter "U" for the lions face.
Add two ears and a line to connect the two ears.
Add the lions face by drawing two dots for the eyes, a triangle nose and a line with a curved line for the mouth.
Draw a wiggle line all the way round the face.
Draw the body by drawing a line towards the end of the paper and curved towards the bottom.
To draw the legs, draw a short line to resemble a letter "L" and draw a line up to connect to the body.
Draw the 2 front legs next and then connect the two sets of legs with a line for the belly.
Draw the legs on the other side of the body last.
What I noticed…
While I don't always recommend directed line drawings for pre-school children, sometimes it works out really well. My niece was THRILLED to have drawn a lion. She could see it come together and while she didn't always know what to do when I referred to some letters or shapes, she stopped and asked questions when confused. The stories came when she did know what she was doing…the lion's name, why his leg is pointed, etc. So darn cute.
To paint the lion, I'd recommend cake tempera paints. They'll offer good color without covering up the marker lines. Faber-Castell has connector paints which allows you to separate each color. I pulled yellow, gold and brown and offered a large brush and water. She freely painted the lion.
After the paint dried (only minutes really), she cut out the lion by herself. I know many second graders who can't cut very well, so if your PreK students struggle, it's totally normal. If this is the case, cut out the lion for the children.
Alternative color choices: Watercolor paints are fine but the paint color will be less saturated. I would avoid liquid tempera paints. Too gloopy for this project. Chalk pastels would be my second favorite choice.
MAKING THE CAGE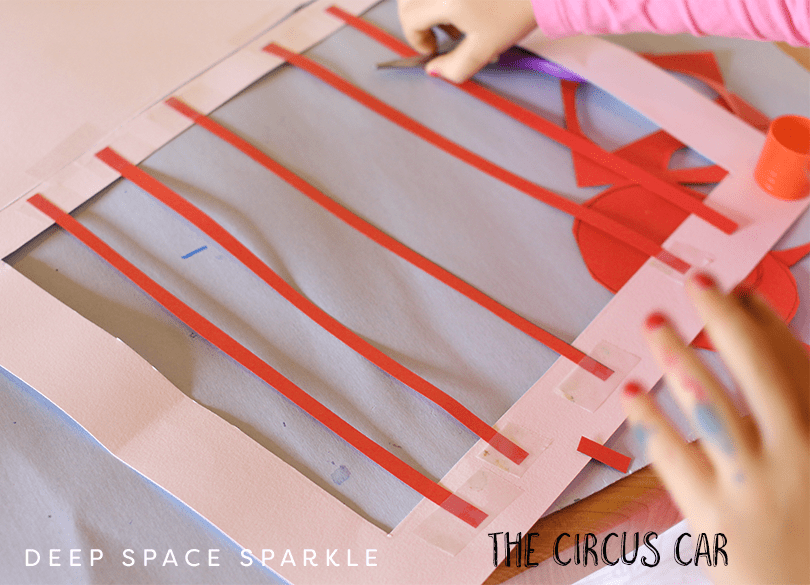 To make the circus car cage, you'll need two pieces of white or colored 12″ x 18″ sulphite paper. Use a piece of 8 x 10 card stock or any type of smaller rectangle template and trace a rectangle onto one piece of paper.
Cut out rectangle. Tape the two pieces together along the top length. Open up flat.
To add the bars and wheels, give child access to a tray of skinny paper lengths. I cut 5-6 pieces about 10″ long. Use tape or even a glue stick to adhere bars to INSIDE of cage. Don't use white school glue or you'll need to wait for the glue to dry before proceeding.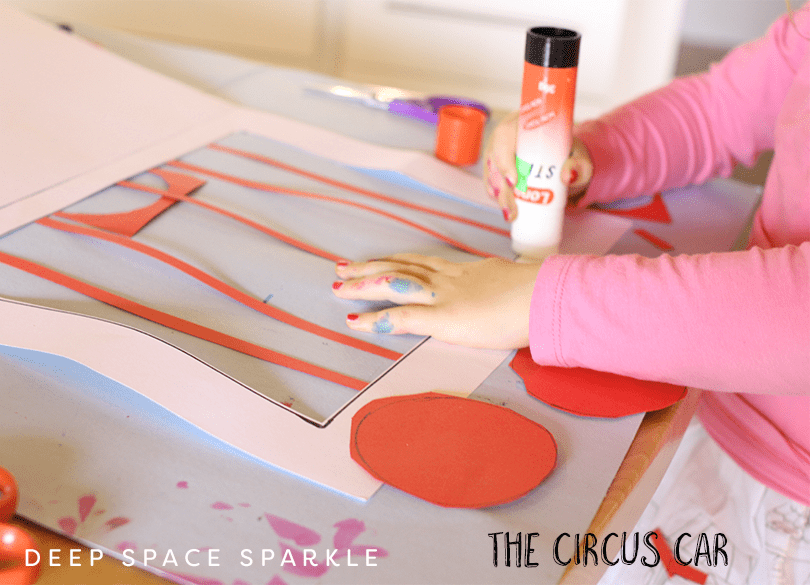 After bars are taped to the inside of the rectangle, it's time to add wheels. Use circle templates or a round container to trace circles onto colored paper scraps. I held a glass for Tori to trace and she ran a pencil along the edge. 4 year olds will need help with this. If you have a large group of 4's, you may want to place a pule of pre-cut out circles for the children to pick and use.
Kinders will be able to trace an cut circles with only a bit of effort.
PUTTING THE LION IN THE CIRCUS CAR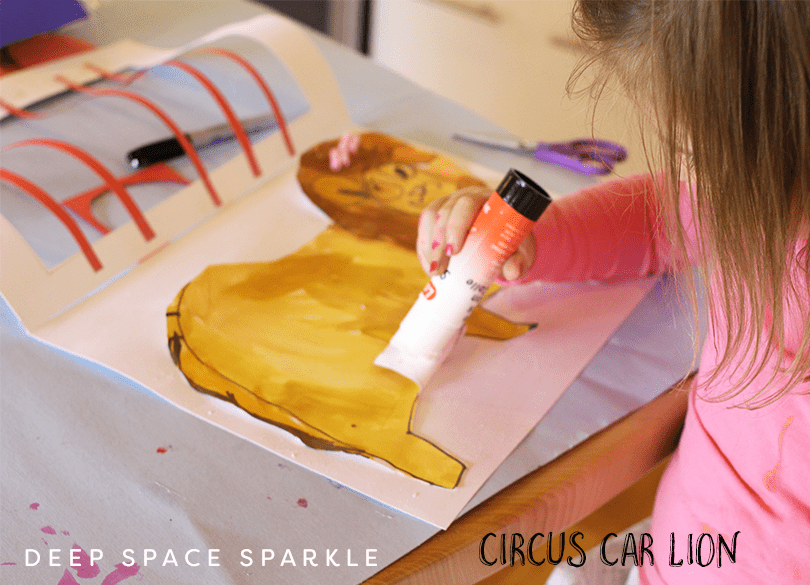 Once the lion is drawn and the cage is created, it's time to add the lion to the cage.
My niece's instinct was to smear glue on the cage, not the lion. This is fine, but the glue will stick through the bars. Instead, show kids how to apply glue to the back of the lion. Place lion in cage and close it up!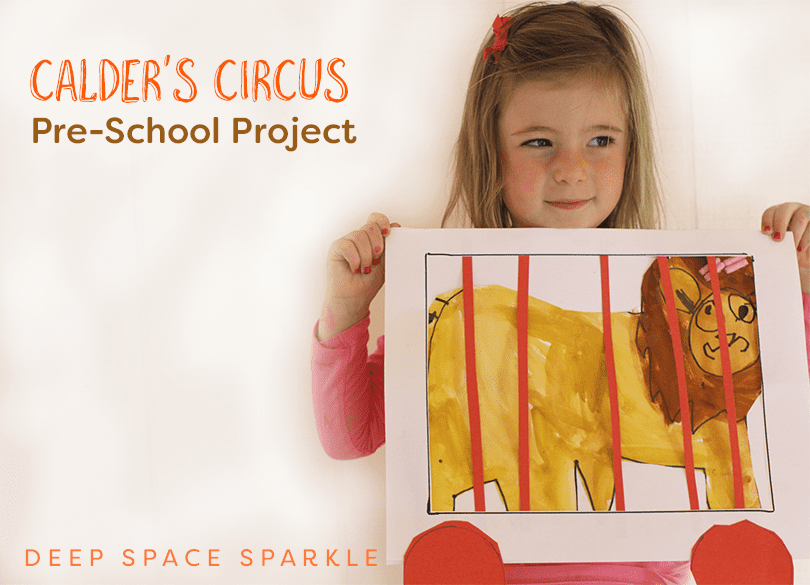 Want more Calder Lessons?
The Sparklers Members Club features the Alexander Calder Bundle in August 2017. To access this and more art bundles, art resources & trainings for one ridiculously low monthly fee, download 2 free art project samples and join our membership notification list.