Eric Carle is my inspiration. I love everything his art embodies and I think children do, too.  I create many Eric Carle-inspired art lessons with my lower elementary students.  They are less concerned about making perfect art and tend to let the color and energy of the paintings guide them.
Start with painted paper…
To make these butterflies, you'll need a large stack of painted paper. Read this post on how to make painted paper if you aren't sure what to do.
Templates for easy crafting….
These butterflies are created with several templates that I created for my first graders. To find the templates, you can purchase my Eric Carle Inspired Art Lesson Booklet or create your own from card stock.
Creating the painted paper with the children and then creating the templates is the hard stuff. After these are made, children can trace, cut and paste away. I like to use a white piece of paper to mount the butterflies on and use oil pastels to add any extra details.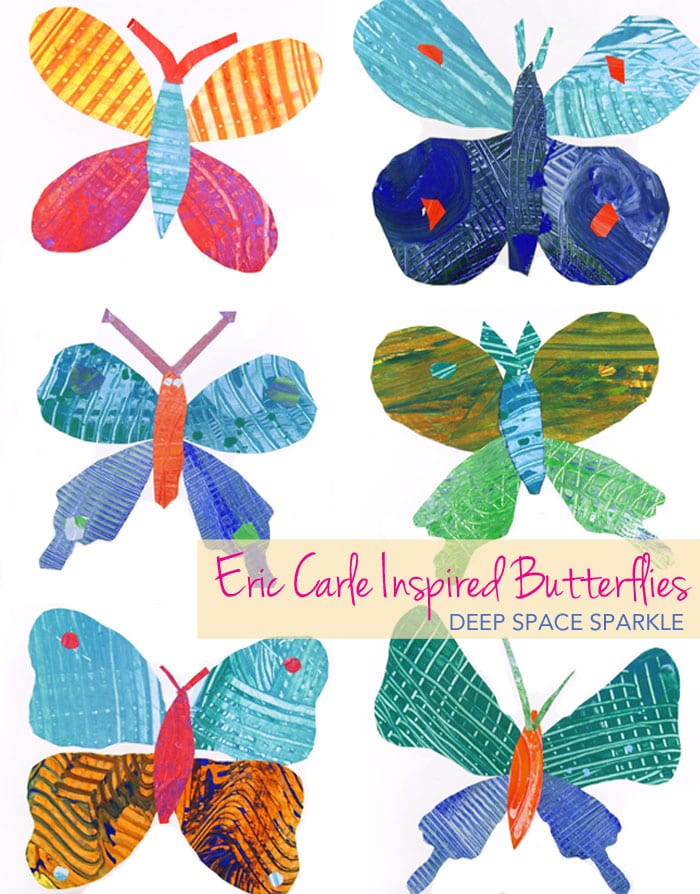 ---
ARE YOU A SPARKLER? Over 300 art lessons are available inside the Members Club. Access to videos, resources & trainings for one low monthly fee.
CLICK THE IMAGE TO SIGN UP FOR NOTIFICATION OF OUR NEXT ENROLLMENT