This art project is part of the Art at Home | Draw & Paint Along series of Facebook Live video replays.
Painting with black paint on white paper is one of the most expressive forms of art. The stark contrast that the lines make on the white paper allows you to focus on just the shapes, patterns and textures. Using subject with endless shape and line possibilities like fish is one of the best ways I know to waken up our creative souls.
This project can be done with almost anything: big fat markers, small brushes, big brushes, black paint, ink, and even crayons.

Draw and paint along with Patty in the full video demonstration: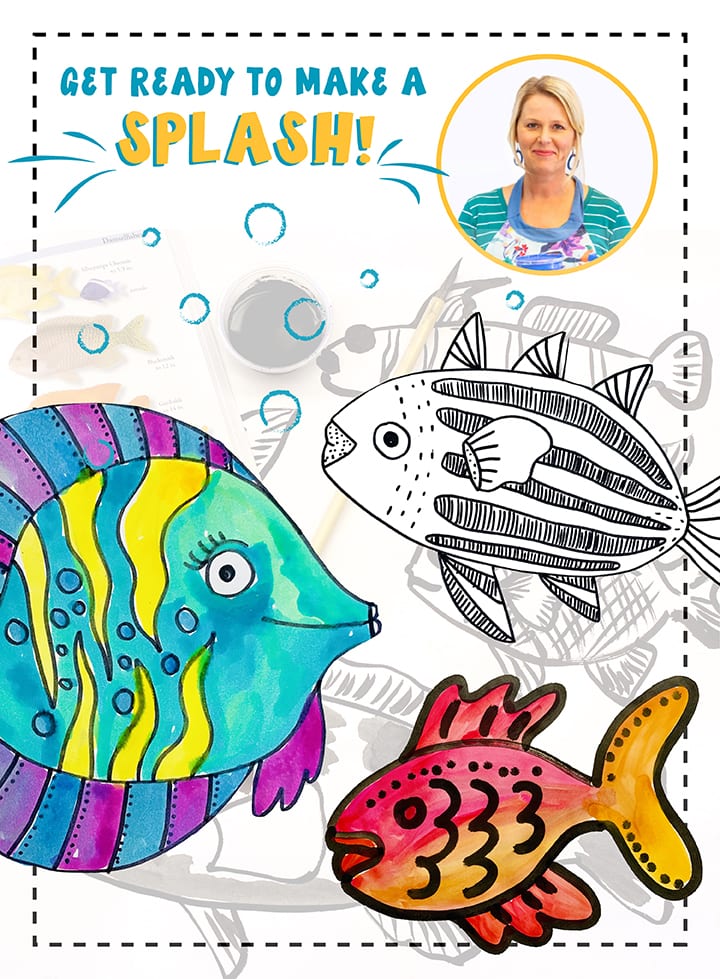 The best part about this project is that it is based on the process and less on the final outcome. Have your child use their black medium of choice to experiment with patterns and various textures: dark and light, thick and thin, curly and straight.
WHAT YOU'LL NEED:
– White drawing paper
– Black watercolor paint, liquid tempera paint or big black marker
Click the yellow button to DOWNLOAD the Expressive Fish drawing guide resource:
---
Did you try out this lesson? I'd love to see your art!
Make sure to post your students art in our weekly posts inside the free Dazzler Facebook Community.
I created a detailed instructional video within the Sparklers Membership Club where you can also get more detailed lesson plans including National Core Art Standards, Assessment Checklists, full length instruction videos and plenty other art lessons plans to choose from.
For more information on joining, sign up to our waitlist HERE.