Do you teach multiple age groups in one sitting? This easy cat project is purr-fect (sorry, I just couldn't help myself) for just about any grade level. Add a selection of seasonal paint colors like I did for Valentine's Day or choose your own and you have a project good for any time of year.
At the end of this post, I'll show you an option for using marker, watercolor paints and colored pencils. It's slightly less messy than liquid tempera paints and you can even make it paint-free by eliminating the watercolor altogether.
So no excuses! There's an option for everyone!
Here's what you'll need for the value-based tempera paint option:
– 1 sheet of 12″ x 18″ white drawing paper per child
– Liquid tempera paints in red, white, fuchsia and orange (for a Valentine's Day focus)
– Black oil pastel
– Medium paint brush
Watch my Facebook Live tutorial, demonstrating how to create this Valentine's funky cat.
Here's what to do:
Set 4 tubs of colored liquid tempera paint (I like Faber-Castell or Crayola Artista Premium) at each table group. If you have students sitting at individual desks, consider using egg cartons divided in half with small amounts of tempera paint poured into each egg shell.
Give each child a medium-large brush and a black oil pastel.
Download the drawing handout using the link below…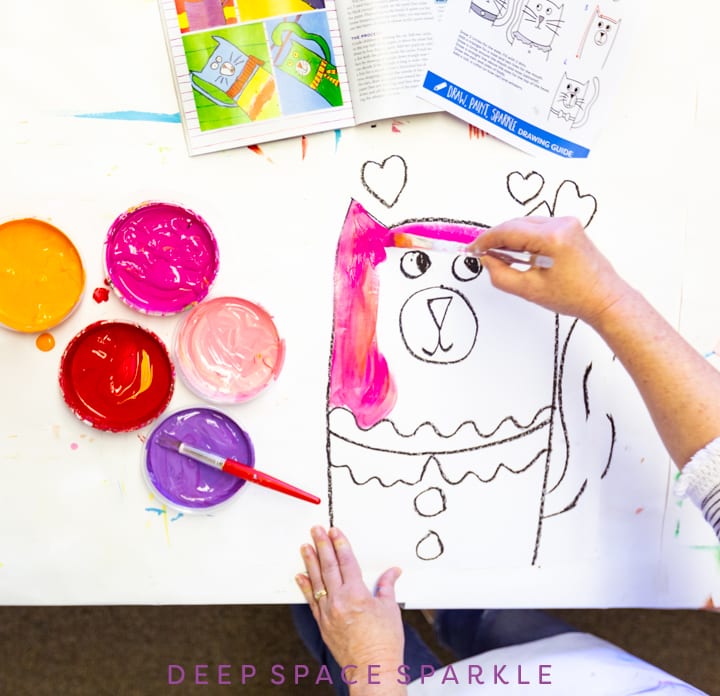 How to Draw Funky Cat:
You can do a guided drawing for the cat but I think it's better to do a demonstration pointing out where to start, where to place the eyes and what options the children might consider.
For instance, you can have two papers on your white board and draw two different styles of cat. One cat may originate from an upright position while another can be placed on an angle. The important part is where the eyes are placed. It's good to place the eyes near the upper portion of the paper.
Use an oil pastel or black crayon to draw the cat. Children can add details to the cat like a collar, scarf, necklace or anything they think is fun. Plus they can decide to break up the cat shape into patterns…spots, stripes, etc.
Use the drawing handout (access the handout below) for the steps.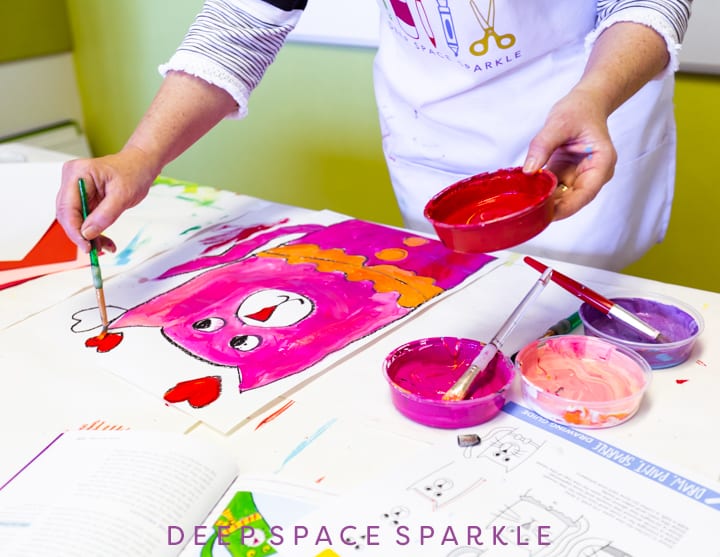 Dip the paintbrush into a dark color and start painting. Mix the paint with some white to create a pastel hue. The trick with the painting is not to use much (if any) water.
The paint should be watered down just a bit so to encourage loose application of paint. If the paint is too thick, it's hard to smooth out.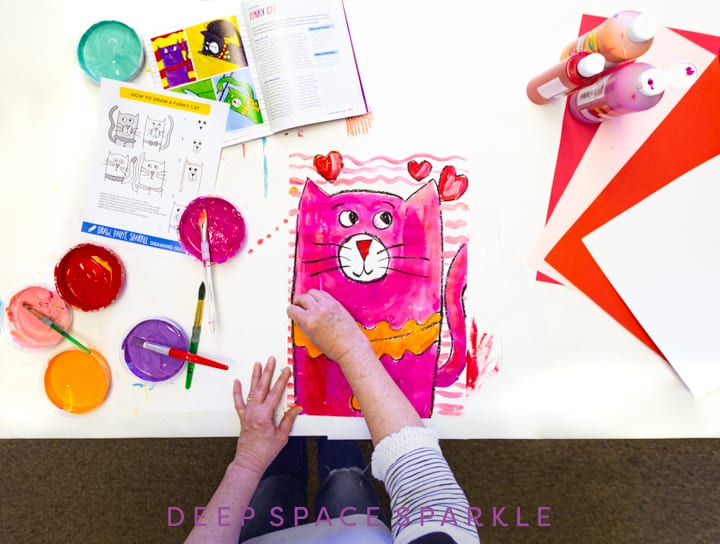 Final details:
Decorate the background with a solid color, patterns, stripes, etc. It's always fun what children will choose to do. Some may leave their background plain white and that's fine.
Here's another option that uses the book, Here Comes Valentine Cat as the inspiration, as well as another variation of the lesson found in my book, Draw Paint Sparkle.
Here's what you'll need for the watercolor paint option:
– 1 sheet of 12″ x 18″ white drawing paper per child
– Liquid watercolor paints
– Black waterproof marker
– Medium paint brush
– Colored pencils or crayons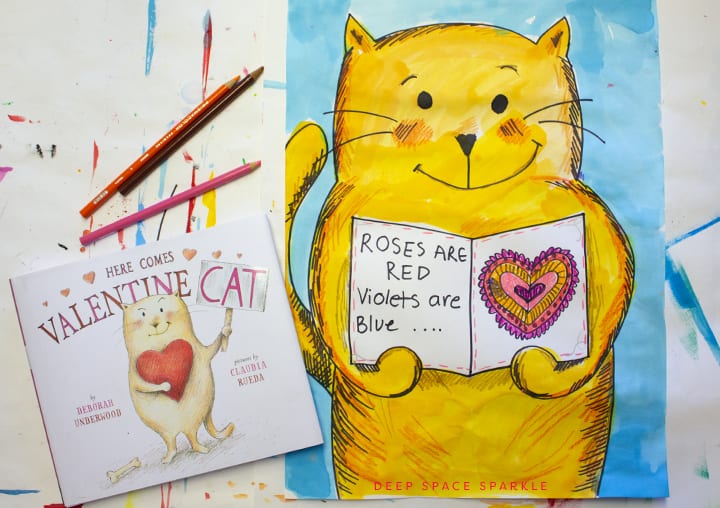 The drawing for this version of the cat is primarily the same. Same eye placement yet with a simplified version of the nose and mouth. The body is similar but before the body is drawn, children have the opportunity to add a Valentine's Card below the cat's face.
Here are the steps:
– With a waterproof black marker, draw two dots in the top section of the paper. Add a triangle nose, long line below the nose and then a line for the mouth.
TIP: As you read through the book, you'll notice a variety of expressions created by the lines of the mouth and eyebrows. Encourage children to really look at the way the illustrator created expression with these simple lines. As a warm-up to this lesson, children can create their own expressions on a blank sheet of paper. Perhaps challenge them with coming up with 6 different expressions.
– Like the funky cat steps, draw the top of the head and ears next. But stop here before proceeding.
–  Add a single square or a rectangle below the head. It's easier to draw the sides and top first. Then, add the paws and arms next.
– Below the arms, draw the rest of the fat, furry body. Add a tail.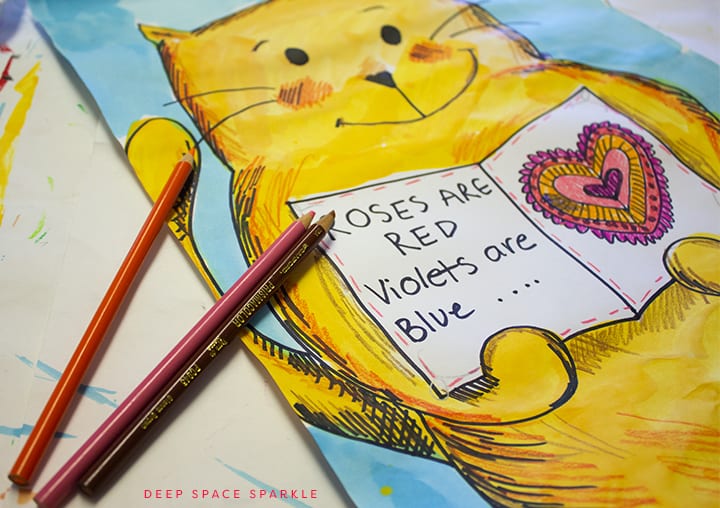 For the coloring options, remember, it's important to use what you have or what feels easiest. You don't need to use paint but if you choose to, that's what you do first. Paint the background and the cat with liquid watercolors. Pan watercolors are fine, but they'll take longer to apply. Liquid watercolors are fastest.
Allow to dry.
Pull out your colored pencils or crayons and add texture lines to the cat. While this step could be done using the black marker, it can also be done using the colored media. Older children will love the opportunity to make a more realistic version of their cat.
DOWNLOAD DRAWING GUIDE