ART 101
Welcome!
I know teaching art to children can be a daunting undertaking, especially if you don't consider yourself much of an "artist". Perhaps you've been asked to teach a simple art lesson to your son's third grade class or you and your best buddy signed up for the PTA's Silent Auction fundraiser and you're now in charge of coordinating classroom art projects?
Don't worry. I've been in your shoes and know exactly what you're up against. This site was developed with you in mind and anyone else that wishes to teach art to children. Does it help to have artistic skills? Absolutely. Is it necessary? Not at all.
Many of my lessons use art terms that may be foreign to you, so I've compiled a list of basic art vocabulary that will eliminate panic.

BASIC ART VOCABULARY
Primary Colors: Red, Blue and yellow on the colorwheel. Here are a few colorwheel lessons that demonstrate the primary colors. Colorwheel Clown for 1st/2nd grade, Colorwheel Bouquet for Kinder and 1st
Secondary Colors: Children in first and second grade begin to learn how to create secondary colors or purple (red and blue), orange (yellow and red) and green (blue and yellow). Some of my favorite lessons to teach this concept are: Primary and Secondary color Fish, Colorwheel Scarecrows (full tutorial in 3-Ingredient Art 1/2)
Complementary Colors: Colors opposite each other on the color wheel. The opposite of Blue is Orange, Red/Oreen, Yellow/Purple. When you mix these two colors together they turn to mud or a slightly less attractive grey. To read more about color theory, check out this color site.
Composition: The artist must think about line, color and rhythm to create a composition. In elementary school lessons, this can be where to put the horizon line, which colors to use to create light and dark spaces and even where to place an object.
Horizon Line: Where land meets the ocean or where sky meets land. The horizon line can be near the bottom of the page, in the middle or even at the top. Look at these lessons to see where my students thought about their horizon lines: Clipper Ships, Painted Pig Project and Monotype Sailboats.
Positive/Negative Space: How much room an image takes up on a page (positive space). The space leftover is the negative space (often the background). A hard one for younger children to understand, so it's best to leave this concept for upper grades. Her are some lessons for positive and negative space: Sunset Silhouette and Tints and Pattern Circles
Oil Pastel Resist: Using a crayon or oil pastel (don't confuse with chalk pastel) to create a waxy barrier to resist watercolor paints. Some wonder if tempera paint achieves the same effect as watercolor. If you water the tempera paint down a lot, then yes. But this techniques works best with watercolor paints. Try A Color of His Own Art Project, How to Draw a Pig, O'Keeffe Inspired Flowers and Rizzi Faces.
Media/Medium: Refers to the art supplies/materials used in art. Basically media is used for more than one item and medium refers to one item. Mixed Media? More than one material is used: oil pastel, paint, different techniques, etc.
Directed Line Drawing: A drawing that uses specific instructions given by a teacher to the students. I use directed line drawings in many of my grades to teach a basic drawing skill. Often, students and I will do a drawing together and then they will create their own. Many art teachers frown on this technique but I think it empowers kids. Having said that, it's a good idea to teach all types of drawing techniques, but if you are new to art, directed line is a great place to start. Some of my favorites are here: Shape Birds for Kinder and 1st grade, Watercolor Birds, and Sock Monkey for third grade.
Free Expression: The chance to draw from one's memory. This is a hard lesson to teach, but it is important to allow for free expression art whenever you can.
Observation: Drawing from observation allows the child to observe an item (still life) and draw the shapes that he sees.
BASIC ART SUPPLIES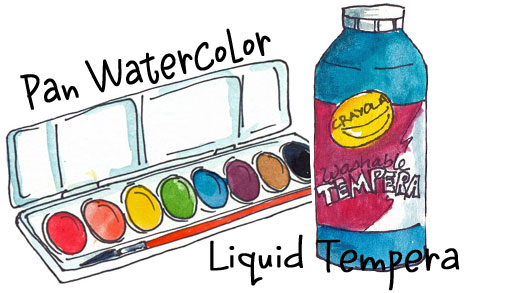 I love paint. Nothing screams kid's art like paint. There is an unexpected quality that happens through this medium and I love it. If you browse through my art lessons, you'll notice that many feature paint.  I use two basic paints in my art class; Tempera Paint and Watercolor Paints. Let's break it down a bit more.
Tempera Paints 
Tempera Paints come in cake form and liquid form. Liquid tempera comes in bottles and have a pudding-like consistency straight from the bottle. This is sometimes what you want but mostly, it's useful to add a small bit of water to the tempera paint. Add water in small doses and stir until you get a smooth consistency. Should feel like thick cream. Of course, you'll need a palette to pour your paint into and I like muffin-type plastic palettes.
Cake temperas look like big, watercolor tablets. The circles are about 2″ wide and need to be set into a palette or on a table or even a tray. The best part of tempera cakes is that they are super easy to prep and clean up. Just place the trays on the table and whisk off when done. No need to wash anything. The only thing I don't like about cake tempera is that when it dries, it can feel chalky and powdery.
Watercolor Paints
Watercolors come in a variety of styles as well. I use pan watercolors and liquid watercolors. Pan are the cheapest and the most available. You can buy them in almost any craft store, drug store or discount store. Kids just need to add water. But for ridiculously easy and amazing color, try liquids. Here is my thorough review of liquid watercolors. Some of the best projects involve a Black waterproof pen and watercolor paints.
For more reading, check out my post Perfect Paints.
Curious about brushes? Read this post.
For all other art supplies, check out my Art Supply page. It'll give you links (some are affiliate links) to some great products.
EASIEST ART LESSONS TO TEACH
This site is filled with free art lessons, some of which I linked to in the above sections, but if you want to go the bundled, all-inclusive route, my downloadable PDF lesson plans are the way to go. You can study the handouts and try the lesson yourself before you teach it. Use the templates to help children with the project (or not, if you prefer) And check out the galleries so you know what to expect from your group.

Best PDF booklets for Younger Children (K-3)
3-Ingredient Art for grades 1 & 2 If you want to keep your supply list short, these 3 lessons will get you in and out of the classroom in two sessions each.
What Do You See? I love this booklet. Two out of the three lessons use templates, which makes it very easy for the non-art teacher to deliver a fun project. Also, you only need a few oil pastels, tempera paint and some plain white paper to create the fun.
I Can Draw & Paint uses the directed-line technique I described in the above section. The lessons are aimed at children in pre-k to 2nd grade so the age range is wide, but children in third grade would enjoy the projects as well.
Best PDF Booklets for Older Children (grades 4-6)
3-Ingredient Art grades 3 and 4 feature some of my most favorite lessons. Use the handouts to teach your students how to draw the projects simply and follow the tricks for making the projects real stand-outs.
Fun with Portraits is my all-time best seller. There are so many portrait ideas ranging from simple to more difficult and you get to choose. Any one of them would make a great collection framed together for a class auction project. I've done this many times for my school.
African Art Lessons are geared towards 2nd-4th grade but any grade can accomplish the projects. I've had a lot of success with these projects. They remain some of my favorites and all were really easy to teach.
A note about the PDF Lesson Plan Booklets: All are available for immediate download. Once payment is received, you will receive a link that will prompt you to download the PDF. Please refer to the Customer Support Page for more questions.
I have used affiliate links in this post. I only link to products that I use in the art room and personally like.